Wrist watches are not as popular as they once were. Many people are now relying on their mobile phones or i-pods for keeping track of the time. Experts working within the watch and jewelry industries claim that it is mainly the younger generation who are no longer buying or wearing watches. Teens and young adults were once the demographic sporting watches that cost less than $20. However, watches that costs upward of $150 are still selling. Gold watches in particular still stand as a symbol of status and dignity for working professionals and fashion aficionados.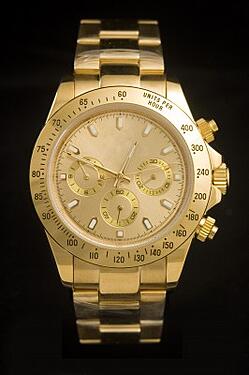 If you are still a watch wearing enthusiast, you may be wondering where and when it is most appropriate to sport your Rolex or Fossil. The Watch Snob at AskMen.com provides many enlightening answers to this question. He wittily professes that there are not many occasions when it is inappropriate to boast your wrist watch. The Watch Snob is even an advocate of wearing a waterproof wristwatch when on the beach or swimming in the ocean.
Also Read: What are the Latest, Trendiest Gold Jewelry Accessories?
When speaking about gold jewelry accessories, the beach seems like the last place you would want to wear your valuable decorations (even for a practical use like telling time). Gold is thought to be a luxurious metal and in many cases this is true. Wearing gold around your wrist serves more than just the need to tell the time of day. Gold is prestigious and you may believe that wearing this precious metal should be saved for special occasions, such as weddings or fine dining banquets.
It is not surprising that watch makers would suggest that anything goes in today's world regarding watch wearing. They would argue to strap it on your wrist, whether it is a high end Swiss piece or a watch purchased at Walmart. However, as with any item made from Gold, you do not want to be too flashy with accessorizing. If you are going to wear gold on your wrist, you may want to stray from also displaying a gold ring or necklace. Less is definitely more when it comes to gold accents.
Watches made from gold come in many different styles. This is the key when deciding when it is fashionable to wear a gold timepiece. If you are going to the office, you may want to keep it simple and adhere to a minimalistic style. For example, watches made of gold and ceramic are definitely in fashion for women professionals. They look great with business casual attire and will add just the right amount of class to your outfit. It is best to save your gaudy 14 karat diamond encrusted piece for formal events.
Also Read: What Qualities Should You Look for When Purchasing a Gold Bracelet?
Putting on a watch used to be such a natural habit for many people. As they are becoming less common, you have to ask when it is ok to bear your watch. For men, if there are any doubts about wearing a wristwatch, you can always opt for a gold pocket watch. Women can put on a delicate timepiece and avoid wearing bracelets simultaneously. There is no definite answer as to where and when to wear gold watches. Different styles will be appropriate for different occasions, even if they are all made from gold.
Read More: