The price of gold and other precious metals is holding steady on today's world markets. Over the past decade, investors have been increasing their holds on these commodities. This undoubtedly filters down to the retail sectors and jewelry businesses. So, what does this mean for someone who is contemplating the value and sale of their antique jewelry? You may be considering the profits that can be made by selling your great-grandmother's wedding ring, or you may at least be curious of its worth.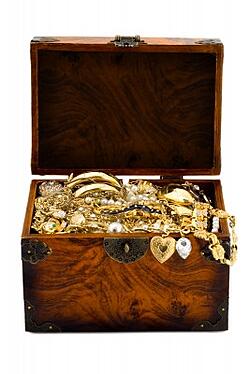 Once you have made a decision to sell your antique jewelry, you are left with the question of where to begin. To sell jewelry of any type can be a rigorous task. There are markets for all types of jewelry, from costume to artisan crafted to gold and silver. However, assessing the worth of antique jewelry is in itself a business. If you are not an antique collector to begin with, you most likely will feel naive about where to turn for assistance in establishing its value.
Most dealers and appraisers of antique jewelry cannot simply answer the question of the worth of a specific bracelet, necklace or ring, unless they know your intention for the item. This is because their value is partially based on outside circumstances. For example, if you sell to a pawn broker you are likely to get less money in hand than if an estate jeweler purchases your item. If you decide to go to an appraiser that is also an auctioneer, they sometimes will offer their services free of charge if you permit them to take your piece to auction. However, jewelry specialists suggest that you take your antiques to a certified appraiser who is not involved with the buying and selling of jewelry.
After you have decided the best avenue for appraising your antique jewelry, most experts suggest that you get the appraiser's findings in written form. With estate jewelry, a jeweler's written appraisal may not be sufficient. You will have to obtain an identification report from an established lab. For more information on this process, you can contact the Appraisers Association of America.
There are an abundance of jewelry buyers in America and all over the world. Even searching on the internet for buyers in your local area is likely to return dozens of results. When considering antique or vintage jewelry, buyers will pay specific attention to the condition of the piece. If there are stones missing or if the metal is bent, the value of that item will be significantly lower. Therefore, a piece in this condition would not be a profitable investment nor would it retain a high re-sale price.
There are mixed feelings regarding the significance of investing in jewelry today. Many experts in the field recognize antique jewelry as a personal gain in terms of how the pieces will be enjoyed by the owner and what it means to them on an emotional level. As Jill Burgum, director of jewelry at Heritage Auctions believes, antique jewelry is not a high finance investment. However, for a man who wants to propose to his fiancé with his great-grandmother's engagement ring, antique jewelry may possess a value that cannot be matched.
Also read: