Some Sparkling Ideas to sell Diamonds
Selling loose diamonds is a profitable but tricky aspect and must be ventured upon only when you have some basic knowledge about the precious gems. Unlike other types of investments, diamonds lack a fungible value although they stand up in the liquidity segment. Before you try to put up your diamonds for sale, make some effort to know about their true market value.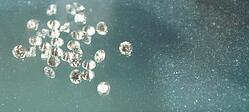 To start with, get an appraisal done for your diamonds on sale. A gemologist lab or a qualified appraiser can help you to determine the current market value of your precious stones. You will be provided with an appraisal report which has an evaluation based on the 4 C's of your diamonds which are clarity, cut, carat and color.
Also Read: Best Way to Sell Diamonds Fast
To get a judicious appraisal for your diamonds, you can contact the American Society of Appraisers who will help you to find a qualified appraiser. The GIA, AGS and HRD are gemology laboratories which certify diamonds. They do certify your diamonds but do not place any market value on them. Yet certification is a critical tool to establish the value of your diamonds. Armed with a diamond certificate, you can explore the jewelry market to know what kind of a deal your diamonds can crack!
The next step is to make a draft which has the description of your diamonds put up on sale. Create an advertisement backed with helpful photos providing all the information about the diamonds being sold. You can put up this advertisement in your local newspaper or on your personal website online. But till then do safe keep your precious diamonds in a banker locker or some other secure place. For your own security always try to meet the interested parties in public places whenever you have to show your diamonds.
You can even prefer to hold online auction of your diamonds put up for sale. There are many places to hold internet auctions like eBay, Etsy, Main Street Fair and Ubid and all are good as long as there are no hidden fees charged for the services that they provide.
If you are averse to selling your diamonds directly, then you can sell them to a jeweler. You can make a start by showing your certified diamonds to the local jewelers. The jeweler or any other dealer known to him may be interested in purchasing your loose diamonds. High end jewelers are also good choices to whom you can show your diamonds put up for sale. Make it a point to provide all information that you have about your diamonds. If they are interested you can schedule an appointment with them for diamond viewing. If you own more and more diamonds and wish to sell them quite frequently, the best alternative would be to become a professional diamond dealer yourself. A diamond dealer acts as a broker between the seller and the buyer in diamond transactions. Being a middle man diamond dealer can be a lucrative proposal as one can make lots of commission during the transactions. Equipped with some basic transaction training related to diamond sale, you can become a part of the network of diamond retailers, wholesalers and diamond cutters. The American Gem Society offers home study courses about the diamond industry which can help you to get certification from the Jewelers Education Foundation. As a registered jeweler you will have thorough knowledge about the diamonds and the ethics and standards of the diamond industry. You can thus learn to sell diamonds in a more profitable way in the ever changing, volatile gold jewelry market.
Also Read: Cash From Selling Loose Diamonds
Also Read: