If you are looking to buy jewelry, then doing so online can be far cheaper than using an offline only retailer. In some cases, you may be able to save up to fifty percent! Of course, buying online can also be tricky. In order to do so successfully and safely you must choose a trusted and reliable source. Additionally, you need to be an educated customer.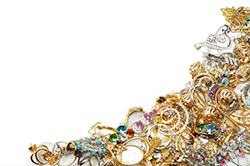 Information Source:
The first thing you need to do is find some good sources of information. This can be easily accomplished online. Just make sure that whatever guides you use are not simply there to push you to a particular online jewelry site. The key here is to find an unbiased source. It should provide you with key questions to ask the seller, ways to protect your privacy and safety tips.
Make sure that you know how the quality is measured of the jewelry you are looking to purchase. Know the difference between carats and karats. Also, learn about what types of warranties are offered and what rights you will have.

Trusted Seller:
Whether you are looking to buy or sell jewelry, the biggest key is to find a trusted site. There are many places online which run incredibly reputable and above board businesses. Unfortunately, there are also a number of sites that just want to take advantage of unsuspecting consumers.

You need to do enough research to know which online sellers are reputable and trusted. Do not just simply jump at the first one you find. Look at the online reviews, especially sites which are unbiased. The only thing this research will cost you is a bit of time.

Know the Terms and Conditions:
If you are buying diamonds, make sure you read the information that explains the details of certification and authentication. If the diamond is certified, make sure that this is done by a recognized authority. GIA and EGL are some of the largest diamond certification agencies in the world, and two of the most highly respected. If your site uses another source, make sure they are reputable and trusted.

Also know all the details regarding guarantees and other policies. Find out the return policy (just in case). Make sure everything is clear and that you understand all of your options. If something is not clear, ask questions and get answers in writing (save the email or chat session transcript).

Examine Each Piece Closely:
Jewelry is one area where photos are incredibly important. If the photos of the pieces are not clear, this could be a problem. On the other hand, most trusted online retailers will have very clear and detailed photos. You should examine each piece as closely as possible. Blow the picture up as much as you can. Look at it from different angles. Try to think about how it will look on that special someone's finger, wrist or ear (or wherever).

Understand that no matter how good the photograph is this will never be the same as examining it in person. This is why you want to be very thorough. It is also why you have already gone through and investigated return policies and guarantees.

Bottom Line:
Online jewelry shopping can be a safe and secure process, if you are willing to educate yourself and do the needed research. The biggest things to remember are to use an online retailer that is trusted and understand all of the terms and conditions (guarantees, return policies) before committing to a purchase. Proceeding in such a manner should lead to an enjoyable and satisfying shopping experience.
Also read: