How to Buy Jewelry at eBay Auctions

When you are searching for the best deal on new or pre-owned fine jewelry the financially smartest approach is to purchase from eBay Auctions. This is a great way to buy jewelry at explosive discounts as apposed to paying the full retail price that the jewelry would originally have been sold for. At eBay auctions you can find individual or even bulk quantities of jewelry and place your desired bid amount which allows you to spend as much or shall we say as little as your budget desires. Getting great deals is not only possible using eBay Auctions, its expected that you will find jewelry that you want at amazing prices that you would be hard pressed to find anywhere else. As with any online purchase, making good use of caution is a necessary step.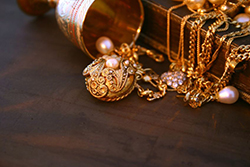 Doing some extra research on wholesale jewelry lots is highly recommended for the simple fact that dishonest people operate in all spectrums of jewelry sales. Ratings are available along with feedback and comments from past customers. Reviewing the sellers ratings allows you to get a good perspective of whom you are buying your jewelry from which can be helpful when choosing certain items or placing bids. It is important to keep in mind when buying jewelry, or anything else for that matter, that cautious decisions should be made before purchase. This makes the ratings system and former buyers review's extremely useful and assist with smart internet shopping.

Using eBay auctions can be a great advantage when you are looking to buy new jewelry or even to buy preowned jewelry. With the ability to post individual questions to the actual vendors selling the jewelry, you can inquire in depth about what it is that you are buying; Like making sure that the seller is claiming the said jewelry is genuine gold or plated gold, these are easy ways to take precaution before you buy jewelry on eBay. When buying major items, in big quantities or large prices, extra caution should be taken while using the escrow service; Which eBay suggests you do. Going with any other escrow services other than the one eBay suggests is not recommended.

Placing your first bid at its top / peek amount, the amount that you are actually willing to pay for the item, is recommended. When you do this you can get the item for the amount your willing to pay or less, if your bid gets out bid then obviously you have to up your bid or just bow out of the auction. Also, a caution to take when buying (Gold) jewelry on an eBay auction is to look at the description of the jewelry, particularly for words in the description with RB and/or GP; This means that the jewelry is plated and not real gold. Making sure that the person selling the jewelry states online that the jewelry is authentic and real is great for documentation.

Using eBay auctions can be a fun and exciting way of buying or even selling precious metals and or stones. We hope this has been helpful, and the next time you're ready to purchase or even sell jewelry you will do so using these methods. Another great site to take note of is luriya.com Where the same type of fantastic deals can be found and made.
Also Read:
It's Good to Sell Your Gold Online, Even In Manhattan