The first thing you may want to consider when purchasing gold earrings is the karat of the gold. Pure 24 karat gold is too soft to use exclusively when making jewelry. The lesser the karat of the gold, the more alloy blend it contains. Typically copper will be used as the alloy metal. However, it is possible to find 24 karat earrings if they are gold plated or gold filled. The prices will vary depending on several reasons, including the karat content.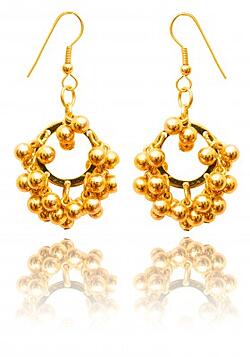 Some people who wear yellow gold pierced earrings claim that their ears becomeDone red and irritated. The lesser the karat content of the yellow gold helps fix this problem for many people. Interestingly, it is not the gold itself that is causing soreness. It is the other metals that are blended with the yellow gold. If your ears are becoming irritated, you may want to switch to a white gold. Purchasing earrings that are made from white gold tend to be more expensive. However, the difference in their alloy mixtures may be gentler on your skin.
Also Read: How White Gold Jewelry is Turned White from Yellow
When looking to purchase jewelry made of gold it is important to shop at a store that is BIS certified. BIS stands for the Bureau of Indian Standards. If a store is displaying a sign with this acronym it means that they sell the highest quality jewelry. Certain countries place a hallmark on the jewelry they produce. This can also serve as a good indicator of quality pieces. Hallmarks identify the purity of the gold. However, many countries including the United States, do not hallmark the jewelry they produce.
Another important factor you will have to take into account when buying earrings will be comfort. This is a subjective quality and will depend on the preferences of the person who will be wearing the earrings. There are several types of pierced earrings including studs, hoops, dangles and chandeliers. Earrings can also be wired or posts. If you find a pair of earrings that you wish to purchase, it may be advantageous if you already know the type which you find most comfortable.
The durability of a pair of earrings should be a very important influence in you decision to buy. If you are looking for a good quality pair to wear every day, you may want to go with lower karat gold. This would also be relevant if you are purchasing earrings for a young child who may be a bit carefree with their belongings. Conversely, if you are looking for a pair of earrings to wear for special occasions, sacrificing durability for dainty elegance may be a safe bet.
Also Read: What are the Latest, Trendiest Gold Jewelry Accessories?
As with any piece of gold jewelry, your decision to buy will be ultimately based on your personal style and preferences. The design of the earrings is most likely the initial aspect you will notice. Once you find a pair that catches your eye, you can then begin to examine and investigate the craftsmanship and other factors to determine their quality. Jewelry is a fun and trendy accessory for both men and women. Quality is important, but you also want to enjoy and feel good with the earrings you decide to purchase.
Read More: