Aside from the visual appearance, the only difference between white gold and yellow gold is the mixture of metals. Pure 24 karat gold is usually too soft and pliable for jewelry making. Typically, copper and zinc are used as alloy metals when working with yellow gold. White gold jewelry is a blend of pure gold and silver or palladium. This mixture with white metals is what gives white gold an entirely different look than traditional yellow gold.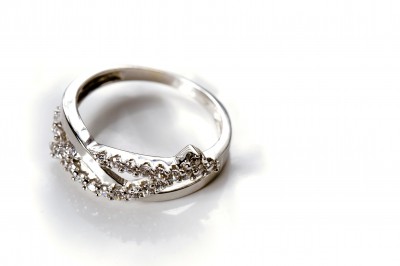 White gold has been growing in popularity. Its silvery look makes for very elegant and sophisticated jewelry accessories. You may feel that your yellow gold jewelry is too gaudy or flashy to wear as every day adornments. This causes many people to search for a way to change their jewelry from yellow to white. This is more common than you may believe and there is a simple way gold can be turned from yellow to white.
Also Read: 5 Qualities to Look for when Buying Gold Earrings
Most white gold pieces today are actually rhodium plated. This means that the yellow gold was dipped in rhodium to give it that "silvery" look. The problem with dipping yellow gold is that it is not a permanent solution to create white gold. The "white" finish will soon rub off with wear. Depending on the jewelry item, this can occur in a matter of months or years. For example, white gold rings will have to be dipped much more frequently than a necklace made white by the same process.
If you have not yet purchased your desired white gold piece, you may want to consider asking the jeweler if the item is rhodium plated or alloy blended. The alloy mixed white gold is of a higher quality and will retain its white gloss for a much longer period. In both cases, the white finish will wear, but with plated jewelry it will no longer appear white. Rhodium plated white gold will eventually leave the coating of your jewelry a dull yellow-grey color. Wear and tear on an alloy mixed piece will also dull the color, but it will still appear white.
Since yellow gold is coming back into jewelry fashion, you may also want to know if your white gold can be turned to yellow. If your jewelry is rhodium dipped white gold, then this is definitely possible. As the plating wears away, instead of having your item re-dipped in rhodium or another white metal, you can have it gold plated instead. Again, this is not a permanent fix and it will have to be re-dipped in some time depending on how quickly the finish dulls.
Also Read: What is the Best Way to Dress with a Gold Necklace (for men + women)?
Many jewelry experts claim that plating yellow gold with rhodium produces less than satisfactory results. Initially, the rhodium plating will make your jewelry sparkle and appear as white as a diamond. However, if this process is not continually repeated, you will be left with a dull surface that may no longer even appear to be white in color. The cost of rhodium is much higher than that of gold. The plating is done with such a thin coat making it cost effective. However, it may be financially wise in the long run if you initially spend the extra money for the alloy blended white gold.
Read More: