There are many web addresses for GIA certified loose diamonds as well as diamond engagement rings. High quality loose diamonds and diamond jewelry can be found for the lowest possible prices.
Many sites offer fine loose diamonds for sale. Some carry 100% natural diamonds only, with no treatments or enhancements. Diamonds can be obtained from conflict-free sources as well. Where loose diamonds are concerned-- GIA certification is the stamp of quality assurance.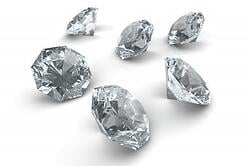 Engagement rings can be found in a wide-variety of styles that will fit any budget. Selecting loose GIA diamonds and having them placed in a custom setting made by a master jeweler is a common approach.
Also Read: Diamond Buyers: Don't Be Fooled By Enhanced Diamonds
Buy diamonds or a diamond engagement ring online, as they can be shipped to you overnight via FedEx free of charge.
Along with the ring, look for receiving an appraisal report as this should also be free of charge. Also look for a lifetime warranty to cover any defects in design, manufacturing and workmanship.
Also watch for no risk, no regrets, no hassles 30-day, 100% money-back guarantees, with no questions asked and no restocking fees. Or, if there is a change of mind about a purchase, it should be simple to exchange any item purchased at no charge.
Some online sites will give you a lifetime upgrade offer, to use for any item purchased as credit towards a new purchase.
The best sites can also offer the opportunity to purchase rings or certified loose diamonds using financing as well.
Loose diamonds wholesale should always be GIA certified. Often a 15% discount to clients with wholesale sales permits is also made available.
The informed diamond buyer is a happier diamond buyer. Articles on many online sites are available to help demystify some of the jargon that surrounds the diamond industry. Questions or personal requests can always be asked by using the phone numbers listed the site.
Most wholesale sites work to provide the lowest possible prices. They also work to make sure each customer is 100% satisfied.
Diamonds are forever, but current market prices are not. In the world of online diamond trading, buyers and sellers face the very real possibility of getting taken advantage of. The markets can be fractured, inflated and sometimes it is an unscrupulous industry. Maybe it's time to consider selling loose diamonds to a legitimate, certified online diamond broker.
Regulation for online diamond trading helps protect the consumer. This also protects the sources for those diamonds. Trained Graduate Gemologists should perform the appraisals. Every diamond sold should come with a Gemological Institute of America-certified Diamond Grading Report giving information about the diamond's weight, color, cut, and clarity.
To buy or sell a diamond, first see the report. Good online diamond brokers will produce this without hesitation. Many have competitive selections and prices, which encourage consumer choice. Most online diamond brokers offer same-day payments to sellers.
Sellers complete a form online. Then consultations with a local GIA-certified Graduate Gemologist needs to happen so that it provides an initial appraisal.
Online diamond brokers work with varieties of loose diamonds and wholesale diamonds while offering excellent prices. Sellers will often choose to sell a diamond on the global market where the full value of a diamond can be found.
A diamond listed in the RAPNET database will yield anywhere from 25 to 50 percent more than its local cash price.
For a nominal fee, many online diamond brokers will write up a diamond listing report. Then they register it in the MLS listings, and provide grading, cutting and polishing services. This approach maximizes return-on-investment.
Every online diamond broker must provide excellent customer service to prospective buyers and sellers. This includes returns, trades, shipping and warranties to keep a good standing. In this industry, reputation is everything.
Consumer confidence has improved with all of the online tools available such as searchable diamond databases, where diamond buyers and sellers can browse and compare in real-time. Help navigate the volatile diamond market by finding the online diamond broker who helps sell diamonds while getting the best possible value. To see your diamond buying options with Luriya click here.
Read Now: