Since spiraling gold prices began, the consumer has found that selling their old jewelry is a way to have extra money. With such a market, some unscrupulous buyers have gotten into buying that gold as a way to make quick money as well. ABC News decided to do an investigation around the New York City area. Posing as typical consumers, they found the prices offered ranged widely. Greedy buyers often use tricks to give less money for those choosing to sell gold for cash.
Also Read: Cash For Gold - Order Your Just Sell Gold Kit
ABC News and the Better Business Bureau offer these 10 tips to get the most when you sell gold for cash: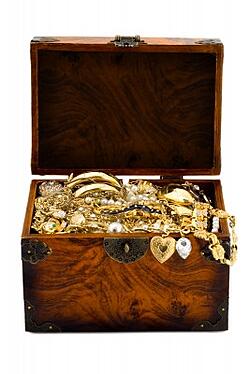 Know the Scales -- Gold is measured in Troy ounces, 31.1 grams per ounce. When you sell gold for cash, be sure it's measured by the gram and not pennyweight. Pennyweight favors the buyer, not the seller.
Know the Karats -- Pure gold is 24 karats. Since it is a soft metal, alloys are added to strengthen the gold, reducing the karat count. A 10-karat necklace has less gold in it than a 14-karat necklace.
Separate Your Karats -- Keep all 10, 14 and 18-karat items separated and make sure the buyer weighs them separately to get your maximum payout.
Check Current Prices -- The day you sell gold for cash, check the current price. Go to www.goldprice.org or check with a trusted jeweler. Some buyers may choose to quote you less than the current price.
Check the Buyer -- Before you sell gold for cash, make sure to call the Better Business Bureau. See if the jeweler or gold buyer is listed there and have had any complaints against them.
Know Your Jewelry -- Before deciding to sell jewelry, examine what you have. Famous-maker jewelry is often more valuable intact than melted down for the metal.
Look At the Fine Print -- If you mail your jewelry to a buyer, you should: insure it, know when when it will be returned if you refuse their offer and take pictures of it before mailing.
Shop For the Best Offer -- Don't jump at the first offer. Do some comparisons shopping.
Be Cautious -- Gold parties are often more a social event than a value event. Selling at a party may be cheating yourself by 20 to 30 percent
Take Identification -- All responsible buyers should ask for your identification, in case they take in stolen items. If they don't ask -- beware of the buyer.
Also Read: