When you have an engagement ring that you either no longer want or can no longer afford to keep, the situation has already reached a point where there is plenty of grief. Unfortunately, some things in life are beyond anyone's ability to help with. However, even the nicest diamond ring with the most emotional baggage attached to it can still help you to recapture some good times, no matter how bad the situation went. The biggest hassles have traditionally been concerned with finding a real buyer among all of the noise that tends to be out there.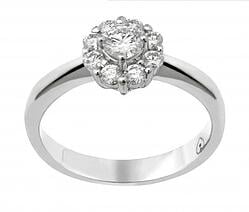 Whenever there is a person who is trying to sell just about anything, there are bound to be a large number of what are called tire kickers. These are the annoying types of people who will read or hear about how you have some sweet diamond jewelry, and then they will ask you all sorts of questions about it. In most of these cases, however, this type of person has next to no interest in actually buying your jewelry. Maybe this is a hobby for some people, but it tends to be very annoying when you are just trying to make some money and get rid of something you may not want.
Naturally, there are two normal reasons why you would want to get rid of your diamond jewelry. The first reason is because something bad happened. When an engagement ring no longer applies, the specific reason why is usually too painful to even think about. When there is no more engagement, the ring just serves as symbol of all of the things that could and should have been, as well as all of the things that actually were and never should have been. After everything else is said and done, you just want to move on with your life and get back some of what you initially spent on this failed enterprise.
Of course, there are also times when you and your spouse simply have to sell your engagement ring because there is not enough money to pay the bills. When you find yourself in the type of situation where your bills are simply not getting paid as they should be, desperate times often call for some desperate measures. In this case, getting rid of something that symbolizes your union can actually be a way to keep you both functioning within that union. Of course, the traditional problem still tends to remain, regardless of what your circumstances may happen to be.
If you are trying to sell your engagement ring and you cannot, it may be because it is hard to find a reputable and reasonable paying buyer. When you are posting ads, you get everyone who might potentially have an interest in what you have to offer. In a lot of cases, they are just interested in chatting you up and wasting your time. Unless you are looking to make some new friends, you can generally pass on this type of social interaction.
The good news is that it is possible to sell your engagement ring without having to endlessly wade through the tire kicker crowd. While you might not normally think about the Internet this way, it is a great place to be connected to serious buyers. When you are looking to sell, someone out in the world is undoubtedly looking to buy. This is all it really takes to start up a transaction. As you filter through the potential offers to find the best one, remember that at least all of these are solid offers. The online process is roughly the same when you are selling any kind of metal, whether it is jewelry or not.
Also Read: