Coins
There is a lot to the sale of precious metals. While you might have some gold bullion sitting around in your home not doing anything for you, you might not have so much as considered the possibility that you could make some money off of it. Whether you have a few gold coins, a little bullion or just scrap gold lying around, if you can part with it you can make some money from its sale. When you sell gold coins and other goods of this nature, you have the potential to make a good deal of money because of the high prices that gold has been commanding lately. Of course, you also run the risk of bumping into a lot of shady people and useless people who are all masquerading as legitimate buyers.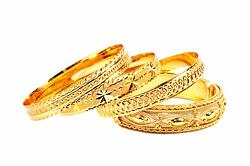 Scrap
The buying market for gold lately has been incredible. With so many scrap gold buyers that seem to be popping up out of the wood work everywhere, it might be obvious to you. But if it is not, be warned that gold's prices have risen to unbelievable levels. If you are holding onto some gold, it might be time to sell gold and make some profit on it. This is particularly the case if you are looking to sell scrap gold and not have to bother holding onto things that you no longer have any interest in. With so many possibilities open to you, all you have to do is be careful.
Also Read: Pointers On Selling Gold Jewelry
The gold market is great, and this means that there are a lot of buyers. Unfortunately, this also means that there are veritable tons of scam organizations out there who are pretending that they are interested in buying your gold for a fair market price. While you might have gold coins, these companies are not paying for the numismatic value. While you might have gold bullion, the mint date and commemoration is irrelevant to these kinds of buyers. All they want is your gold, and they may or may not end up paying you.
The fact of the matter is that whenever a market becomes crowded, greed gets the better of some people. They make promises they have no intention of keeping and try to swindle people. In the past, there was no way to identify a swindler and even less of a chance to catch one after the deed was done. You do not want time wasters, and shady individuals are even worse for your time and cash flow. Ultimately, it is more in line with your best interests to simply deal with a company that brokers deals online and lets you make basic choices.
Bullion
One of the best things about just about every kind of market that has ever been active is the fact that markets largely keep themselves in check. When there is a market, there is a good reason for everyone to keep their prices reasonable. This keeps the bids you will inevitably receive in line, too, so you get a fair price instead of a bunch of low balling.
When you use an online broker to handle selling your gold, you can get fair prices for everything without having to scrounge around looking for a buyer. You can sell your bullion, your coins and even your scrap gold while you actually live your life. You only have so much time in your day, and it should not entirely be spent on silly things like trying to sell your gold.
In the same vein as selling gold, you also need to make sure you are selling your silver in the easiest and simplest way possible.
Read More