This is the first segment on tips on how to sell gold nuggets for the most profit. First off, If you own gold nuggets then I would like to be your friend. Nothing beats a gold nuggets! If you are trying to sell your gold nugget for profit then you must take a few very important factors into consideration. Gold Nuggets are a hot commodity. What can be better than a naturally occurring unrefined piece of gorgeous gold in a world where gold prices are so high. A natural nugget will usually get you anywhere from ten to twenty five percent more then what you would receive for regular melted gold. Obviously we would all rather sell the gold nugget for the twenty five percent markup. The way to achieve this is to shop around in a place with a big market audience. The best place of course would be the lovely island of Manhattan.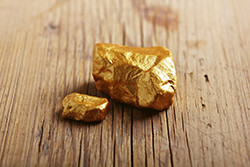 If you cannot make it to Manhattan try another big city. I would also recommend to try to sell to a cash for gold establishment in Manhattan through the internet. The competition is so high in Manhattan (home of the famous diamond district) that many gold buyers will let you sell nuggets with "highest payout guarantees
When it comes to gold nuggets and people trying to sell their gold nuggets you all must understand that "beauty is in the eye of the beholder". This age-old phrase must have been referring to gold nuggets as the price offered by private investors businesses really fluctuate. Irregular or awkward shaped nuggets can be the pendant or pin of that someone has been dreaming of for ages. For many, only a silky smooth gold nugget is worth the markup.
The bottom line of tip number 1 is that not every gold nugget is for everybody. Shop around really aggressively in heavily populated areas like Manhattan. Speak with gold auction managers, cash for gold buyers, internet operation, and diamond district dealers. Try your best and be patient and you will get the return you desire on your gold nugget.
Read More: