What type of jewelry is sizzling hot in 2014? That's a key question for anyone contemplating which pieces to sell and which to hang onto – or for those of us just looking to stay on top of the trends.
Sadly, we don't have a crystal ball that prophesies the future of jewelry trends, but as we sweep past the year's mid-point, we have a solid read on the jewelry that is currently hotter than July. Here are the top trends we're seeing in hot spots around the globe: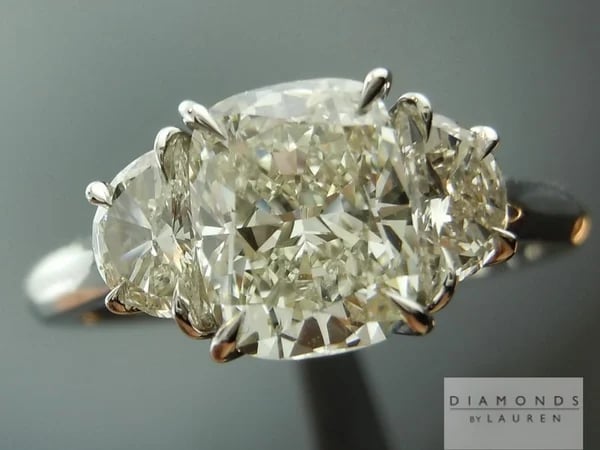 Lavin gold jewelry

1. Yellow Gold
It's back! Since the end of the mad gold rush that sent prices shooting as high as nearly $1,900 per ounce in 2011, prices have dropped substantially. Today they're fairly stable at $1307 per ounce, which means that the precious yellow metal is once more poised to take center stage in jewelry designs and collections. Gold jewelry has been sported all over the catwalks in the first half of 2014, from chunky gold bracelets by Chloé to Alexander McQueen's elegant gold warrior cuffs. The 2014 Emmys were also chock-full of gold jewelry, mostly in the form of fine pendants.
2. Fringed Jewelry
No one can escape the fringe jewelry craze this year. It's showing up everywhere, in every form: earrings, necklaces, bracelets and even hair accessories. Colorful, flowing beads fringes with Native American flair are especially popular, but there's no shortage of metallic or gem-studded cascading pieces either.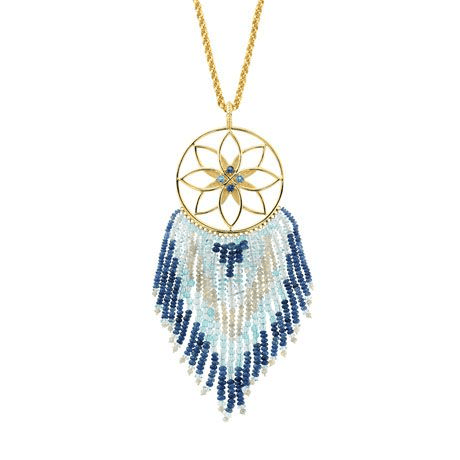 Buddha Mama necklace
For a subtle fringe effect, check out Zoë Chicco's delicate 14k short gold fringe necklace or ELLE's discreet Calypso Fringe bracelet in blue agate. Fans of a bolder style should look to Falconiere's Shaker Brass Chainmaille and Convertible Choker.
Extra points to anyone who can rock Roberto Cavalli's wonderful, wild suede fringe necklace.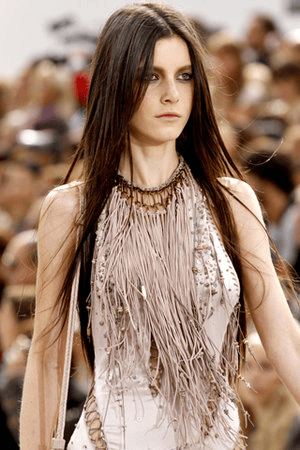 Roberto Cavalli suede fringe necklace, courtesy coolspotters.com
3. Hand bracelets
Call them hand bracelets, palm cuffs, or handlets, but whatever you call them there's no doubt that this new style of jewelry is increasingly in vogue. For those not yet familiar with hand bracelets, they are bands that wrap around your hand or palm, bracelet-style. Celebs such as Sarah Jessica Parker, Jennifer Lawrence and Katy Perry have been noticed flaunting them of late, and they are rapidly making their way to the mainstream.
Hand bracelets can range from simple curving bands to eye-popping, diamond-encrusted styles. Of the glitzy pieces, one of our favorites is Gaydamak Karess' vintage-inspired hand bracelet of black gold and black diamonds (although their more "traditional" white gold/white diamond hand bracelet is pretty awesome too).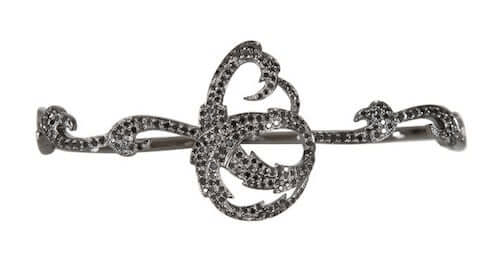 Gaydamak Karess black diamond hand bracelet
Among the simpler designs, we found the cool elegance of the silver Il Futuro Handlet by Bijules sublime.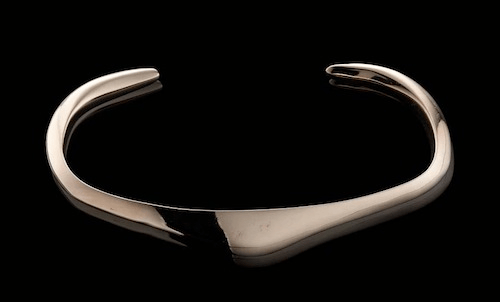 Silver Il Futuro Handlet by Bijules
4. Primary Colors.
As expected, we've seen much soft pinkish-purple jewelry in 2014, thanks to the Pantone Color Institute naming "Radiant Orchid" as the color of the year. Nonetheless, the intense, primary colors of childhood are threatening to steal the scene. Unflinching yellows, blues, reds and greens have appeared in numerous collections, including in some wonderful geometric-form bracelets by Céline. Chanel, Prabal Gurung, and Kenzo also featured primary colors in their jewelry lines this year.
Céline Spring 2014 Runway (photo credit: Imaxtree / New York Institute of Art & Design)
5. Body Jewelry.
At the start of the year, the leading trade jewelry magazine for the jewelry retailers, JCK, predicted we would see more body jewelry this year – and they're not wrong. Helping fuel this trend was the dazzling 72-carat Dior diamond "backlace" (necklace for the back) worn by Jennifer Lawrence at the Academy Awards, a burgeoning interest in punk fashions, and the profusion of crop tops featured on the 2014 spring line. Ear cuffs are predicted to be especially in vogue – and we've already signs of this as Lupita Nyongo and Sandra Bullock both sported ear cuffs at this year's Oscars.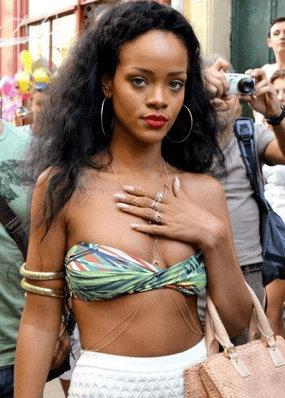 Rihanna from keepingupwithjasmeen.com
We're also on the brink of seeing a resurgence of the body chain. Although this unique and delicate piece of jewelry dates back to ancient times, they were made popular back in 2012 by the likes of Rihanna and Miley Cyrus, who frequently sported crisscrossing glittering chains by Jacquie Aiche beneath bikinis and crop tops.
This year, Nicolas Ghesquèire added exquisite gold body chains to shimmer through both a lacy white top and black cocktail dress with a plunging neckline in his 2015 Cruise Collection on the Louis Vuitton catwalk. A pretty, graceful look – and a trend to look forward to.
Read more...
Hot Engagement Ring Trends for 2014
Haute Jewelry Trends at Cannes Film Festival
Celebrating Summer with Pearls, 2014-Style
Wedding Jewelry: Floral Hairpins to Boho Chic