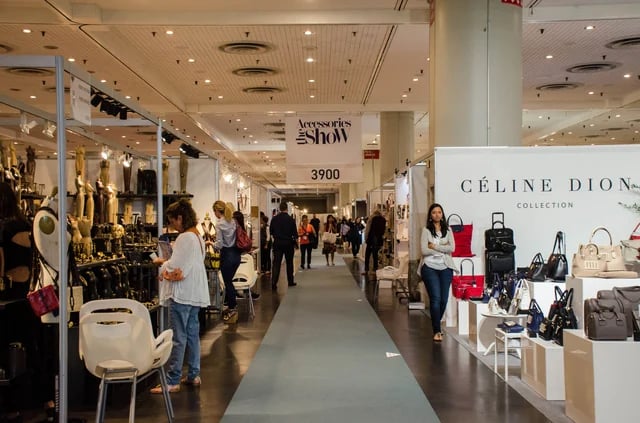 When it's a trade show hosted by fashion world leaders UBM fashion, we know we're going to find the freshest jewelry trends and interact with creative accessory designers. Accessories The Show trade show never disappoints! At this years women's accessory trade show we walked the floor, spoke with designers, and got a first look at the jewelry that will soon be available in stores worldwide.
Jamierocks LLC

Jamierocks is a wholesale fashion jewelry company that offers a variety of necklaces, earrings, bracelets, and rings.
Owner Jamie Park has been fascinated with fashion ever since she was a little girl. She followed her passion and went on to study art as an undergraduate degree. After school, Park began working as a jewelry designer at Korea's most significant high-end fashion company. That experience, plus pursuing a masters at Goldsmiths in London, and working as a supplier to large, high street fashion retailers, led her to found Jamierocks.
At the trade show, Jamierocks had an assortment of jewelry that drapes the body, creating a bohemian chic silhouette. One of the pieces that Luriya loved the most was a body chain that can make any little black dress pop. If you're interested in purchasing wholesale jewelry from Jamierocks's, take a look at their website.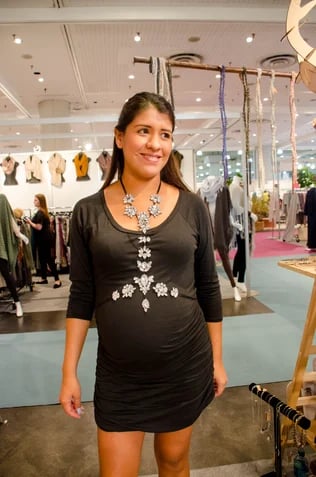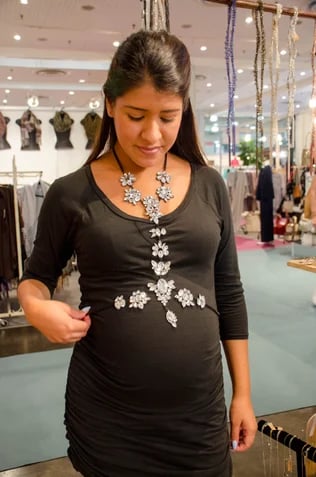 Good Work(s) make a difference
When it comes to fashion most people want to stand out and make a statement. Good Work(s) make a difference is the perfect jewelry line to choose from to help changes lives while simultaneously looking cool and casual. Good Work(s) has a vision that they are constantly working towards.
Their goal is to create something positive and inspirational that could change the lives of people who live in at-risk communities.
Their mission goes something like this:
"To inspire and empower good causes by uniting individuals to achieve a common goal"
(with this in mind) "we design powerful and encouraging products to strengthen every individual and we promote random act of kindness."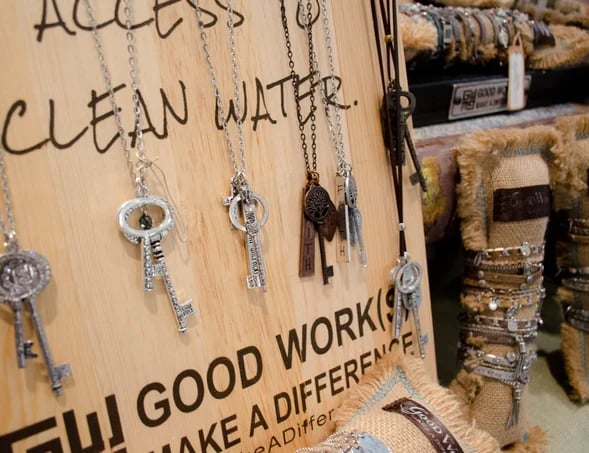 Good Works' passion has paid off. Through their sales Good Works' brand has grown in popularity. Their support and loyal followers have led them to become one of the fastest growing socially conscious fashion/accessories brands in the market. Their products are sold in 6,800 boutiques and stores all over the world. The brand continues to make a difference and rally for causes that affect millions everyday.
Fashion with a positive message will always be instyle.
Why not look fashionable and give back at the same time? Good Work(s) make a difference has many styles to choose from so it's easy to find the perfect piece for you. To look at everything Good Work(s) has to offer, check out their website.
Susan & Company
Susan and Company is a jewelry showroom located in Midtown Manhattan. Founder Susan Testaccio is a veteran of the fashion industry with over twenty-five years of experience. Testaccio has an eye for creativity and a love for fashion that has driven her to pursue a career in accessories. She has worked with designer Richard Serbin and has spent time working in Yevette Fry's showroom. Starting in sales and then moving up the ranks to managing day-to-day operations, Testaccios aggressive marketing and management style caused the showroom to flourish. In 2006 Susan left the company and opened her own showroom. Susan and Company takes a unique approach to the concept of a fashion showroom. Susan's company quickly became a leader in the accessory and design showroom world.
Susan and Company represented brands, Catherine Weitzman and Indulgems at the Accessories show and showed off some stand out pieces. Both of these designers are current and keen when it comes to creating unique wearable art.
Catherine Weitzman
Designer Catherine Weitzman is an educated jewelry maker that draws the majority of her inspiration from nature. Catherine's handmade jewelry uses found objects, recycled materials, and responsible suppliers. Craftsmanship is just as important to Catherine as the materials her line uses. Her team of gifted craftsmen work with care and have a strong passion for what they do.
Weitzman's designs are a reflection of her experiences. Her travels, childhood, and love of water and nature come together in each beautiful piece of jewelry created by Catherine and her team. Catherine Weitzman jewelry is available for purchase in stores on five continents and is loved and worn by many celebrities.
This Necklace from Catherine Weitzman instantly caught our eye. Each necklace in the Botanicals line is more stunning than the last. Each flower and petal is arranged perfectly inside of their two sided glass chamber. With over twenty different designs to choose from, it's quite exciting to choose your meadow. If you're looking for jewelry that has the power to transport you to paradise, peruse Catherine Weitzman's website.
Indulgems
Gemstone jewelry will always be in style. Gems are the perfect way to add a splash of color to your wardrobe and jewelry box. Gems come in a plethora of colors making it easy to choose your favorite color or perfectly match your mood. Designer Grace Chan is turing gemstones into wearable art. Chan's jewelry is influenced by her multicultural background and years of living abroad and traveling.
"I believe my multi-cultural background is the backbone to my designs. My work is deeply influenced by a constant internal battle – love for the intricate and delicate esthetics from my Asian roots vs. yearning for the bold and the unique from my decades of living in the US. My designs are often described as striking a balance between delicacy and boldness, and I take pride in achieving this blend."
-Grace Chan
Grace discovers the perfect gems by scouting them out at gemstone bazaars and private brokers all over the world. Her elegant and colorful jewelry is sure to catch anyone's eye. We love Chan's milky agate earrings; agate, like most stones, can enhance the wears mental energy by improving concentration, perception and analytical abilities. For more Indulgems jewelry look at thier website.
Everyone here at Luriya is so excited for the next UBM Fashion accessorie trade show. But, before we attend our next show read about Luriya's past trade show adventures. "UMB Women's Fashion and Accessory Tradeshow Trends" story and our "Mrket / Project Trade show standout Men's watch brands." story.