By Sarah Hucal
Hold onto your Jimmy Choos: New York Fashion Week is in full swing, with over 80 runway shows, presentations and special events through September 11.
Emerging jewelry trends for fall 2014 point to stacked cuffs and chokers in simple forms and bold colors to offset fashions heavy on pattern and embellishment. Jewelry lines debuted so far at the Mercedes-Benz sponsored event range from wearable tech by Rebecca Minkoff to chokers by Coach and DKNY.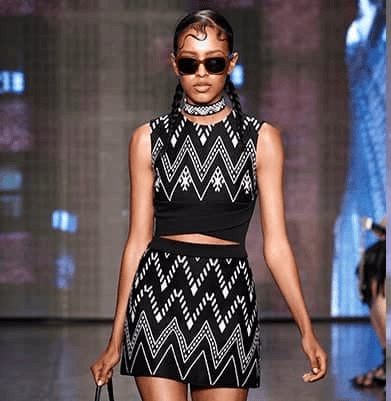 DKNY Spring 2015 collection featured patterned chokers
On day one, Philippine designer Josie Natori transported the audience to her native islands with a collection rife with flowing form, sandy tones and deep ocean blues.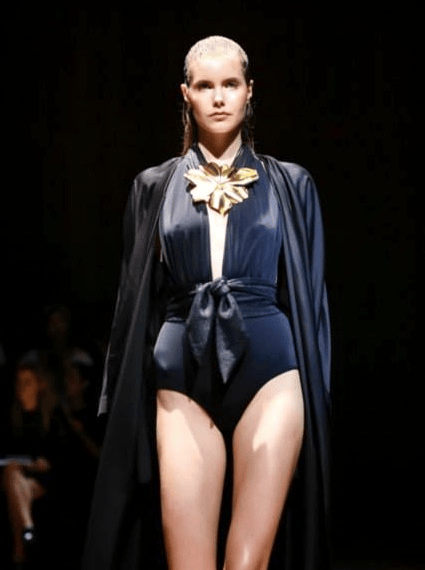 Gold-plated brass floral necklace from Josie Natori model
Natori's accessories also harnessed a natural vibe with hand-carved coral bracelets and statement necklaces, including a single tropical flower in gold-plated brass with matching floral bracelet in carved wood.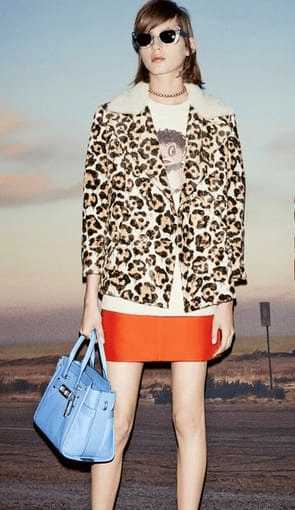 Silver studded chokers worn with Coach's rebellious Spring 2015 collection
On the second day of NYFW, Coach continued the challenge their reputation for catering to the conventional conservative, debuting a collection of punchy pieces rife with youthful rebelliousness. In his second year leading the house, creative director Stuart Vevers took inspiration from filmmaker David Lynch (Blue Velvet, The Elephant Man) with ferocious chokers of silver studs and gold silver watches paired with oversize fur coats and cartoon-emblazoned tops by Californian animator Gary Baseman.
As Brooklyn indie band Little Daylight played for the crowd on September 5, Rebecca Minkoff debuted a fresh spring palette inspired by the work of avant-garde fashion photographer Deborah Turbeville. Minkoff offers a stylish solution to charging a dying cellphone or discreetly monitor texts and calls. In addition to iPhone cases and mini-chargers, the line includes a gold chain-link notification bracelet ($120) and studded lightning cable bracelet ($60).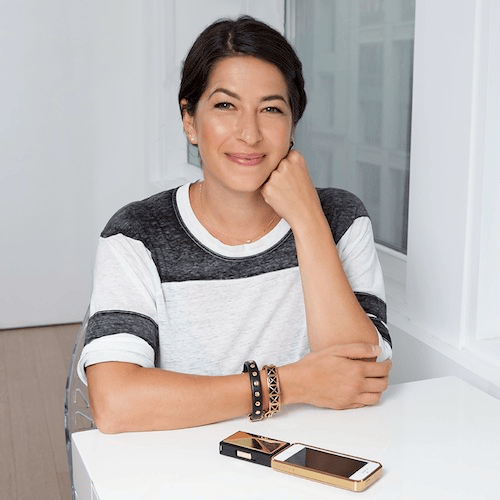 Rebecca Minkoff debuted a sleek line of high tech accessories.
Designed in collaboration with Case Mate, the notification bracelet connects with the wearer's cell phone via Bluetooth, alerting them of incoming calls and texts from selected contacts. The black leather bracelet with bold gold studs packs more than just style power—it can connect to a USB cable to sync and charge any mobile device on the go.
Next day, Joseph Altuzarra, current holder of CDFA/Vogue's title of Woman's wear Designer of the Year, displayed a tight collection featuring subtly sexy checkered gingham suits and buttoned up shirtdresses. Such items paired nicely with intaglio gold and pearl drop earrings – updated classic jewels meant to invoke the line's inspiration, Stanley Kubrik's own edgy classic, Barry Lyndon, which takes place in 1844.
On the same day, Australian designer Dion Lee showed a colorful collection drawn from landscape artist Jeffrey Smart, wowing the crowd with chainmail embellishments and poplin overalls, Models wore colorful chokers in blue and bright orange and red, along with matching thick cuffs pushed above the elbow.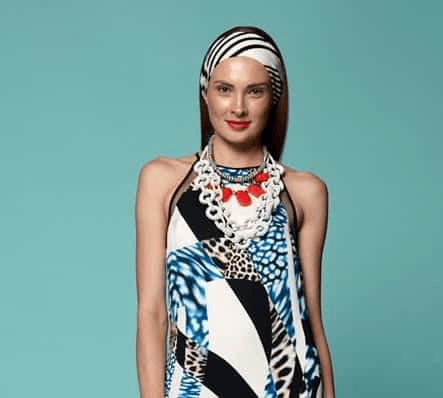 Trina Turk's funky spring collection paired with colorful, oversize chain-link necklaces
Keeping the mood lighthearted, Trina Turk debuted a fun collection with funky patterns, heavy on poppy red, inspired by the flower market in Los Angeles. Turk brought her signature playful sense of design to attention-grabbing necklaces worn stacked. We loved the variety of chain-link collars in orange, turquoise, and key lime.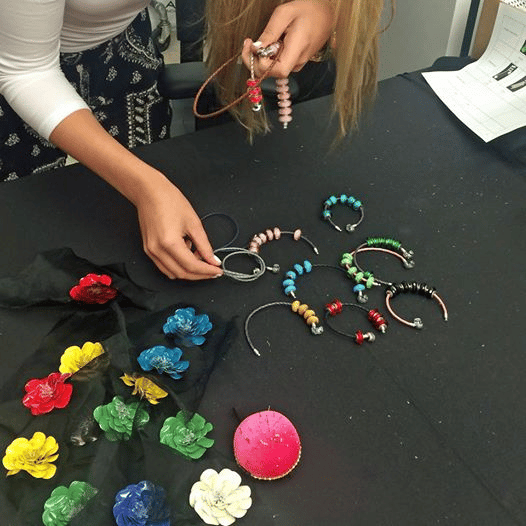 Putting together Pandora bracelets for Vivienne Tam's collection, debuted September 7th
On Sunday. Vivienne Tam debuted a collection topped with bracelets by official Fashion Week sponsor Pandora. In keeping the fashion theme of the week, Tam accessorized intricate patterns and embellishments with simple, colorful jewelry – in this case, namesake bracelets and handcrafted Murano charms.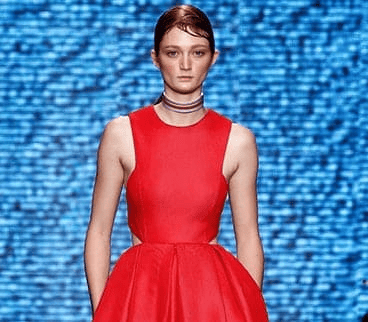 Patriotic striped collars with DKNY Spring 2015 collection
Chokers returned to the runway once again in designs matching DKNY's vibrant patterned frocks and separates. The thick bands came in a variety of solid primary colors, stripes and in-your-face patterns—a perfect complement to a high-energy collection as diverse as the designer's inspiration: New York City.
Read more...
4 Jewelry Trends at VMAs and Emmys
5 Most Fabulous Jewelry Trends in 2014
Hot Engagement Ring Trends for 2014
Haute Jewelry Trends at Cannes Film Festival