From October 27th - 30th the Metropolitan Pavilion hosted the 3rd annual NYC Jewelry and Watch show. This year's showcase is one of many jewelry, antique, and fine craft events organized by the Palm Beach Show Group. The Plam Beach Show Group is recognized as the nation's leading producer of premier jewelry, art and antique shows.
"We were thrilled to introduce a bigger and better-than-ever New York City Jewelry & Watch Show this year. We welcomed new dealers, modified the floor plan and felt a palpable buzz and enthusiasm of shoppers over the course of four action-packed days," said Andrea Canady, Show Director of the New York City Jewelry & Watch Show. "The show floor was filled with serious retail and dealer buyers and many of the clientele were new, first time attendees to the show."
This year's show was filled with hundreds of top-notch companies showcasing an array of beautiful pieces. Whether you are an enthusiast, buyer, or an aficionado, there was something at the NYC Jewelry and Watch show for all.
Here at Luriya, we had the opportunity to walk the floor of the show and even speak to a few designers and collectors.
Jewels By Grace is a jewelry boutique that specializes in rare and antique diamonds, fine vintage and estate jewelry, and contemporary engagement rings. Owner, Grace Navarro loves what she does and lives by a straightforward business philosophy: connect with clients. We asked Grace a few questions about Jewels By Grace.
What kind of jewelry do you sell?
A vast collection of vintage and antique pieces, with emphasis on deco and Edwardian pieces, with a curated collection of Victorian and Georgian pieces.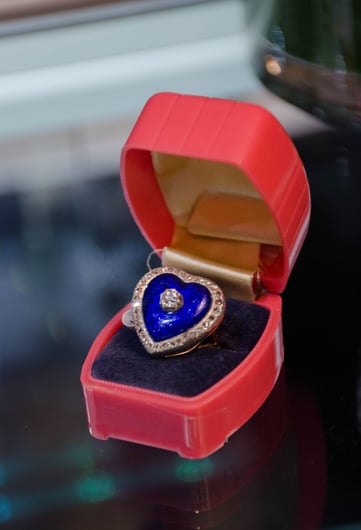 Is this your first New York Jewelry & Watch Show?
This is my second time - last year was my first. If anyone remembers, we were at that corner booth which, we were told, was the most raucous during the show.
Do you have a favorite contemporary jewelry style?
I am loving the chunky, bold pieces in yellow gold, mostly from designers.
Do you have a favorite precious stone?
While diamonds will remain my perennial favorite, emeralds and rubies come in close seconds.
Out of the pieces you sell/have sold, which is your favorite?
I had a 6ctw+ Victorian 3-stone ring with gorgeous scrolls which I sold - still one of my favorite pieces of jewelry.
What exceptional pieces will you bring to the New York Jewelry and Watch Show this year?
I am bringing a vast collection of exceptional engagement rings, and vintage gemstone rings from notable jewelry houses.

And what exceptional jewelry she brought! We loved her vintage diamond and sapphire ring and this gorgeous tiara bangle in rose gold, with 1.15ctw of chunky old mine cut diamondstiara bangle. Both of these pieces are from the Victorian Romantic Period. "People during that period were big on motifs," said Grace. "They said things through symbols and used hearts, birds, and crosses to convey how they felt."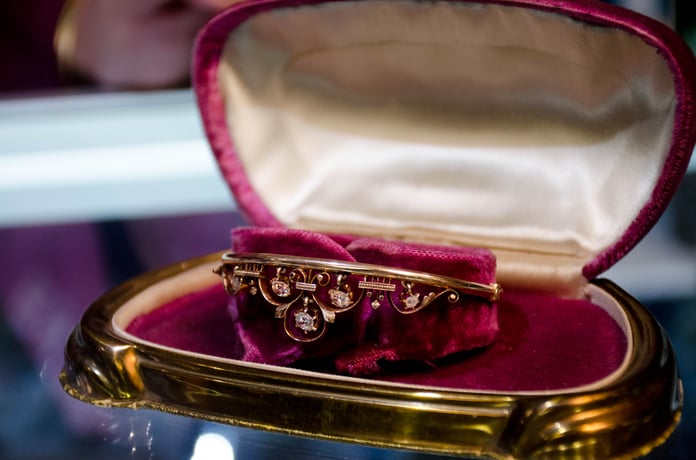 We also spoke to Gemlok jewelry. Gemlok jewelry is a handcrafted jewelry company founded on a dream. Parisian designer Jean Vitau came to New York with a pocket full of wedding band samples and hope. That was over fifty-three
years ago, since then his brand and patented Gemlock trademark took off and became Vitau's claim to fame.

So, what is the classic Gemlok setting? Jean Vitau's innovative design technique allowed a bride to have a cutting-edge look that was secure and snag proof. Besides the gemlock setting, Gemlock has gone on to sell a variety of handcrafted jewelry and brooches.
What kind of jewelry do you sell?
We design, manufacture and sell high end classic and fashion jewelry. We truly have something for everyone looking for fine, quality, American made jewelry. Whether it's someone looking for a beautiful Gemlok eternity band or matching Gemlok classic necklaces and bracelets crafted in platinum or 18kt yellow gold, or a client looking for an unusual gemstone pair of earrings. The quality of our diamonds is unsurpassed and we are known for the quality of our colored gemstones.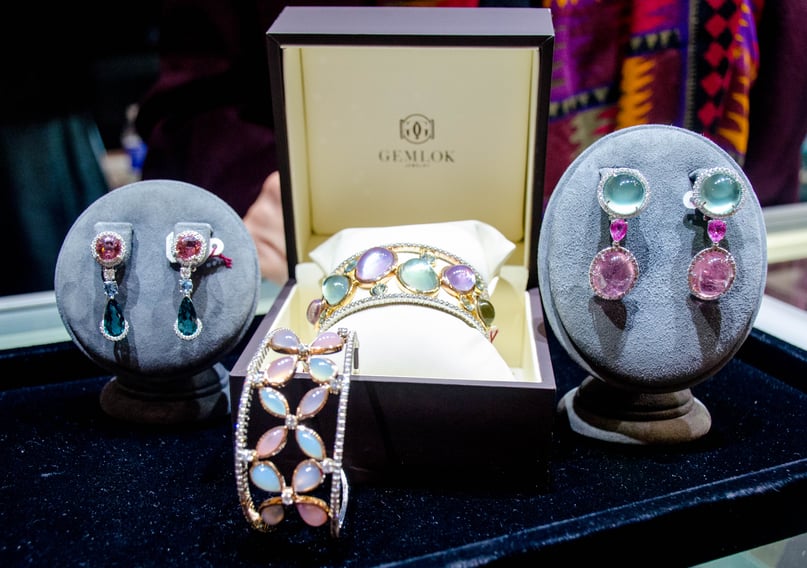 While our pieces have a European design sensibility as the Vitaus are French, each piece is crafted here in New York.
Is this your first New York Jewelry & Watch Show?
This is our first show but having had success at the Baltimore show we are excited!
Our new Miroir Earrings are such a sensation because of the design originality, but all the while will remain a classic. In designing we try to offer contemporary styling all the while realizing that when a client is investing in a fine piece of jewelry they want to be able to wear it for a long time and so we try to create pieces that are classic as well as contemporary.
Do you have a favorite precious stone?
Nowadays "precious stone" has new meaning. I love the the amazing color palette available with the variety of colored stones available today. For example the amazing sparkle and brilliant colors you can find in Spinels is very inspiring to designers. Semi precious is no longer "taboo", on the contrary consumers appreciate uniqueness which is something fine gemstones create. My passion for color and what is now available has sparked our imagination. I once wasn't so keen on garnets but the rich pink and deep burgundies amongst a few of the colors found in the Garnet family have become a huge inspiration when designing new pieces.
Out of the pieces you sell/have sold, which is your favorite?
Hard to say. Some of the figurative animal brooches we have created through the years have made me smile, but the colored gemstone earrings that we have been creating recently are definite runner ups.
What exceptional pieces will you bring to the New York Jewelry and Watch Show this year?
Aside from our newer collections of rings, earrings, necklaces, and bracelets we are also bringing some of our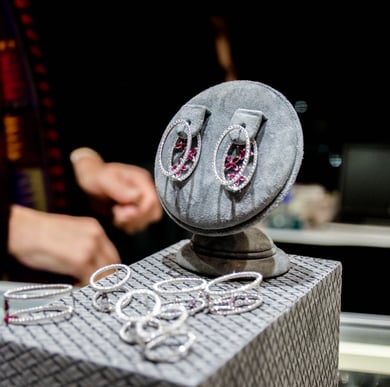 magnificent
Vintage brooches and in particular tsavorite, yellow sapphire and diamond leaf collier.

The classic Gemlok earring blew us away at the show! These oval earrings are not only a favorite with us but with most gemlok customers. These 18k white gold minilok mirror oval earing with marquis sit beautifully in the ear and are unique. Gemlok aims to create modern pieces with a timeless feel, and are doing so effortlessly.
We had such a great time getting to know both of these fascinating jewelry designers. If you didn't have the opportunity to attend don't worry,
"I think the show is really well attended, it has really good energy, and we're really impressed with the turnout," agreed Debra Wilson of Vendome Inc. "We'll definitely be back next year.
The Palm Beach Show Group is operating ten jewelry and antique shows across the country. You can see their show schedule and locations on their website.