The New York City annual Men's Project and Mrket show aims to unite the fashion retail decision makers and the world's top fashion brands. Companies from all over the world come to showcase their brands and latest collections. Men's accessory trends can be forecasted at this year's summer trade show.
Here is a look at some of the coolest watch brands from the show.
BREDA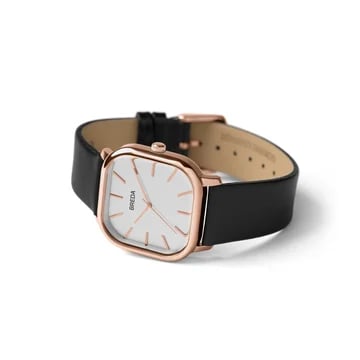 BREDA is a private label watch company based out of the historic Deep Ellum district in Dallas, TX. BREDA has a unique variety of watches for prices that are accessible to all. Their goal is to merge quality products and minimal design. At the expo, I had a chance to check out BREDAS latest collection.
BREDAS SHAPES collection is contemporary and stylish, merging timeless case shapes with minimalist details. Clean lines and complimentary colors really makes this collection stand out. Their mission to inspire individuality and creativity is clear in this collection.
The Zapf watch from the SHAPES collection is sleek with a minimal case. The watch features contrasting stitching and leather loops on the straps, as well as a colored second hand on the dial. These features add subtle bursts of light to this classic design.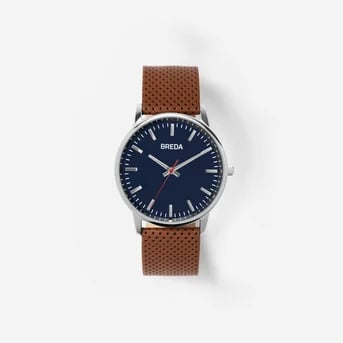 The Visser is a timepiece with a square face and rounded corners.
This elegant shape looks clean on the wrist no matter which
color band the wearer chooses. Made with a brushed dial and stitchless leather band, this piece was inspired by abstract and
minimalist artist, Carel Nicolaas Visser. Visser is known for his square sculptures.
The Visser and Zapf along with all the watches in the SHAPES collection use Japanese Quartz movement and are made with genuine leather, and stainless steel. They are also water resistant. BREDA is a functional watch brand whose pieces complement any look. To find out more about BREDA and to look at their new collection, you can go directly to their website.
AVI-8
AVI-8 is a watch brand inspired by all thing aviation. AVI-8 believes that all the best engineers, scientists, designers, and pilots have combined over the years to produce cutting edge machines that were designed for the crucial purpose of a country's defense. Drawing on the absolute best in materials and resources, a series of iconic planes have emerged over the years that serve as a benchmark to look upon when accessing man's progress in the sky. All their watch collections seek to honor the aircraft and the untold stories of airmen.
AVI-8's Flyboy collection was inspired by a colloquial term used to describe men in the air force in 1835. Flyboys of the era were known to be young fearless men with bravado and style. "This irrepressible group with their undeniable charisma and sense of duty inspire this collection of casual yet no less robust timepieces."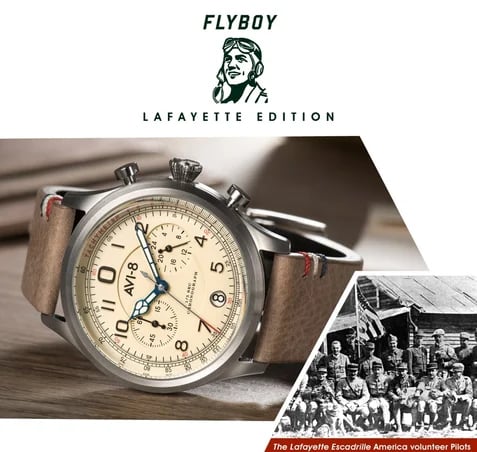 The limited-edition Lafayette timepiece from the Flyboy collection was inspired by the "founding fathers of American combat aviation." 38 pilots of the Lafayette Escadrille flew for France in 1916 and for the U.S in WW I. AVI-8 honors a group of fearless flyboys with intricate timepieces. Made with sweep hand "meca-quartz" vk 64 Japan movement, 1/5th second split timing, 43 mm case, vintage piston shaped pushers, and hand stitched leather, this watch is ready for the sky. This piece was crafted to evoke a modern-day functionality with an added 20th century flair.
The small details on this timepiece are what makes it so unique. The French tricolore on the hand-stitched strap pay homage to the Lafayette. This watch, along with other pieces from AVI-8, do a great job paying homage to past pilots and the culture of vintage aircrafts.You can check out the rest of their collections on avi-8nation.com.
Larsen & Eriksen
Based out of Copenhagen Denmark, best friends Jeppe Larsen and Magnus Eriksen created a watch and accessories brandbased off their love of watches, people, and bicycling. All their timepieces merge 50s clean lines, and timeless Danish design, with an added raw and modern feel, inspired by Copenhagen. The design duo spent years traveling the world exploring the inner workings of the watch industry's diversity worldwide. Throughout their travels, they developed Larsen & Eriksen with the goal of creating something for everyone.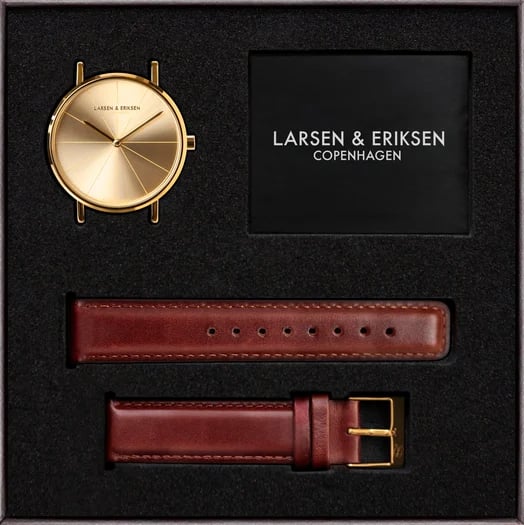 The possibilities are practically endless when you own a Larsen & Eriksen. Each watch can be seamlessly customized by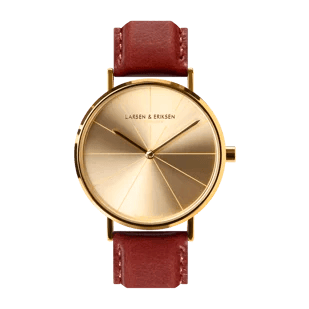 choosing your face and strap. Each watch is Copenhagen designed with Swiss Ronda FE762 Quartz movement. Their use of stainless steel and material crystal glass helps to create their clean silhouettes. Close attention to detail makes each watch special, from construction to packaging.
Larsen & Eriksen created a #Bikesforahappierworld initiative. Their goal through this initiative is to distribute abandoned bikes from Denmark, to people in Senegal and Gambia. Every time a watch is sold, Larsen & Eriksen donate an inner tube bicycle. These bikes can help people access jobs and educational opportunities. To learn more about Larsen & Eriksen you can look at their website.
Analog Watch Co.
Analog Watch Co merges minimalistic design and nature to create stunning eco-friendly watches. Nature enthusiast, industrial designer, and founder Lorenzo Buffa wanted to infuse the everyday with a little bit of nature. Analog focuses on the craftsmanship, beauty, and simplicity of their watches, along with the materials they use. Buffa creates minimal and functional sculptures for the wrist that remind the wearer of nature. Analog makes it their duty to source top quality materials for their timepieces.
The watches in the Carpenter collection are made from different types of wood and leather. The Leather and Blackwood watch is made with genuine Blackwood with gold finishing, Japanese Quartz Movement, and the world's softest, bendable wooden strap. Each Analog watch purchase benefits a different cause. When a wooden watch is purchased, a tree is planted with the organization Trees for the Future.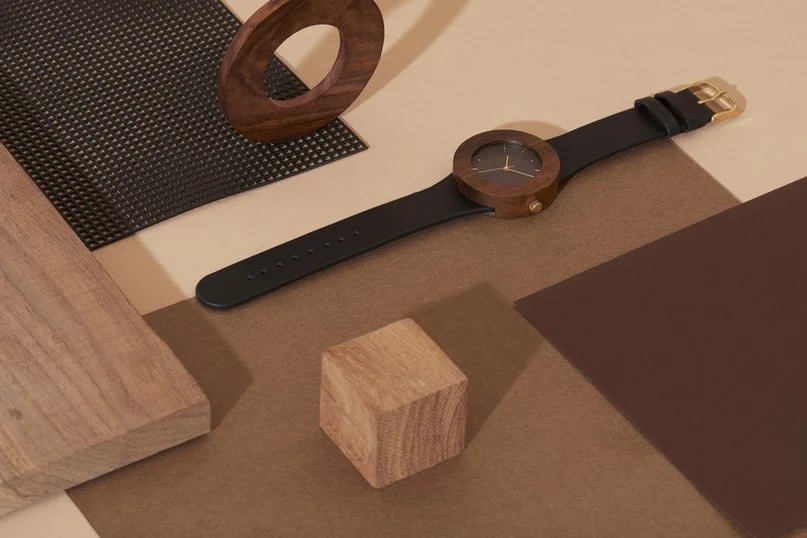 "Each element of this design has been carefully considered, from the materials used, to the proportions, and minimalist details. Worn as a small sculpture on the wrist - this piece just asks to be a conversation starter."
Another beautiful collection created by Analog Watch Co is the Mason collection. Each watch from this collection is made with genuine solid-black marble, finished with gold like the wood watches, and uses Swiss Ronda Movement, and top grain leather straps. "As timeless and solid as marble itself, the mason watch is an elegant accent piece for those who value a piece that is both grounded in the natural world and a bold departure from the norm." When a marble watch is sold, it supports EarthWorks, an organization that protects communities and the environment from the adverse impacts of mineral and energy developments.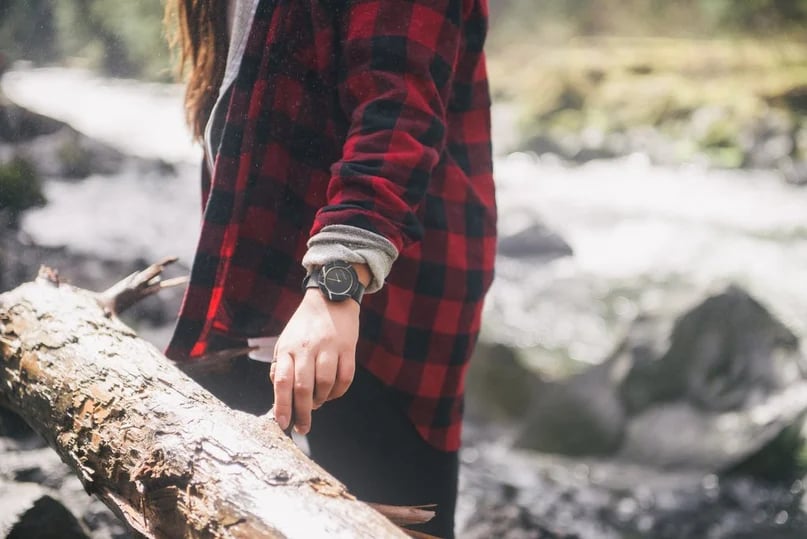 The Men's Project / MRKT expo featured a plethora of fashion and accessories brands for attendees to revel in. The brands mentioned perfectly represent the shift of trends in the world of men's watches. Whether you prefer a clean silhouette, or a more adventurous look, with so many choices, you're bound to find the look that works for you.