Each summer, throngs of tourists flock to New York City to catch a glimpse of Lady Liberty and the Empire State Building - and do some serious shopping. Luxury jewelry and watch retailers in Midtown Manhattan tell us business is booming right now, and many of their prime customers are washing in from foreign shores.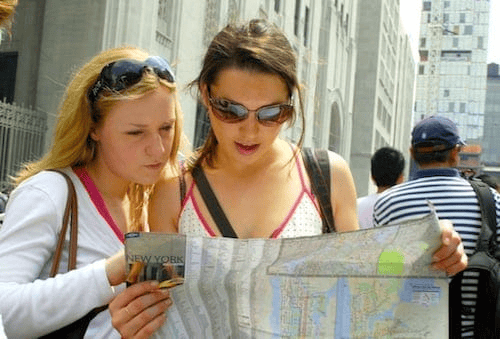 Last year, tourists spent a record-breaking $8 billion on retail purchases in NYC, a large portion of which went to luxury watches and jewelry sold in boutiques on Fifth Avenue and the Upper East Side. According to a recent Bain and Co. study, these high-end goods, along with accessories such as handbags, are leading the luxury market in the US.
Melanie Kratzet, a sales associate at the Cartier boutique in Saks Fifth Avenue, said the shop definitely sees a rise in tourists visiting from abroad during the summer months. "This summer we've had a lot of customers from China, Brazil, and Europe," Kratzet says.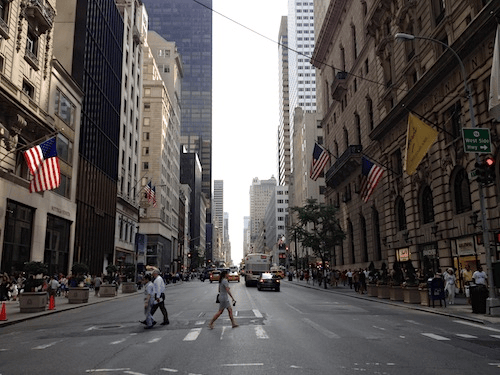 Luxury stores along Fifth Avenue are a favorite with shoppers from out of town. (photo Sarah Hucal)

Of the millions of visitors who make their way to the city each year, a third come from abroad. They tend to stay longer and spend more than domestic visitors. According to a study done by NYC & Co., 11.4 million visitors left their international posts for a taste of the Big Apple last year, a 52 percent increase over visits in the past six years.
While NYC is consistently packed with tourists, the summer months of July and August are especially busy, with approximately 600,000 out-of-towners visiting per day.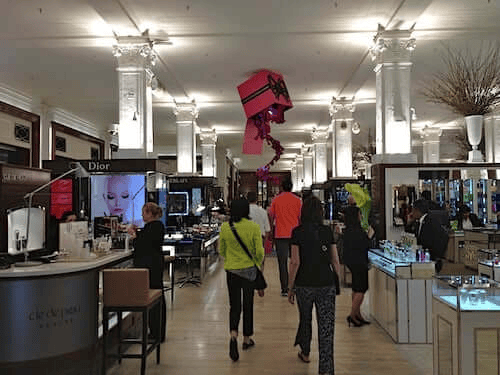 A glimpse inside the original Saks Fifth Avenue (photo Sarah Hucal)

Cartier is not the only luxury retailer seeing a surge in tourists from emerging international markets. Foreign guests from Brazil, China and India have seen visitation to New York City increase more than 100 percent in the past several years. Brazil and China were among the top five international groups to visit NYC in 2013, and they pack a whole lot of purchasing power.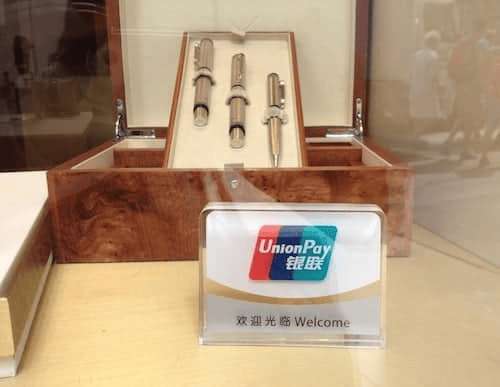 Swiss watchmaker Breguet offers payment options for Asian customers visiting from abroad. (photo Sarah Hucal)

Chinese tourists in particular are among the most frequent visitors to New York City, with over 646,000 making the trip during 2013. According to the Bain and Co. study, Chinese tourists are projected to have the fastest increase in spending in the US luxury market as the year's progress, a trend that is being helped along in many boutiques on Fifth Avenue.
Aaron Faber Gallery, tucked away on 53rd Street, has seen sales of its antique jewelry and watches soar. "We've recently seen a spike in the Asian market that has been very surprising," reports a sales associate at the gallery. "Not only in jewelry, but also in antique watches."

In Fifth Avenue flagship boutique of Swiss watchmaker Breguet, a Chinese family browsed men's watches earlier this month - while speaking Mandarin with a sales rep. In the shop window, payment information was also advertised in their native tongue (pictured above). Like many of its peers, Breguet is boosting efforts to cater to international tourists by hiring multilingual sales staff and who can easily communicate with customers visiting from Latin America, China, and Russia.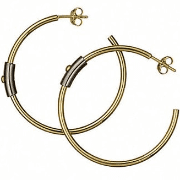 Reed Krakoff T Bar Hoop earrings in sterling silver with gunmetal plated sterling silver detail
These architecturally-inspired T Bar hoops of sterling silver are among the most popular items this summer at Reed Krakoff's Saks Fifth Avenue shop, a favorite with tourists from the Middle East, many of whom visit during the summer months. "The only time we really see a lull in sales is during Ramadan," said Catherine Pierson, a sales associate in the shop. "We have a lot of tourists from places like Bahrain, Qatar and Dubai. They like the fact that our pieces are only available in the U.S. and also not stamped with branding."
Overseas shoppers rarely skip a stop at Tiffany & Co.'s flagship store on Fifth Avenue, the epitome of American-made luxury jewelry in NYC. On a sunny August morning, tourists pause at the marble entrance to take pictures of the handsome doorman while holding their turquoise Tiffany bags.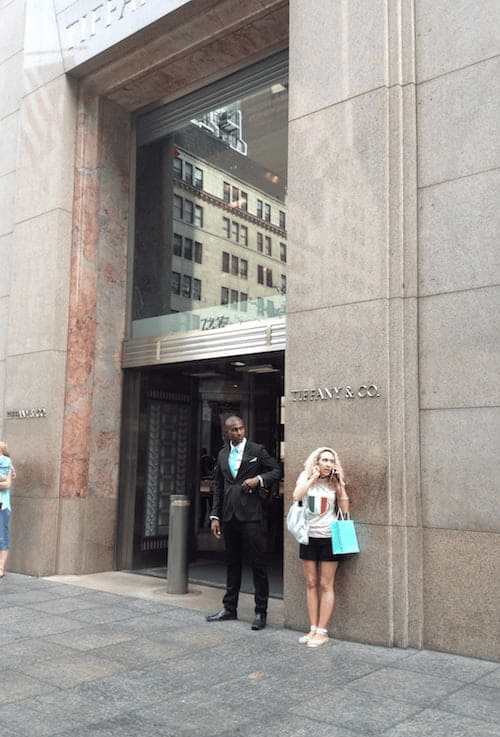 Camilla Peretti of Naples, Italy, pauses outside the Tiffany and Co. flagship store on Fifth Avenue, after blowing the last of her vacation money on jewelry. (photo Sarah Hucal)

According to figures released by the company, sales in the U.S. increased a whopping 3 percent between 2012 and 2013, thanks to business at the New York flagship. Between January and March of this year, sales increased 8 percent. Combined with the swell of the busier summer months, it would appear Tiffany is going to post impressive annual sales this year.

Albert and Camilla Peretti, a couple from Naples, Italy, say they spent the last of a seven-day vacation in New York shopping on the famous avenue. In Western Europe, the month of August is prime time to travel, as many companies close up shop, allowing employees to cash in on the standard 25 to 35 days of vacation allotted there.
Like a visit to Times Square or Central Park, a purchase at Tiffany & Co. was an absolute must-do during the Perettis' trip. "Tiffany is famous, so I had to come here," said Camilla, before heading off to browse the next boutique. "I bought a bracelet for myself, and one for my mom and my sister. We spent the last of our vacation money here at Tiffany."
Read more...
Summer in the City: Where to Find Cool Jewels in NYC
5 Most Fabulous Jewelry Trends in 2014
Celebrating Summer with Pearls