This year,
Tiffany & Company
teamed up with
The Whitney
for their Biennial art showcase to create a collection of a lifetime. Christopher Y. Lewis and Mia Locks are co-curators for the 2017 Whitney Biennial. They selected five artists to create a limited series in collaboration with Tiffany & Co. Many of the pieces displayed were inspired by past works featured by Tiffany and other artists. Harold Mendez, Ajay Kurian, Raul de Nives, Carrie Moyer, and Sarah Hughes collaborated with Tiffany artisans to create their stunning works. Each display case was centered at the entrance of the fourth floor of Tiffany's Fifth Avenue flagship store. Tiffany's flagship store has continuously been a destination for shoppers who are looking for high class jewelry, engagement rings, watches, and a wide variety of accessories. From the beginning, Tiffany & Co goods embodied three distinct characteristics, according to Tiffany & Co archivist Annamarie V. Sandecki: "Inspiration from either nature or the art of other cultures, innovative technique, and a reliance on unusual gemstones and metals," says Sandecki. These notable attributes are the reason Tiffany jewelry and accessories forever hold their value, making them family heirlooms, timeless pieces, and by all meanings of the word, classic. Additionally, it has become attractive for jewelry collectors to
sell their Tiffany jewelry
or
diamonds.
Artist Carrie Moyer created the "Daisy Pendant," this abstract pendant is made with sterling silver and is hand stippled. Moyer is a Brooklyn-based artist with a creative process that includes extensive preporation. She begins by cutting paper collages for her idea. Once this is done, she will create a colorful acrylic painting usually on the floor. This process involves Moyer rolling, mopping, and working paint on the canvas. Moyer leaves no step undone, which results in her sterling daisy pendant which reflects Tiffany's classic silver jewelry and accessories.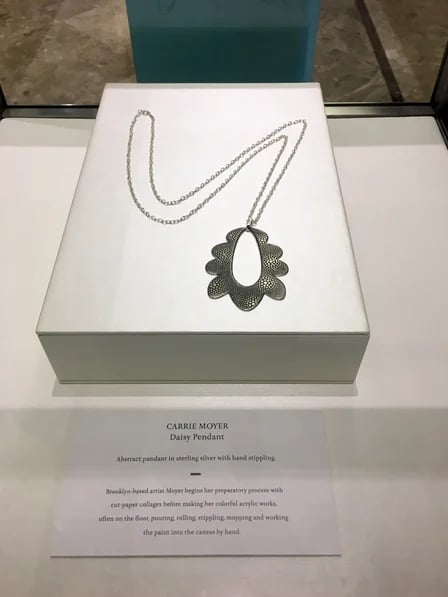 Artist Carrie Moyer Daisy Pendant
Multimedia artist Raul de Nievs worked with Tiffany master engraver to etch one of his drawings atop a sterling silver box. The piece titled "In the Beginning" is a meeting of skill and artistry. Nievs in an artist of everything from hand-crafted ornamental fashions to large figurative sculptures. He attributes some of his artistic tendencies to his childhood in Michoacán, Mexico. The scene on the box features two figures, presenting a child to the world. This a prevalent theme in his work.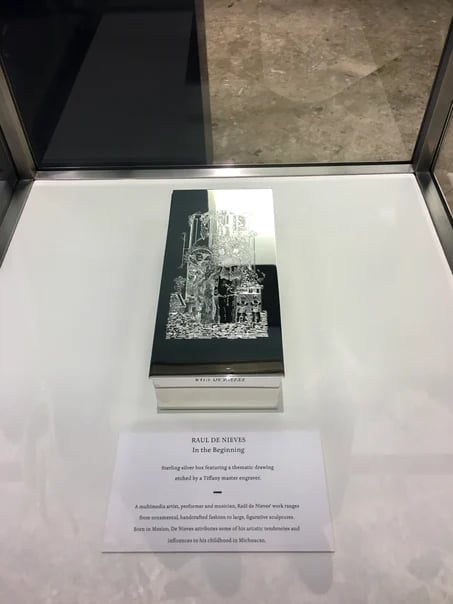 Raul de Nievs "In The Beginning"
Harold Mendez's "When the night is going wrong or when the day is full of empty promise," is a sterling vessel modeled after a pre-Colombian death mask. This mask is inspired by Mendez's culture and experiences. As a first generation American artist from Colombian and Mexican descent, he will often reference cross-cultural perspectives and examine how reclaimed objects and artifacts serve as markers of meaning.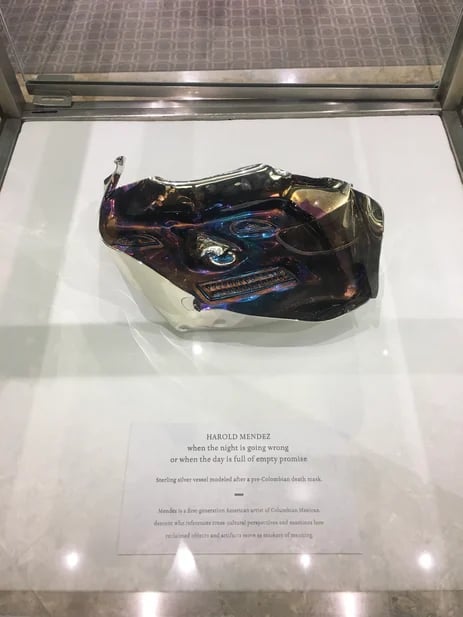 Harold Mendez "When the night is going wrong or when the day is full of empty promise"
Shara Hughes's "Remote Twilight" features an abstract landscape, hand-painted on a bone china vase. This Brooklyn-based artist uses bold strokes to replicate stunning, fantastical landscapes. Her semi-abstract works beckon the viewer to enter the scene. Hughes is the only featured artist who didn't work with silver, but still effortlessly showcases her style with Tiffany quality in mind.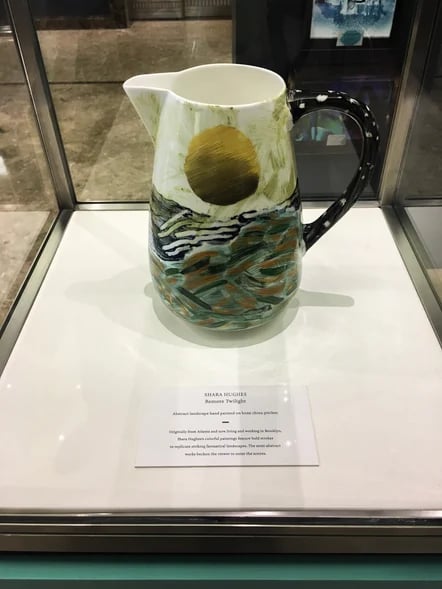 Shara Hughes's "Remote Twilight"
Ajay Kurian's card case may seem quite simple from afar, but when you take a closer look, his concept jumps right off the sterling silver case. Kurian created a stereogram that is hiding the word "psycho" in the pattern. Ajay Kurian is a first-generation American artist best known for his sculptures that explore psychological landscapes and how childhood development impacts the adult world.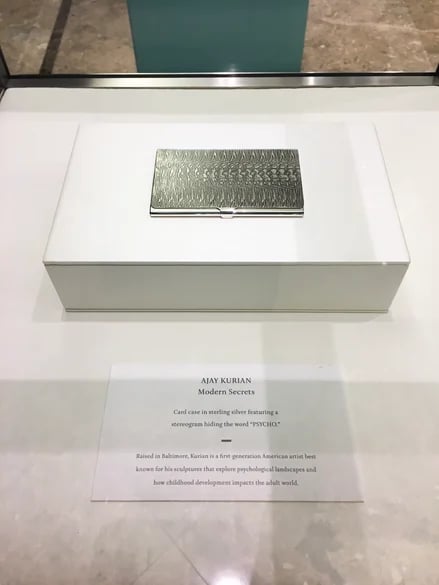 Ajay Kurian "Modern Secrets"
Each collection is available for purchase at both Tiffany & Co and The Whitney Museum. Each piece of art ranges from $3,700 - $10,000. Tiffany and Company founder, Charles Lewis Tiffany and his son Louis Comfort Tiffany, have been purveyors of art since the company's birth. This collaboration showcases not only Tiffany's classic style, but its ascension toward a dynamic and artistic future.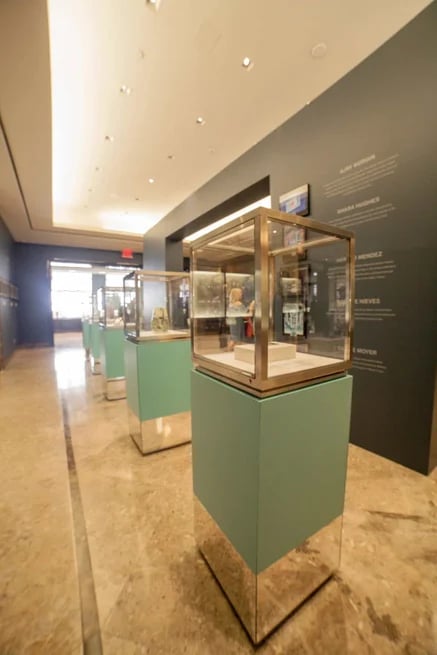 Biennial display at Tiffany's flagship store