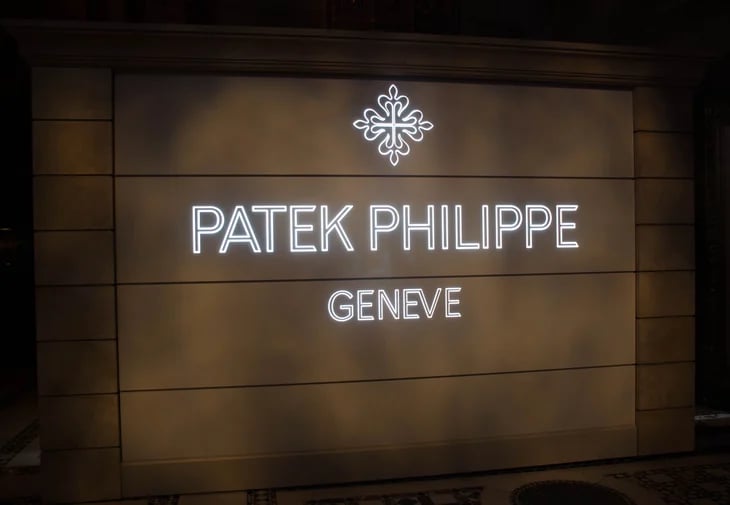 Renowned watch company Patek Philippe has collaborated with
the Kips Bay Boys and Girls Club to bring a captivating display of luxury timepieces for the public to see. Running from July 13th to July 23rd, 2017 at the Cipriani on 42nd street in NYC, this 11-day public exhibition showcased Patek Philippe's tradition of high-precision watch manufacturing and insight into the company's 178-year history. A commemorative catalog is available for attendees to purchase during the exhibition. This catalog highlights the luxury timepieces, rare handcrafts, and current novelties created by Patek Philippe.
Patek Philippe & Co. is a Swiss watch manufacturer founded in 1851, located in Geneva and the Vallée de Joux. The company designs and manufactures timepieces and movements, including some of the most complicated mechanical watches. Patek Philippe watches are considered by many experts and aficionados to be one of the most prestigious watch manufacturers. As the last family-owned independent watch manufacturer in Geneva, Patek Philippe enjoys total creative freedom, producing stunning timepieces.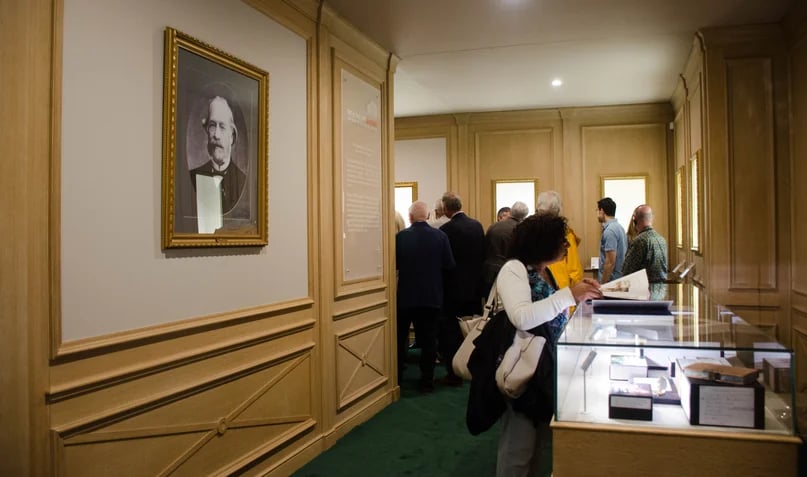 Art of Watches Grand Exhibition Museum room
Antoni Patek started making pocket watches in 1839 in Geneva along with his partner Franciszek Czapek. In 1844, they separated and in 1845 Patek joined forces with French watch maker Adrien Philippe who created a keyless winding mechanism for the watches. Patek Philippe popularized the use of the perpetual calendar, split-second hand, chronograph and minute repair in watches. In 1863 Patek Philippe presented the first wrist watch in history. It was debuted in Paris and was promptly rewarded a gold medal for creating a superb watch the Patek Philippe company have amassed almost 1000 medals awarded for their timepieces and currently hold 80 patents, of which the contents of many are still in use today by watchmakers all over the world.
During the height of their creative process, Antoni Patek passed away in 1877. Soon after Patek's death, the company knew that to have success they would have to extend their reach. By January 1879, Patek Philippe used their partnership with Tiffany and Co and used them as representatives. Adrien Philippe passed away in 1894.
Despite the company's success, an acquisition of Patek Philippe was in the works. Due to the repercussions of the great depression the company had to seek a buyer. Long time partners and famed dial makers Charles and Jean Stern decided to take over Patek Philippe in
1932
. This decision helped financially stabilize the company while continuing to uphold the standard created by Patek and Philippe. The brothers' intent in taking over the business was not for financial profit, but to preserve and expand a centerpiece of the Swiss watchmaking tradition.
"Our history is extremely important to our all-around success. Patek Philippe has been an uninterrupted presence on the market since 1839, and has regularly made news with outstanding products. That represents a very material contribution to a brand's reputation. The crucial factor for us is that down through the years, we've always made watches. That, in turn, has brought us a great deal of indispensable know-how, from which naturally we can profit today."
Charles Stern served as Chairman of the Board of Directors from 1935 onward, assisted by his son Henri. By 1937, Henri was named the head of Patek Philippe Incorporated of America. Three generations of Stern managed and expanded Patek Phillipe into an electronics company and even created the Henri Stern Watch Agency. The Henri Stern watch agency was responsible for the sales and distribution of Patek Philippe watches throughout the U. S.

Since then, the current owner of Patek Philippe U.S, Larry Pettinelli, has continued to maintain the company's "high-mech" heritage by continuing to innovate watch technology and preserve historical look and feel.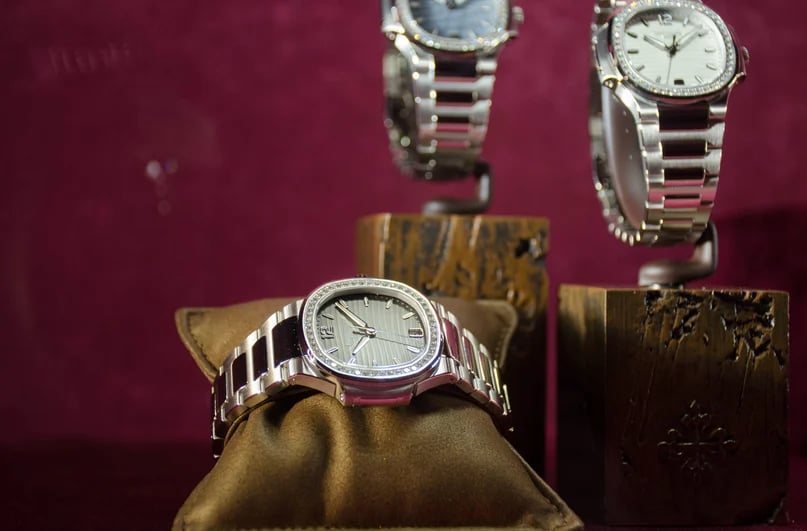 Womans watch from the Nautilus collection

Here is a watch from the current Nautilus collection. This line was created in 1976 after deciding that it was time to also produce an exclusive sport watch with finishes of the highest quality.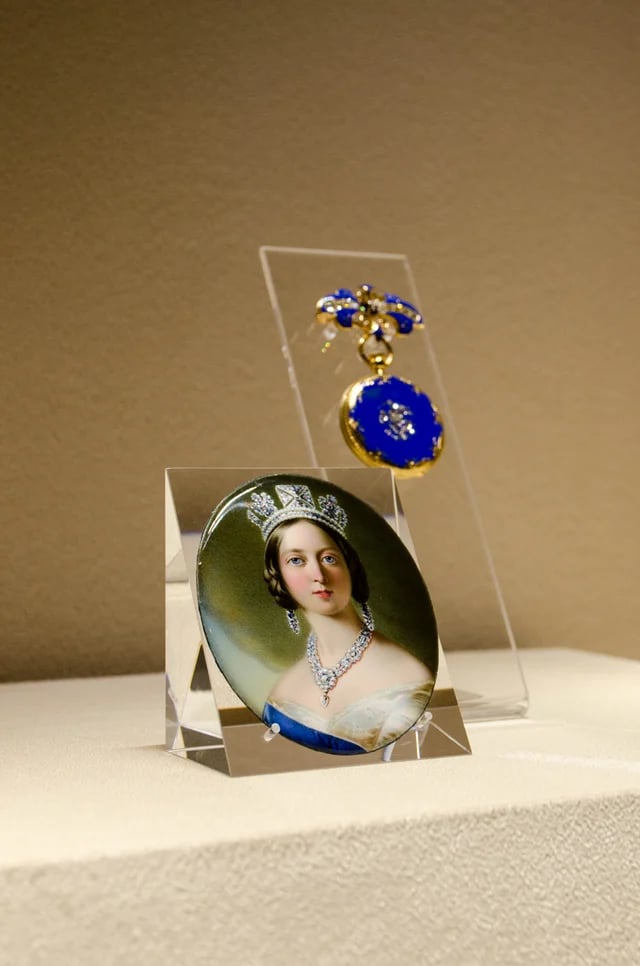 Queen Victoria's Patek Philippe pendant watches on display at Patek Philippe's Grand Exhibition in New York
Patek Philippe timepieces have been popular with celebrities and high-profile figures for decades. This piece was created for Queen Victoria and her Consort Prince Albert. This pendant style key-wound watch is suspended from a diamond enamel brooch. It was originally designed in 1851 for the Great Exhibition of London, and later given to the queen. Queen Victoria would wear pinned to her clothing.


John F. Kennedy's clock by Patek Philippe

Another famous piece created by Patek Philippe is a clock for John F. Kennedy. This quartz-powered desk clock was commissioned by a German retailer Heinz Wipperfeld for Kennedy in June 1963. The clock was presented to Kennedy by the Mayor of West Berlin during his trip there when he made his famed "Ich Bin ein Berliner" speech. His clock signifies the establishment of direct communication between Washington D.C and Moscow and thus showcases the time in all those locations. This clock is on loan from the John F. Kennedy presidential library and museum, especially for this showcase.

Proceeds from each catalog purchased at the Grand Exhibition will go towards The Kips Bay Boys and Girls Club. Kips Bay offers innovative after-school and enrichment programs for more than 10,000 youth, ages 6 through 18, in ten locations throughout Bronx, NY.

"We are so thrilled to be able to use the Grand Exhibition to give back to the local community through the Kips Bay Boys & Girls Club," Larry Pettinelli, President of Patek Philippe U. S said. "We could not have chosen a more fitting partner than the Kips Bay Boys & Girls Club to benefit from the Exhibition, which we hope will educate thousands of individuals from around the world on the history and current State of watchmaking.