This week, UMB Fashion had its May 2017 NY Women's tradeshow. UMB Fashion is one of the world most influential fashion decision makers and the world's top fashion brand. UMB is a trillion-dollar fashion industry through their fashion marketplaces. They hold events in New York, Las Vegas, and Japan. Their events cover fashion for men, women, children, accessories, and footwear. UMB Fashion is a number one fashion influencer, bringing together brands from all over the world. This month's show included women's fashion and accessories. It featured over one hundred designers, including some of this year's must-have trends.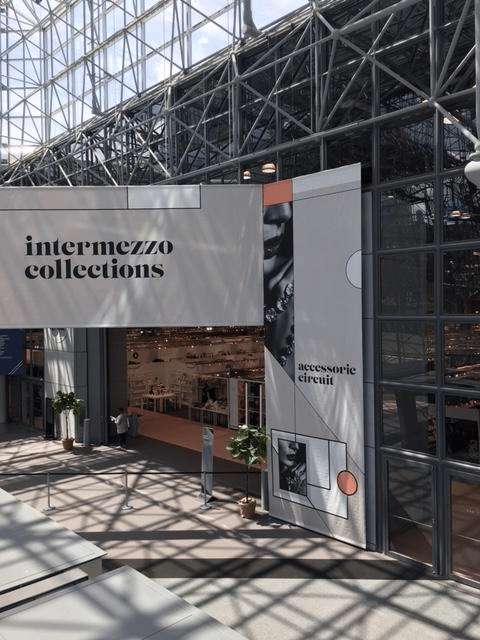 Entrance to the accessorie circuit at the Jacob Javits Convention Center
At the accessories circuit, jewelry designers showcased their current collections. Many of the designs featured are predicting jewelry trends for summer 2017 and onward. The hottest designer's tables belonged to Amorium, Metal Mingle, Five-And-Two, Larissa Loden, IGOU, warrior by Naomi, and Abbi May. These talented designer's unique setups worked well and effortlessly captivated passersby. Each display made the jewelry pop and truly wowed customers. Through browsing the tables, I could pin point some of the jewelry trends that are popular among designers and consumers.
Designer Larissa Loden was a real stand out, with her vintage meets modern designs. Loden is all about the process; she puts her all into each piece she creates. Her pieces are quirky and cool with a modern sensibility. Her gold, circular chandelier earrings are a summer jewelry staple. This trend has been popular overseas in places like Korea and Japan and is now taking over the United States. This trend is a classic look that has been elevated. Everyone has been watching as earring trends have gone from small to statement over the last couple of years.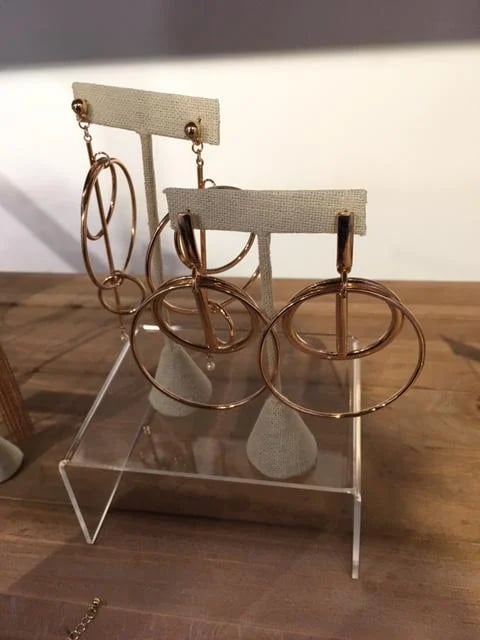 A pair of Gold hoop earings from designer Larissa Loden
Fashion is one of the many ways we like to express our mood. Every year we see trends that change the way we express ourselves. In recent years, the trend of crystals and gems has become much larger in the world of contemporary design. What designers are doing is they are using the design element of mixing pieces of crystals such as amethyst and quarts with mixed metals on bracelets, necklaces, and earrings. Designer Abby May specializes in handcrafted accessories that feature semi-precious stones, crystals, metals, and leather. Crystals are said to carry their own energy and can be channeled by the wearer. This trend not only looks good but makes you feel good too.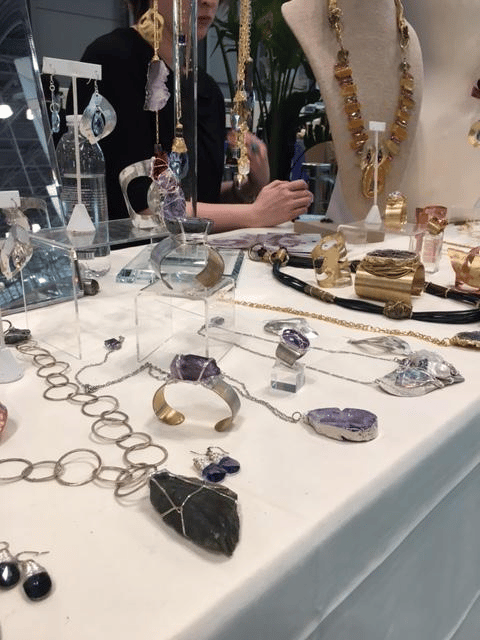 Tabe set up at the tradeshow, jewerly by designer Abby May
For years mixing metals has always been a "no-go" In the fashion world; well not any longer. Designer Tiffanie Drayton is breaking the rules and creating along with new developing trends. Her company Metal Mingle is a minimalist accessories line for the busy yet laid back fashionista. Drayton's goal is to adorn wearers with delicate mixed metal accessories that pair well with laid back or dressed up looks. What's most interesting about Metal Mingle is the alternative mediums used. Drayton uses brass, copper, and sterling silver to create modern and stylish pieces. On display were a couple of necklaces that stood out. Drayton has a design that connects two metals together side by side. The crossover and connector 2 necklaces blend silver and brass together. Metal Mingle paves the way for other designers looking to shake things up while continuing to have a refined style.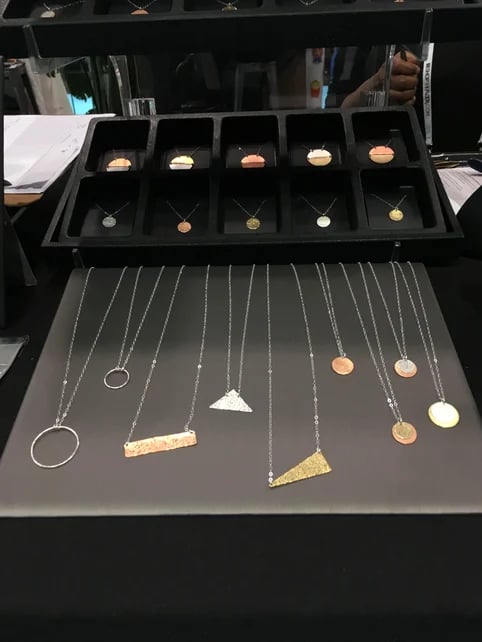 Collection of necklaces By Tiffanie Drayton for Metal Mingle
Overall, 2017 is the year for modern silhouettes that are contemporary and straightforward. Statement pieces will always be classic because of what they add to an outfit. However, the trend of stacking necklaces and rings, large connecting hoops, and classic metals are rapidly becoming popular. Simplistic pieces will hold their value for years and complement any outfit. Jewelry brands are conscious of the changing trends; these types of designs were seen all over the trade show floor. The UMB tradeshow is a fantastic event for seeing what designers are creating and what fashion, jewelry, and shoe trends are on the rise for the near and distant future.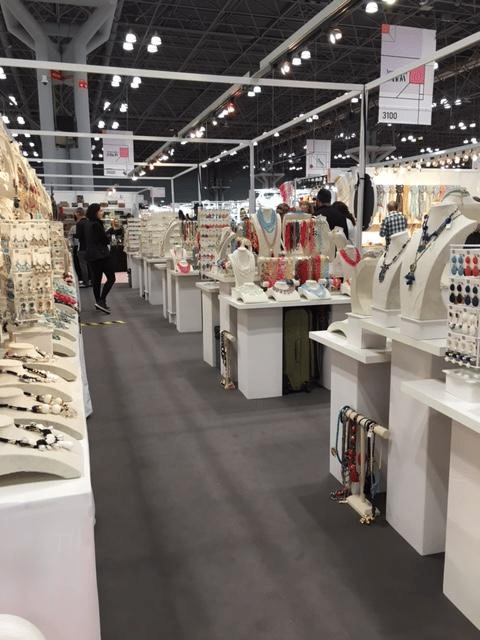 UMB Trade show floor at the Jacob Javits Convention Center