Valentine's Day is in a week and you're just remembering now. Maybe you haven't noticed the subtle hints that your significant other has been giving you for months, but at least you remembered before it's too late. The question remains – what are you getting them?
The most common gifts people think of when they think about Valentine's Day are flowers, chocolate, and jewelry. Flowers and chocolate are nice, but they're either dead or eaten by the end of the week. Jewelry is a great gift because it has an enduring quality to it. Every time your significant other looks at the piece you got them for Valentine's Day, they'll think of you, which isn't something you can accomplish with flowers or chocolate.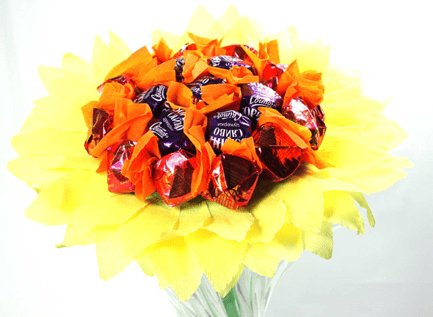 Chocolate shaped like flowers? You have my attention.
If you're buying jewelry, let's assume you're a man looking to buy a gift for a woman (which is more often the case than not). You might be asking yourself "is now a good time to buy jewelry?" Maybe you're still reeling from the recession a decade ago, or maybe you invested in bitcoin way too late. Fortunately, the Consumer Price Index (which tracks inflation) compared the inflation rates of jewelry with the rate of general inflation. Between 2000-2017, the price for jewelry increased by 1.45% a year, while the inflation rate increased at 2.1% a year. This means that in the year 2018, your money will buy you more jewelry than it did in prior years.
Now that you're thoroughly convinced that jewelry is the right move for Valentine's Day, you're probably wondering what sort of jewelry you should buy. Don't worry, we have you covered there too.
Diamonds are a classic choice when it comes to Valentine's Day jewelry. Why's that? Because diamonds were formed hundreds of millions of years ago, they are a quintessential symbol of endurance and longevity. It also helps that diamonds are likely the hardest natural material in the world, which adds to its sense of strength. People like giving symbolic gifts, so by giving a diamond to a loved one, you're telling them that your love for them will endure just like the diamond has over the millennia.
If you've already gotten them a diamond engagement ring, then how about a diamond eternity band? The concept of diamonds lasting forever is taken a step further with an eternity band and makes a great addition if you want to stack your rings. Also, large diamonds are often much more expensive than smaller diamonds of a similar weight. In an eternity band, one carat of smaller diamonds in a pave setting is much less expensive than a one carat solitaire diamond. If you're looking for a frugal option, smaller diamonds can be your best friend.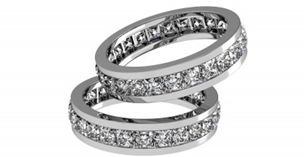 A great example of paired eternity rings
An even more economical option when looking for jewelry is to consider lab-grown diamonds. Natural diamonds are made by putting carbon under intense heat and pressure, and the lab-grown diamonds simulate this natural process. Because they are easy to produce (relative to natural diamonds, which can't be made), they are significantly cheaper than their natural cousins. A synthetic diamond is the same as a "real" one - it has all the brilliance, hardness, and scintillating qualities that a natural diamond possesses. Some people want to buy only synthetic diamonds because they're concerned about buying a "blood diamond" – one that was mined in a conflict area. Slip a synthetic diamond onto a ring setting or a necklace – your wallet will thank you and no one will be the wiser.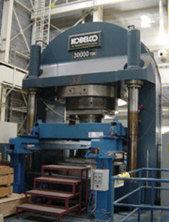 This machine generates the intense pressure needed to make a synthetic diamond
Should you want something with a little more pizazz than a diamond, then you should consider the ruby. Most rubies have a wonderful red hue, which is a classic choice for a Valentine's Day gift. Red is a color of love and passion in the Western tradition, so buying a red colored gemstone for your loved one is a smart choice.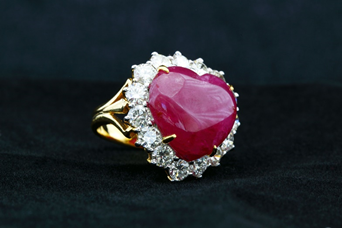 A heart shaped stone is a Valentine's Day classic!
If you're on a budget, another great choice for a red stone is the garnet. Garnets come in a variety of colors, but the red (rhodolite) garnet is a hue of red that very similar to rubies. Of course, garnets usually don't have the same brilliance that a ruby might, but they can be a beautiful choice as well.
A Valentine's Day gift that is more unique than flowers, yet traditional in its own right, is a key-shaped charm that can be worn around the neck or on a bracelet. Giving a key for Valentine's Day is customary in some parts of Italy, and alludes to the idea that the wearer holds the "key" to the gift giver's heart. Key charms come in all shapes and sizes, so you probably have more options to choose from when selecting a key-shaped charm. Keep its size in mind when you buy it, a larger key charm would be unwieldy on a bracelet, and a small charm might not be able to be seen on a necklace setting.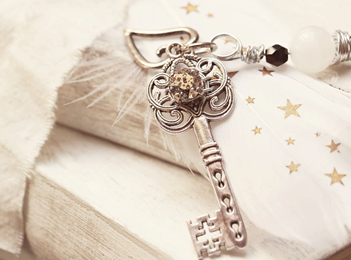 Just one example of a traditional key-shaped Valentine's charm
Something that a lot of people don't consider once they've bought jewelry is what happens if you misplace the brand-new pair of earrings you just bought. Sure, there's insurance for jewelry, but isn't that covered in a homeowners or rental policy? Not quite. Most home insurance policies cover "personal property", which excludes "high-value property" like jewelry – only insuring up to a certain amount. If you want to make sure that 100% of your jewelry is covered, look into a dedicated jewelry insurance policy. You'll sleep better knowing that your Valentine's Day gift will stay with your loved ones for years to come.