What is Patek Philippe?
People buy luxury watches for the quality and design-- and to show off. But not all luxury watches have to be loud and flashy. In fact, according to an interview from Philly Mag, Patek Philippe's president said their core customers "are discreet people. They do not need to show off". The watch-making company has been in business for almost two centuries and has developed a reputation for high quality and simple, classic designs.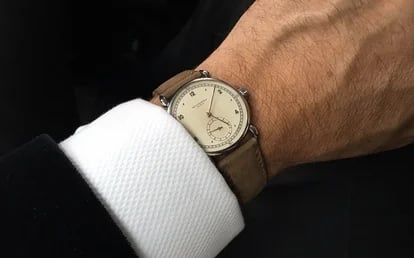 Source: The Hour Glass
They're extremely sought after by watch collectors around the world and have established a permanent place for themselves in the top ranks of luxury watches. But what's so special about them? Let's first start off with how they started.
History of Patek Philippe
Patek Philippe started in 1839, in Geneva, Switzerland: a small village dedicated to the craft of watch-making. Antoine Patek became partners with French watch-maker Adrien Philippe in 1845. Philippe masterminded many revolutionary advances in watch-making technology like keyless winding. Together, they created pocket watches for the high-class members of society and royalty.
Source: shreve.com
The company soon became known for its high quality and attention to detail in Europe. Unsatisfied, Patek wanted to expand their success across the world. He traveled to the United States several times and documented his journeys. In the U.S, Patek forged partnerships with big names like Tiffany & Co.
Patek and Philippe used a "divide and conquer" strategy. Patek controlled business, while Philippe headed technology. With this, Patek Philippe soon increased its prestige in the watchmaking world. They started gaining a reputation for high quality and serviced high-profile clients. They also earned awards in the U.S. as well as Europe. Patek Philippe ended up winning awards at the World's Fair in 1853 and 1855.
Source: WatchTime
In 1868, Patek Philippe created the first wristwatch in Swiss watch-making history. This marked the beginning of a new era and cemented their place in the topmost tier of watch-making companies. Considering the limited technology at the time, the watch's capabilities were incredible. It had a perpetual calendar, split-seconds hand, a chronograph and minute repeater. Each one of these features was incredible on their own; to have them in one watch was revolutionary.
Soon after, Antoine Patek passed away, and Adrien Philippe had to carry on the company alone. He brought his son into the business to help him and 20 years later, Philippe passed away. After his father passed away, Emile Philippe upheld his father's legacy. He maintained the previous standards of quality for over 30 years.
Source: Monochrome Watches
However, when the 1930's global financial crisis hit, the company found itself in a dilemma. They wanted to maintain a luxurious style and high quality, but demand was shrinking. Because Patek and Philippe had valued independence and flexibility, they also had no financial safety net. In 1932, the Stern brothers provided financial backing to the watch-making powerhouse by buying the company. The Stern brothers owned a dial manufacturing company that Patek Philippe trusted.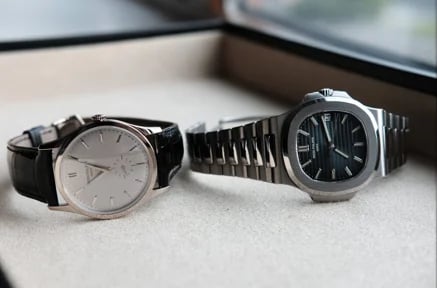 Source: Youtube (@horology blog)
The Stern brothers carried on the legacy that Patek and Philippe left behind. They adhered to their high standards of quality, innovation, and technological advancement. While the shift in leadership was a shock, the Stern brothers quickly proved their worth. The year they took over, Patek Philippe released the now iconic Calatrava wristwatch. It had enormous popularity when it was first released and has a strong following even today. A few years later, they released the Nautilus wristwatches. These two watches were some of the many iconic designs released under the Stern family's leadership.
They changed society's perception and image of what a luxury watch could look like. Even today, their timeless sophistication and luxurious quality are coveted around the world.
Most Popular Patek Philippe Watches
Patek Philippe is probably most well known for the Nautilus and the Calatrava. The minimalist style of the Calatrava stems from the Bauhaus philosophy: form follows function. The watch strips away everything to showcase telling time in a simple, elegant way. Some of the Calatrava models don't even have a seconds hand. This dedication to simplicity was a stark contrast to their ornate, artistic works for royalty. However, this aspect of the watch is what has made it a staple in any watch enthusiast's collection. Countless brands have tried to emulate the simple, classic image of the Calatrava watch. Its simplicity makes it an easily adaptable piece for any occasion.
The elegant, simple watch suits a casual, formal or workplace setting with ease.
Source: Patek Philippe
The Nautilus follows a completely different approach. Where the Calatrava has simple class, the Nautilus has rugged, sleek boldness.
The Nautilus is often compared to many popular Rolex designs. While the latter is definitely much flashier, they both exude casual masculinity. Particularly with the Nautilus, there's a certain "coolness" from its rarity that collectors love.
Source: SwissLuxury.com
It now comes in several different models: each with their own individual personality. Several famous celebrities like Drake and Mark Wahlberg have worn Nautilus models. The Nautilus was also the reason for the famous slogan-- "one of the world's costliest watches is made of steel". The metal was never before associated with luxury, so their choice was revolutionary.
What Makes Patek Philippe Different
1. History
One of Patek Philippe's most defining traits is its history. The brand started in the 1800s and has stuck to strict standards of quality and design for almost 2 decades. The company comes from a background of centuries-old craftsmanship and watch-making. This kind of foundation explains the almost blind trust that the brand's long-time fans have in it. The company also clearly values art for art's sake.
Source: 22europe
Throughout the company's lifetime, various intricate watches have been commissioned--solely for art preservation. The owners at various times recognized the danger of losing certain art forms for good. To preserve the art of enameling and other fading traditions, they compiled a collection of intricate watches. This collection ultimately became the Patek Philippe museum.
2. Family
Patek Philippe is one of the last family-owned Swedish watch companies in the world. The original owners (Antoine Patek and Adrien Philippe) passed the business down to their sons. When the Stern family took over, they did the same. After the Stern brothers bought the company in the 1930s, they passed it down for four generations. This aspect brings a lot of unique qualities that other public companies don't have.
Source: Patek Philippe
First, passing down leadership within the family allows for smooth, prepared transitions. Changing presidents can be a long, difficult, and complicated process for most companies. With a family-owned business like Patek Philippe, each new president has already spent years immersed in the company's beliefs and needs. They come into the role knowing exactly what they need to do. Working as a family business also meant that Patek Philippe didn't need to bring in outsiders. This ensured that every president saw the company as more than just their source of income.
"You Never Actually Own a Patek Philippe..."
The family-owned aspect of the company also helped them advertise. Take Patek Philippe's iconic advertisement campaign: "you never actually own a Patek Philippe. You merely look after it for the next generation". The aim of the campaign was to transform a Patek Philippe from a luxury watch to a family heirloom. They had a valuable product but wanted to justify its six-figure price tag.
They wanted to give consumers a reason to buy a $100,000 watch when they could buy a $100 one. With this advertising campaign, the company was able to make its product more than a piece of jewelry. Some experts say that no other company would have been able to pull off this ad campaign. Because the company itself was passed down from generation to generation, the campaign seemed personal. Patek Philippe seemed to know what it meant to look after something for the next generation. This trust was essential for the campaign's success and helped carry it for more than 20 years.
Source: Patek Philippe
Why are Patek Philippe Watches so Expensive?
Celebrity endorsements are common in the marketing world, but Patek Philippe surprisingly doesn't use them. They don't pay celebrities to promote the watches, because the company knows their high quality speaks for themselves. Silver screen legends like Brad Pitt and Mark Wahlberg have sported Patek Philippe watches. This admiration is shown from its celebrity enthusiasts throughout time. Patek Philippes have also been sported by Albert Einstein, Pablo Picasso, and Queen Victoria, just to name a few.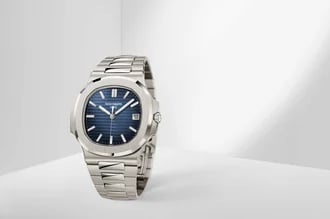 1. Scarcity
So what drew all these people from such different backgrounds to this one brand? Well for starters, the scarcity of Patek Philippes, as well as the exclusivity this rarity brings, are two huge attractions for Patek Philippe. It's estimated that Patek Philippe has only created 1 million over almost 200 years. To put this into perspective, many other luxury watch competitors (e.g. Rolex) produce about 1 million watches every year. For certain popular models like the Nautilus Ref. 5711 have such a long wait list that it could take eight years to get to the front. Even then, Patek Philippe and its associated sellers are extremely selective about who these precious rarities will go to.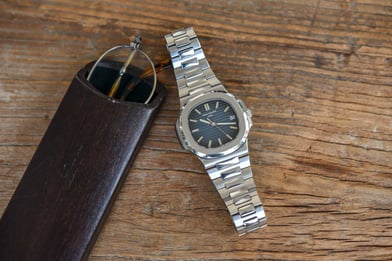 2. Craftsmanship
While this low production adds to the company's attraction, it's also out of necessity. Patek Philippe has made a certain level of quality and precision standard for all its products. To adhere to this standard, it can take up to a year to make one watch. Many of Patek Philippe's most popular watches have over 200 individual pieces. Each piece needs to be perfect to ensure flawless execution. These pieces then need to be painstakingly put together by hand.
Source: GIPIHY
Many of the pieces are so small that the workers need microscopes to put them together. Every aspect of what makes the watch run needs to be crafted by an expert, and then tested several times. The design elements of the watch require this same detailed, expert attention. When watches need diamonds or other jewels embedded, they need to be perfectly inserted into tiny indents, and it's impossible to move the jewel once it's set in place. For more information on why luxury watches are so expensive, check out this article.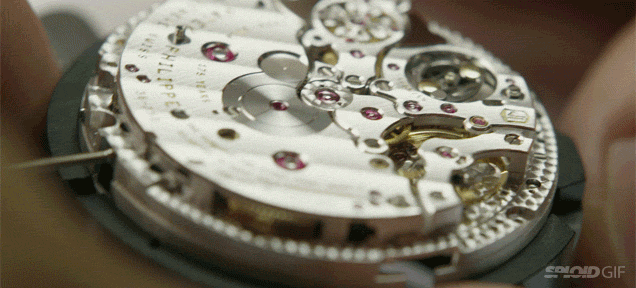 Source: GIPHY
Current Market for Patek Philippe Watches
On the Patek Philippe website, the prices between different models or even between different versions of the same model, vary significantly. The cheapest Patek Philippe watch retail is the quartz movement women's watches at over $12,000. The most expensive listed prices are over $300,000, with several watches only displaying the price upon request.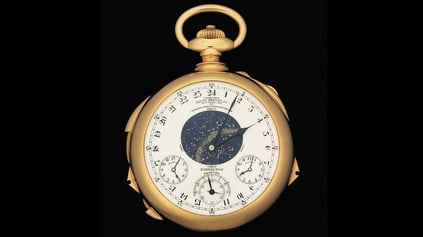 Source: Forbes
Patek Philippe also holds the record for the most expensive timepiece to be sold in an auction, with their Henry Graves Supercomplication coming in at a cool $15 million. They also come right behind Paul Newman's Rolex in most expensive wristwatches, with an $11.1 million ref 1518 perpetual calendar chronograph. In various lists like "most expensive watches sold", Patek Philippe holds a steady number of spots, no matter the time period. This might come as a surprise, especially when most of the other watches have precious jewels covering every inch, or are made of solid gold, etc.
Patek Philippe watches are of course made with expensive materials and are incredibly high quality However, the 6 figure amounts that people pay for the watches aren't because of the gold or diamonds. The appeal of the watches is what's on the inside along with the incredible, rich history that each one holds.
Luriya and Patek Philippe
Here at Luriya, we have a deep appreciation for quality and meaning, especially in jewelry. If you need to buy or sell your Patek Philippe watch, trust our luxury jewelry expertise, along with our dedication to customer service. Visit our website for a FREE expert appraisal of your watch, a fair offer if you choose to sell, and instant payout options.