With demand for colored gems on the rise, it's becoming clear that diamonds aren't the only gem with blood on them. Colored-gem mining and cutting involve many of the same problems diamonds have become famous for.
But new initiatives are being launched to keep that in check, and the gem and jewelry industry are starting to get on board.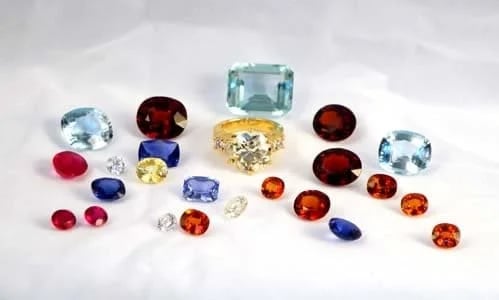 While the colored stone family is large—around 100 types are available today—some tend to steal the spotlight. Prices for rubies and sapphires have reportedly increased faster than that of diamonds over the past several years. In December, Christie's set a world record at auction with the $6.4 million sale of an 87-carat Burmese ruby and diamond necklace.
Many celebrity brides have been opting for colored gems over the traditional diamond ring. Penélope Cruz and Elizabeth Hurley both chose sapphire wedding rings, while Halle Berry and Jessica Beil opted for emeralds. Duchess of Cambridge, Kate Middleton is said to have caused a flurry of colored stone purchases in the UK after Prince William presented her with the 12-carat blue Ceylon sapphire engagement ring that once belonged to his mother, Princess Diana.
According to recent pricing figures releases by GemGuide, demand for colored stones in the U.S. is expected to rise in the second half of the year, and consumers will likely see an influx of blue and pink sapphires, rubellite, bicolor tourmaline, green tourmaline, and emeralds appearing in designs by designers in the coming months.
The resurgence of colored stones can be attributed in part to the discovery of new colored gem deposits around the globe in Kenya, Madagascar and even Greenland.
This surge in demand for colored stones has brought new attention to the way the rough stones are mined, cut and traded. In May, human rights organization Global Witness called for due diligence of companies sourcing colored stones, citing Afghanistan, Central African Republic, Zimbabwe and Myanmar as areas where gem mining is known to fund regimes responsible for violating human rights.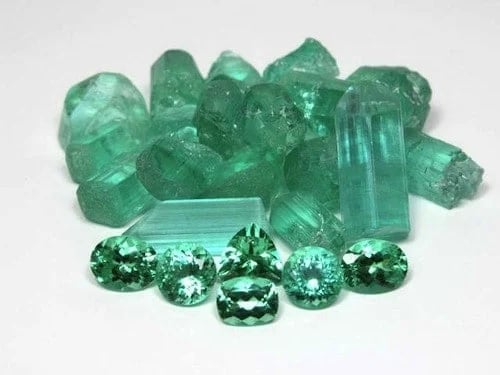 Afghan Seafoam tourmaline crystals and faceted stones
Diamond mining operations are protected by Kimberly Process certification, an initiative that aims to ensure diamond mining isn't funding such activity, but colored stones lack similar ethical sourcing standards on an industry-wide level.
Some companies are taking matters of ethical, sustainable and fair trade gem production into their own hands. Columbia Gem House Inc., founded in 1977 by Eric Braunwart, is a shining example. The gemstone mining, cutting, and marketing company based in Vancouver, WA, gives back to local mining communities through fair trade initiatives, and provides optimal conditions and fair pay for workers.
Bruanwart, a founding member of the AGTA (American Gem Trade Association), recently launched Vision 20/20, a broad set of industry goals underscoring sustainable and ethical practices, with African partners. The goal is to present guidelines to get the gem and jewelry industry moving in the right direction.
"This is an issue of supply-chain responsibility," said Braunwart during a recent phone interview. "Everyone seems to think responsible sourcing is just a mining issue, but there are a lot more people who are injured in the cutting area than the mining area."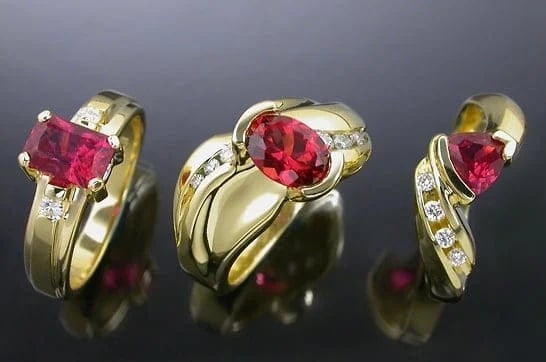 Trigem designs rings featuring Nyla ruby from the Chimwadzulu mine in Malawi
His company is also working with partners at cutting sites in China developing a technology to battle Silicosis, a deadly lung disease caused by the inhalation of silica dust created when cutting gems. Braunwart says they have created a low cost-ventilation system that eliminates the deadly dust and are advocating it in cutting factories in India and Thailand, where workers' health has not always been a primary concern - to say the least.
Bruanwart has described his work as going "beyond fair trade," but certain practices fit the traditional definition. The company gives back to the local community in Malawi near the Chimwadzulu mine where their signature Nyala ruby is unearthed. Working with community leaders to identify areas of need, they have built teacher housing, developed a health clinic and even provided school uniforms for local students.
"The goal is to reinvest in the area, which includes not only the mine, but the community, as well," says Braunwart. A percentage of proceeds from gems sold through their jewelry design partner, Trigem Designs, are funneled back into such initiatives.
Braunwart and partners also ensure that customers are receiving authentic rubies and not glass composites, something many large suppliers cannot guarantee. "Authenticity is a big issue in the industry right now," he says. "If you're buying a ruby, you don't want to find out that 30 percent of it is red glass. This is only something you can ensure if you are monitoring the process every step of the way."
This is no simple task for gem and jewelry dealers whose operations span several continents, but Eric Braunwart is proving it can happen.
Read more...
Colored Diamonds Set World Records at Auction
Is it Possible to Buy Diamonds Without Buying Blood Diamonds?