Saturday was summer solstice in the northern hemisphere, the longest day of the year and most importantly, the official start of summer. No better time to stock up on pearls, June's birthstone, the perfect complement to summer whites, and one of the most desired (and constantly reinvented) products of the sea.
A History of Opulence
Pearls have been treasured for well over 2,000 years, coveted the world over by Indian rajas, Arab sheiks, and English aristocracy alike. During the first century B.C., a "pearl fever" extended throughout the Roman Empire as ladies clamored for the costly gems that have since come to epitomize the feminine and sensual.
Historian Suetonius wrote that Roman general Vitellius financed an entire military campaign by selling just one of his mother's pearl earrings. Legend has it Cleopatra bet Marc Antony she could easily spend a small fortune on a meal. How did she win? She dissolved what was described as "the largest pearl in the whole of history" and drank it from her goblet - the wealth of several kingdoms thus downed in a single gulp.
From 1,000 BC until the mid-20th century, divers plunged to harrowing depths to collect natural pearls in the Arabian Gulf. Pearl supply got a lot easier in the early 20th century when Kokichi Mikimoto, the son of a Japanese noodle maker, set out achieve the previously unthinkable: coax freshwater oysters to cultivate round pearls on demand. By the 1950's his techniques had made low-cost pearls available around the globe, taking a large step closer to fulfilling his dream of adorning "the necks of all the women in the world with pearls."
Pearls in Jewelry Trends for 2014
Although pearls are timeless in their appeal, they are constantly reinvented through the daring creations of designers. Coco Chanel set a lasting trend in the 1930s when she began mixing cultured and imitation pearls, layering them with long chains. Several decades later, the company she founded continues the tradition.
Chanel's 2014 spring-summer collection made waves in the media with over-sized faux pearls on necklaces, rings and bracelets. Some pieces, like a short metal necklace embellished with two magnetic pearls, are off-kilter. Others, such as the headphone-style torque necklace, are like pearls on steroids.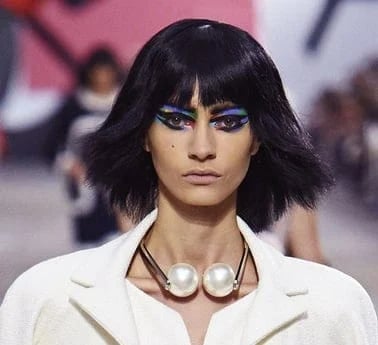 Chanel's Metal "earphone" necklace in the Spring-Summer 2014 collection
On the brand's in-house blog, Karl Lagerfeld says his favorite thing about the necklace is that "it's like an earphone" but its two huge pearls cast "a flattering light" on the face. This necklace might not flatter every face - it takes a youthful panache to pull it off - but it proves Lagerfeld hasn't lost his edgy sense of humor or his ability to snag Chanel major international press, including the covers of the Italian and Australian Vogue and the UK's Harper's Bazaar, where it showed up on Chanel spokesperson Keira Knightley.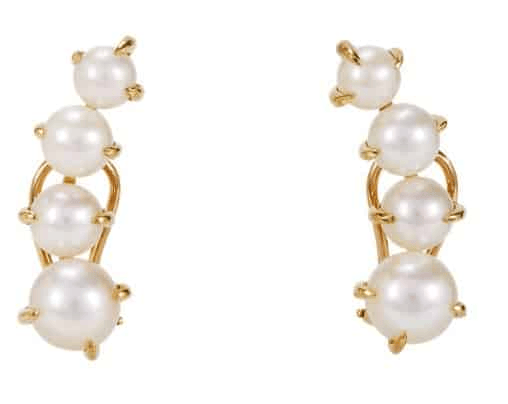 Ana Khouri pearl and gold Patricia earrings in 18k yellow gold
Upcoming designers are doing their part to recast pearls in a contemporary light as well. Brazilian designer Ana Khouri often features pearls in her chic and tasteful fine jewelry, which can be found at Barneys New York and many high-end boutiques. Her open-band pearl and gold "Jane" necklace is a subtler version of Chanel's earphones, single white and black pearls tip the end of the sleek 18k gold collar. Her interest in contour is especially evident in the Patricia ear cuffs, with four lustrous white pearls in 18k gold claw settings that follow the curve of the ear - a trend we spotted at this year's awards shows.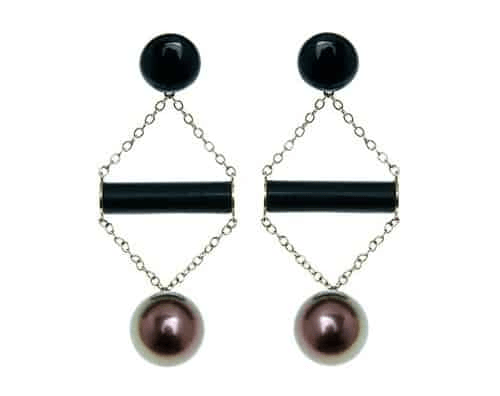 Belmacz Goldoni earrings with cultured brown Tahitian perfect round pearl, Hawks eye, grey agate, and 18k yellow gold
British designer Julia Muggenburg is also one of many independent designers who have made pearls more of a statement in contemporary design. The whimsical accessories of her Belmacz collection often juxtapose old and new, and her use of pearl is both elegant and forward-thinking. The symmetrical Goldoni earrings epitomize her modern use of the traditional pearl, and feature sultry, cultured, brown Tahitian pearls, hawks eye and agate with 18k yellow gold.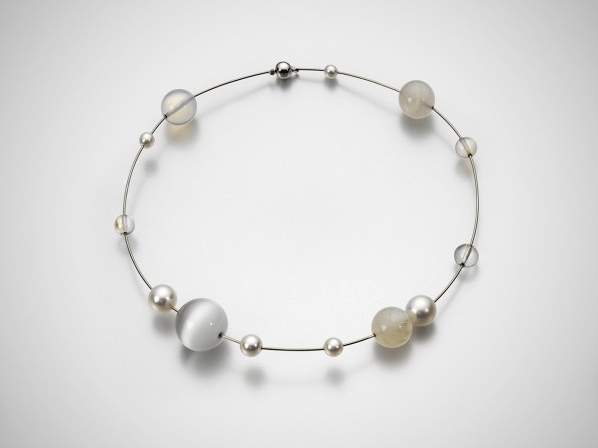 Mariko Mori Planets Necklace with South Sea pearls, Akoya pearls, opal glass, aurora beads and pearl crystals
Hailed as the most important artist to come from Japan in the past 50 years, Mariko Mori has demonstrated her skill at jewelry design and has placed pearls centrally in her futuristic work. Her limited edition "planets" collection sets pearls in a nearly mystical light. Designed as a meditation on our place in the cosmos, the elegant "Planets" necklace features a mixture of South Sea pearls, Akoya pearls, opal glass, aurora beads and pearl crystals.
Read more...
Hot Engagement Ring Trends for 2014
What to Look for When Buying Aquamarine Jewelry
Wedding Jewelry: Floral Hairpins to Boho Chic