Let's face it. Most people don't wear luxury sports watches for practical reasons. They buy them because they look cool. The best chronographs on the market are like wearable versions of a luxury sports car.
But if you happen to be an outdoor enthusiast who actually needs a watch that will stand up to the rigors of your adventures and even offer some useful benefits, there are myriad timepieces for sports enthusiasts of all means and athletic persuasions.
Watersports
While the majority of sports watches are waterproof, you'll want a watch that has been created specifically for aquatic activities. A water-resistant watch will have rubber, nylon or Teflon gaskets set on the case at the case back, crystal and buttons, as well as a waterproof sealant lining the case.
Many include displays featuring tidal data, barometric pressure, temperature, compass bearing, Bluetooth compatibility and depth gauge facility. Most are rated to a certain depth of water resistance such as pool swimming or skin diving.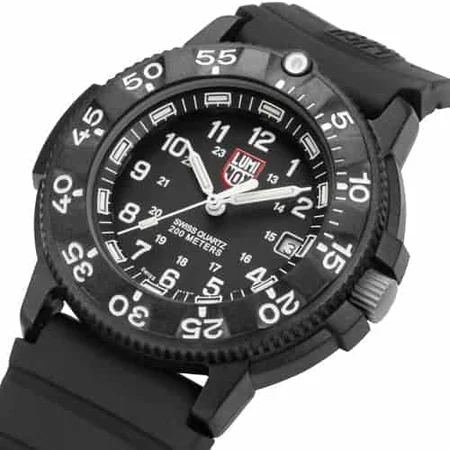 Luminox 3001 Original Navy SEAL Dive Watch
Divers should select dive watches made for withstand water depths of 100 to 300 meters. One such option is the Luminox 3001 Original Navy SEAL Dive Watch. Designed for night missions, this durable time piece lights up without an external light source and is suitable for dives up to 200 meters, complete with a buckle clasp and safety to insure it won't be lost in the watery abyss.
Running, Cycling and Other Timed Sports
From GPS capabilities, maps, virtual pacing, distance and time alerts and much more; deciding what features you need when time counts can be undeniably tricky. Runners should put in the research, since the right watch can help improve your time, distance, and confidence when running.
One of 2014's most popular additions is the Adidas Micoach Smart Run GPS watch, which monitors distance, calories and steps and monitors heart rate, while tracking stats on a customizable touchscreen. It even streams music via blue-tooth enabled headphones, and features real-time cardio training plans created by elite coaches.
For a stylish option, try the futuristic Nike Fuel Band, a sleek, black, lightweight timepiece that measures a variety of stats while flashing motivational messages and synching with your iPod. For serious cyclists, The Polar RCX5 is an excellent option for those who embark on long rides, as it can go eight to eleven months without a battery change (an attached GPS receiver runs about 20 hours), and its easy-to-use software lets you design your own training package.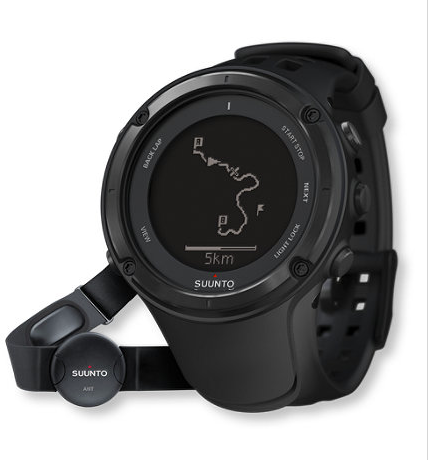 Suunto Ambit 2 has a barometric altometer for altitude readings and a GPS that lets you track your adventures and map them later on your computer.
Hiking and Outdoor Sports
While letting the stars be your guide may sound romantic, outdoor sports enthusiasts know that having a good GPS watch for hiking can make all the difference. More than just simple timekeepers, hiking watches come with a variety of features perfect for the great outdoors.
If you're often out at night, make sure to choose a watch with a strong back light, like the Timex Expedition WS4. Tested in the Himalayas by world-renowned climber Conrad Anker, this easy-to-view wide-screen display allows easy reading of stats, plus an altitude alarm, 100-hour chronograph and an Indiglo night light.
One high-end outdoor timepiece with all the bells and whistles is the Suunto X10. In addition to an altimeter, barometer and compass, this timepiece has the ability to view your route with Google Earth's satellite imagery, and includes a Track Back feature which can guide you back to your starting point in case you begin to feel lost.
With a multitude of models to choose from, there's no reason to let time get away from you while searching for the perfect sports watch.
Read more...

5 notable watch trends from Baselworld 2014
Watchmakers target celebrity athletes, high-profile sports
Coin collecting sparks new interest as gold prices drop
Is it possible to buy diamonds without buying blood diamonds?