It can be difficult to navigate New York's diamond industry as the city provides an overwhelming number of buyers and sellers alike. With a plethora of options to choose from, where can you really get more bang for your buck when you sell diamond jewelry in NYC?
The Diamond District - West 47th Street between 5th and 6th Avenue
The Diamond District, strategically located in the heart of New York City, is home to jewelry buyers and sellers that, well - you guessed it - deal with anything and everything diamond, gold, and jewelry related.
Check out the map below!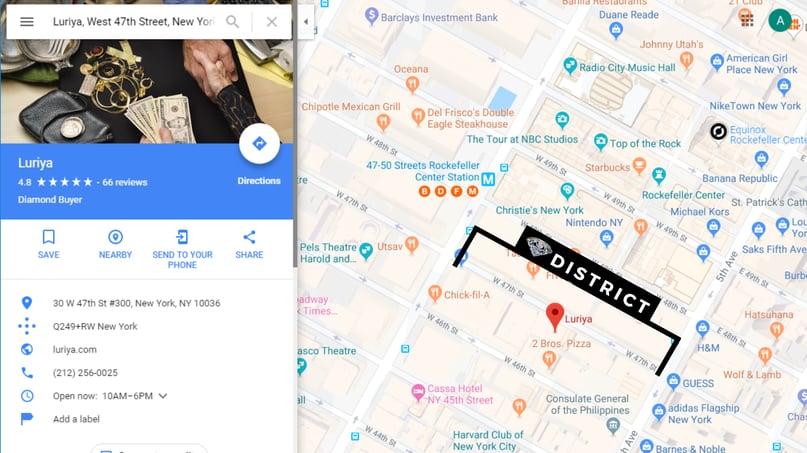 The street is open within the regular business hours (may vary from store to store) but some may stay as late as 6pm to 7pm.
It can be particularly daunting for first-time diamond sellers to navigate the Diamond District (and frankly, the industry as a whole) but don't fret, we've got you covered with our insider tips!
But first, let us introduce ourselves.
Luriya is a well-known and reputable jewelry buyer right in the heart of New York City. We deal with fine jewelry, gold, diamonds, other precious stones, watches, and coins. Our experts are trained gemologists and appraisers that are knowledgeable on proper gem assessment practiced by the Gemological Institute of America (GIA) and licensed by the NYC Department of Consumer Affairs.
In addition, Luriya is also a vetted member of the Jewelry Security Alliance (JSA), Jewelers of America, the New York State Jewelers Association, and the Manufacturing Jewelers Sales Association (MJSA).
Now that that's out of the way - let's take a look at our insider tips for selling diamonds in New York elaborated by none other than our expert appraiser and Luriya CEO, Fima Kandinov.
Always compare prices - ask around!
Diamonds are generally valuable, but its value will differ from one place to another depending on its scarcity. Pro tip: learn about diamond prices in your area. Is it comparable to other cities/states? Selling diamonds is like selling any other valuable commodity. You have to put in the effort to learn where diamonds sell best.
The rule of thumb is to never sell to the first person/place that gives you a decent price for your diamond. It can be close to the price that you want and - rarely - it might be a lot better than what you're looking for but NEVER EVER sell to the first place that gave you an offer.
"You might get better offers out there and, if you've exhausted all efforts to go from one place to another, but never found a better offer than the first one, isn't it more comforting to know that you actually put the time and effort to look for a better payout?" says Kandinov.
Honesty is the best policy
"This should go without saying but the main thing to remember about these types of transactions is that while YOU want to make as much money as you can off of your jewelry/stone, keep in mind that the person or dealer buying it from you wants to make money off of it as well," says Kandinov. "It will always be better to deal with an established and reputable dealer that has been in the business for a long time."
And if you feel that something's up - trust your gut and get out!
Be sure to get a full - and understandable - description of your goods
Whether you're selling diamonds or selling jewelry, it is important to ask for a detailed description of your goods. The description should include whether or not something is a brand-name piece, if it is certified or not, and a written appraisal/report about what exactly your piece is.
"The kind, size, weight, and quality of a diamond should be spelled out to you. Jewelers tend to talk in jargon about jewelry pieces and it is perfectly understandable that you aren't familiar with those terms," begins Kandinov. "Do not be afraid to ask for clarification! After all, they are trying to get YOUR business so if you feel like everything is flying over your head - it is perfectly understandable to ask."
If they rush you to close the deal, rush toward the door
"One of the most common signs of a dishonest dealer is rushing the customer into making a deal and not allowing you to think it through," says Kandinov. "As an appraiser myself, I would try and explain to you - with as much detail as possible - why I am giving you the price that I am giving you and help you understand how valuable (or at times useless) your diamond is."
Being in the Diamond District, we here at Luriya have heard of A LOT of horror stories where people were just urged to sell because the dealer is intimidating them and rushing them to close the deal. Lines like "you will never get a better price anywhere else" or "my price is fair because truthfully, your diamond is worthless" have all been used, in different variations, as a scare tactic to rush you into closing a deal. This will not only leave you with less money but also leave you disappointed in yourself.
This goes without saying but… ASK FOR A RECEIPT!
Another one that we think goes without saying is for you to always ask for a receipt. If a dealer refuses to provide you with one, turn around and go straight for the door.
You might be thinking, "Is a receipt really that important?"
Short answer: Yes!
Long answer: Yeeeeeeeeeeeeeeeeees! - but with more Es.
Remember the horror stories we told you about in the earlier parts of this post? Those are the things you would want to avoid. In the event that someone takes advantage of you or in the off chance that you think you made a mistake, your receipt would be your best friend.
A receipt serves as proof that you made a transaction with an establishment. For starters, you could use this receipt to prove how much your jewelry is worth and contest a transaction if you feel that you have been ripped-off. Either way, remember that you are ALWAYS better off having a receipt.
There really isn't a single "best place to sell diamonds" (you have to put in the work!)
Knowledge is key. Equipping yourself with enough knowledge about the task you are about to do (in this case, selling diamonds or selling jewelry) will not only help you make informed decisions but also keep you from feeling taken advantage of (after the fact).
Steer clear of hawkers!
There are A LOT of hawkers in the Diamond District.
Hawkers are people that shout at you...literally. They shout to sell, they shout to get your business, they shout to get your attention.
You can usually spot them wearing cardboard signs and hear them yelling "Cash for gold! Cash for jewelry! Cash for diamonds!" Sometimes they also hand out leaflets or business cards to people that are naive enough to not know who they are and what they are doing. Our best piece of advice: STEER CLEAR!
According to this article by Beyond 4Cs in which they reviewed the Diamond District, "Their (hawkers) presence cheapens the district and makes it look like a flea market. In my experience, businesses that hire hawkers tend to offer mediocre products. If you think about it logically, would any respectable business need to rely on street hawkers to solicit business?"
Selling Diamonds in NYC: Additional tips!
"It's always a good idea to know who you are about to do business with," says Kandinov. "A customer should check out the buyer's website, reviews, accreditation, and affiliations." Also, learn how a jewelry buyer evaluates a price for your jewelry.
Among the most important things to verify before you approach a dealer: how long they've been in business and what their customers say about them. The web should supply everything you need to know about a business. Find out where friends and acquaintances have bought and sold their diamonds and what kind of experience they had.
Until next time!
Read more:
Gemstones: Their Meaning and their Worth
Selling Jewelry? Read These Tips First!
Four Reasons why we wear Jewelry
Never Out of Style: The Lasting Beauty of Vintage Engagement Rings