When watchmakers want to promote their brands, they turn to the celebrities their male customers admire most: star athletes. Luxury and sports watch brands are gearing up for this years big sports seasons to begin, after a winter spent targeting the Olympic Games, watched by millions of sports fanatics (and watch collectors) worldwide.
With the slopes of the Sochi Mountains left to melt in the Russian sun, a few lucky athletes took home more than Olympic medals, they won endorsements. Gold medalist in the first men's slopestyle snowboarding competition, 20-year-old Sage Kotsenburg is among those projected to take home lucrative endorsements in food, beverage and even luxury goods.
A few brand sponsorships went to athletes who didn't place but had a pretty face and a great backstory, such as Vanessa-Mae a violinist who skied for Thailand at the Sochi games.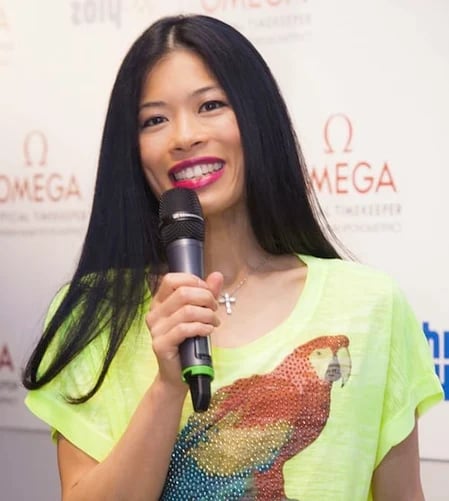 Violinist and skier Vanessa-Mae makes an appearance as Omega brand ambassador after competing in Sochi as a skier for Thailand.
Luxury timepieces have been tied to the Olympic games for decades. Swiss watchmaker Omega has been the official timepiece of the Olympics since 1932, and the brand's sponsorship at the Sochi games wasn't limited to wrists, but also present in photo-finish cameras able to capture up to 2,000 frames per second, and lap counters for events such as speed skating. The company sponsored a lavish send-off for members of the Japan national team, including figure skaters Tatsuki Machida and Akiko Suzuki, and speed skaters Joji Kato and Nao Kodaira, among others.
During the 2012 summer games in London, the Omega logo appeared on starting blocks, finish lines, cameras and swimming pool touch pads and during the tennis tournament at Wimbledon, where it overtook its main competitor, Rolex, the court's longtime sponsor. The latter's timepieces were unceremoniously covered and replaced by Omega's for the occasion, creating something of a coup for the Swiss watchmaker.
Although the Olympics is a big deal for luxury watch brands because of its international appeal, makers don't wait four years to get the word out. Watch endorsements are big in sports year-round. In professional golf, Rolex's sponsorship legacy stretches back to the endorsement of the "big three" in the 1960's: Arnold Palmer, Jack Nicklaus and Gary Player.
Now, the man with what is perhaps the most televised wrist, multi-millionaire golf pro Tiger Woods, is sponsored by Rolex (he was previously represented by another hole-in-one watch, TAG Heuer).
Although Tiger Woods probably has as many sponsors as tattoos (and that's a lot!), soccer star David Beckham has been the face of the Transocean Chronograph Unitime Worldtimer by Swiss watchmaker, Breitling. Among its many features, the timepiece includes a dial indicating up to 24 time zones around the world, perfect for globetrotters like Beckham.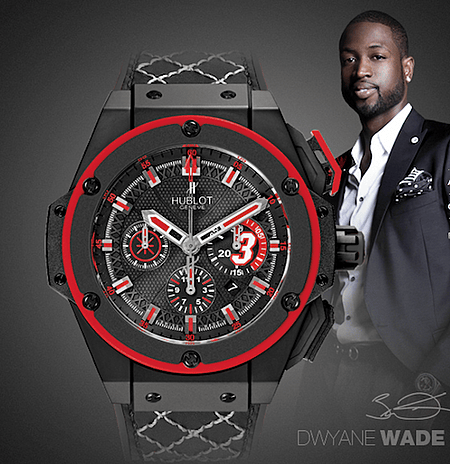 Miami Heat's Duane Wade with Hublot's limited-edition King Power Duane Wade watch
In an attempt to stay current and attract younger clients, major players in the luxury watch industry are taking their sponsorship game to the basketball courts. Hublot has been at the forefront, targeting NBA celebrities such as the Miami Heat's Duane Wade, who wears the limited edition King Power Duane Wade timepiece, and all-star Kobe Bryant of the Los Angeles Lakers, who is fêted with another limited edition timepiece, the King Power Black Mamba.
Hublot also installed the court's time clock, which celebrates the Heat's silver anniversary in the city. Not to be outdone, Audemars Piguet has gotten in on the action, recently snapping up Wade's teammate LeBron James and rolling out the Royal Oak Offshore Chronograph, designed by the player.
Getting a watch onto celebrity athletes is a coup in itself, but nothing beats getting a watch brand into the Olympics, simply because of its huge and rapidly expanding audience. The Sochi games were broadcast by no less than 464 television channels worldwide, nearly double the reach of the Vancouver games in 2010.
Another 155 websites and 75 apps streamed live events. Most broadcast rights were packaged with the 2016 Summer games to be held in Rio de Janeiro. Expect the competition for Olympic-level watch brand sponsorship to heat up even more in the next couple years.
Read more...

5 notable watch trends from Baselworld 2014
How to select the perfect sports watch for you
Coin collecting sparks new interest as gold prices drop
Is it possible to buy diamonds without buying blood diamonds?