From an obsession with oversize drop earrings to gold bracelets and black diamonds, the jewelry trends we spotted at the Late-August award shows packed some serious star power.

Held in Inglewood, California, on Sunday, MTV's annual Video Music Awards turned the spotlight on bold styles favored by the young and ultra-hip. The next day in New York City, the celebrity world was on display again as the 66th Emmy Awards honored primetime stars dressed to impress. Examined together, these two events give a good indication of the jewelry trends to watch in coming seasons.
As always, big-name designers like Fred Leighton and Lorraine Schwartz dominated the red carpet at both events, but lesser-known brands such as Beladora, Doves and Ofira Jewels, also had their moments. Here are four standout looks.
Big Drop Earrings
Statement drop earrings ruled MTV's event and were brought to the forefront by reigning diva of pop, Beyoncé, who took home three awards. The ever-trendy A-lister selected eye-popping Lorraine Swartz oversized black jade and white diamond earrings, which complimented her a floor-length black lace gown by Lebanese designer Nicolas Jebran.
Beyoncé's former Destiny's Child songstress, Kelly Knowles also chose a pair of statement earrings by Schwartz. The brown and white interlocking pieces were an elegant pairing with her blush-colored Kaufmanfranco sequined gown, as were the designer's shimmering brown diamond bracelets and ring.
At the Emmys, the trend towards attention-grabbing drop earrings by Schwartz continued. Heidi Klum, long a fan of the designer, selected larger-than-life pendant earrings loaded with white carved jade and 30 carats of emeralds. Sofia Vergara, another celeb who doesn't skimp on the sparkle, wore $2 million worth of Lorainne Schwartz jewels, including elaborate kite-shaped diamond earrings, a diamond shield ring and a knotted diamond bracelet.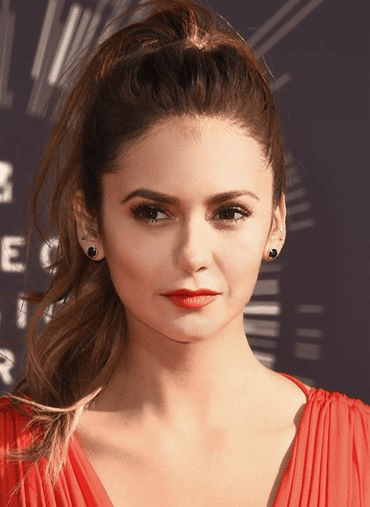 Nina Dobrev wore David Yurman Chatelaine earrings in onyx and 18k yellow go to Video Music Awards.
Black is the New Black
Despite the summer weather and tendency towards a brighter palate, black onyx and black diamonds figured prominently in the accessories of the young and trendy at the MTV VMAs.
Star of The Vampire Diaries, Nina Dobrev channeled her character's dark side with David Yurman's Chatelaine earrings in black onyx and 18k yellow gold, complementing her curve-hugging Zuhair Murad gown.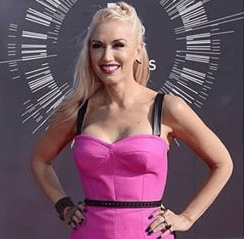 Model Chanel Iman accessorized her sassy leather woven dress with oversized black hoop earrings in a bold look that won't soon be forgotten.
In true rock star spirit, style icon Gwen Stefani (right) adorned her digits in multiple black diamond rings and earrings by Ofira Jewels and Lorraine Schwartz, and a black diamond mesh bracelet and black diamond link bracelet by Schwartz.
Going for Gold
They say it's the Golden Age of television, statement celebs (and their stylists) seem to have taken into account when selecting Emmy accessories.
Just as her character on Mad Men would have done, Christina Hendricks turned out swathed in gold, including $390,000 worth of stacked Neil Lane bangles, which matched the floral detailing on her red Marchesa gown (another choice Joanie would have approved).
Highlighting the recent trend towards chunky chain-link jewelry, Angela Bassett selected a Le Vian gold bracelet to accent her elegant white frock. Kelly Osbourne, daughter of rocker Ozzie Osbourne, wore four antique bracelets from Beladora in rose and yellow gold set with diamonds.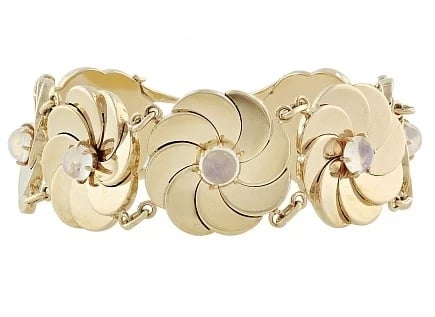 Beladora 1960's Moonstone bracelet in 14K yellow gold worn by Kelly Osbourne to the Emmy Awards
Bold Statements
Sustainable jewelry showed up on a couple stars who walked the Emmy red carpet. Orange is the New Black star Taylor Schilling, an Emmy nominee for Outstanding Lead Actress in a Comedy, wore a single cuff earring with pear and round Brilliant Forevermark diamonds set in 18k white gold, designed by Premiere Gem, and two bracelets and a rink set with the brand's responsibly-sourced stones.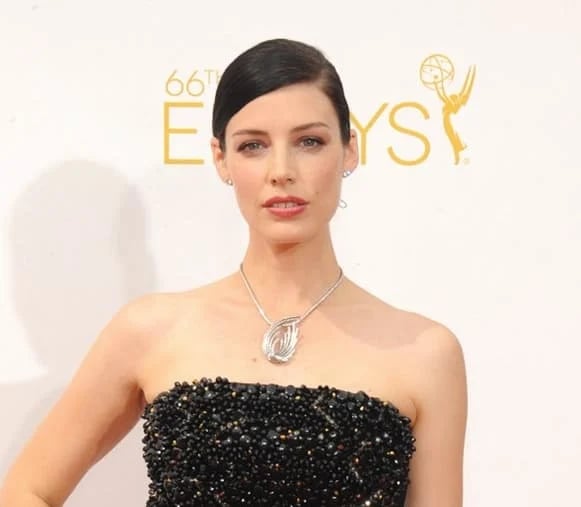 Mad Men star Jessica Paré wears a Fred Leighton platinum and diamond pendant necklace from the 1950's at the 2014 Emmy Awards.
To complement her black Lanvin gown, Mad Men star Jessica Paré selected a bold vintage necklace from Fred Leighton with a platinum and diamond pendant from the 1950's—a piece her onscreen persona, Megan Draper, would have likely deemed a little passé in her late-sixties heyday.
At the VMAs, 23-year-old British songstress Rita Ora put the focus on a usually-neglected body part - the fingernail - for her statement jewels. Ora performed her song "Black Widow" with an estimated $56,000 worth of diamond spiders atop fierce red polish.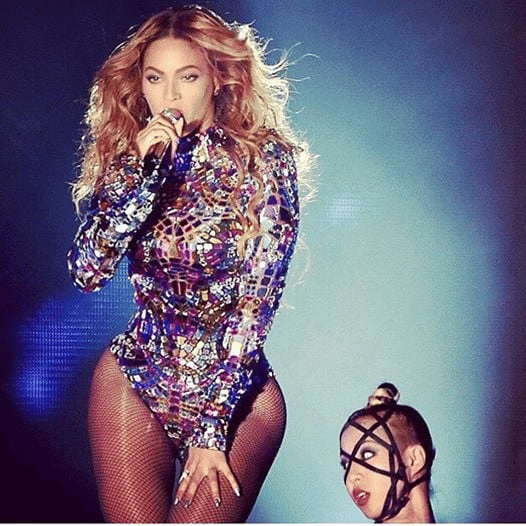 Beyoncé in a custom-made Tom Ford bejeweled bodysuit during her performance at the VMA's
And then there was Beyoncé again, this time rocking a bejeweled-mosaic bodysuit designed by Tom Ford for her performance of "Drunk in Love" at the VMAs. She paired it with Lorraine Schwartz 25-carat blue sapphire studs, a blue sapphire three-stone ring and white diamond ring.
Have colored stones ever looked so glam? Probably best to file that one under: Don't try this at home.
Read more...
Jewelry Trends Spotted at the Academy Awards
5 Most Fabulous Jewelry Trends in 2014
Hot Engagement Ring Trends for 2014
Haute Jewelry Trends at Cannes Film Festival