Bidding was fast and furious at Doyle New York's auction of Coins, Bank Notes and Postage Stamps on November 11, 2013, demonstrating what Doyle called "the strength of the current market." In the end, $348,180 in goods were sold, twice the pre-sale estimate and an exceptionally strong 97% were sold by lots.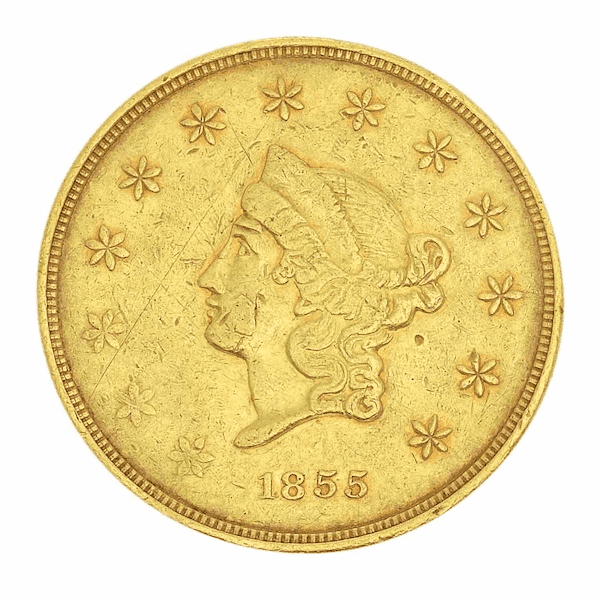 U.S. 1855 Wass Molitor & Co., $50 gold coin sold for $33,000 on an estimate of $10,000-15,000 at Doyle New York on November 11, 2013. It helped that the coin was from the estate of Margaret Truman Daniel, daughter of President Harry S. Truman.
As with any successful auction, rarity and quality coupled with a famous collector (provenance) drove up the prices. But experts say we can expect to see prices rise on quality coins with good provenance.
On the block that day were coins from some prominent American collectors, including the daughter of a U.S. president. Top lot in a wide selection of U.S. and world coins was an 1855 Wass Molitor & Co. $50 gold coin from the estate of Margaret Truman Daniel, daughter of President Truman. Strong interest in the coin and its provenance sent bidding well over the estimate of $10,000-15,000 to achieve $33,000.
Coin collecting is catching on again as gold prices decline. After peaking two years ago at more than $1,900 per ounce, the price of gold has dipped below $1,300 an ounce. That's still 50 percent higher than it was five years ago, at the height of the recession, but low enough to revive interest in gold coins, according to dealers at the recent World's Fair of Money, an annual show hosted by the American Numismatic Association (ANA) in August.
The ANA show attracts dealers from around the world who come to buy and sell coins worth as much as a $1 million. Some dealers at the show reported an increase in interest in coins but say it's a buyer's market at the moment. "The drop in the precious metals market has made it a challenge for some coin collectors to sell," Paul Montgomery, executive VP at APMEX, told Kitco News. "Because of the pullback [in gold prices], this is a buyer's market."
Coins of notable quality and rarity are becoming harder to find, dealers say, partly because renewed interest in coin collecting is driving up demand and wealthier investors are entering the market, looking for alternative investments – coins being one. Interest from deep-pocket collectors would explain why the top-lot coins were selling for double the estimates at Doyle this month.
Next coin sale at Doyle New York is scheduled for Spring 2014, and consignments are currently being accepted. Doyle specialists are always available to discuss the sale of a single item or an entire collection.