A stroll through San Telmo, oldest neighborhood in Buenos Aires, is a welcome respite from the Argentine capital's hectic inner-city streets. With colonial architecture and cobbled streets lined with shops, cafés and tango parlors, San Telmo is the primary destination for antique hunters. Anyone on the prowl for vintage and period jewelry will find treasure tucked in just about every corner of this laid-back barrio.
At the moment, San Telmo's antique shops appear untouched by the current economic struggles in Buenos Aires, but owners say business is down. For antique jewelry lovers looking for bargains, now is a great time to negotiate deals. Inventory is there but demand has dropped and the exchange rate for Americans is good and getting better – particularly if you bring cash and take advantage of the unofficial "blue market" rate (currently 15 pesos to the dollar).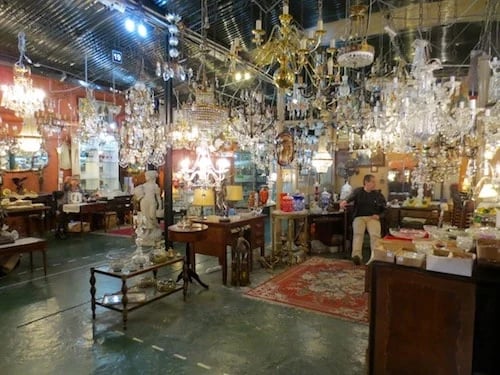 An indoor antiques market in central San Telmo
A must-see for jewelry collectors is Gil Antigüedades, just outside the neighborhood's main square. Owners Maria Inés Gil and her husband Hector Horacio began selling their wares at a stand in the neighborhood's Sunday antiques market, and about 30 years ago, moved into their own shop.
On a recent Friday afternoon visit, I asked Maria what kind of jewelry was selling. She led me to the back of the shop and opened a case packed with an impressive array of colorful Bakelite bracelets and rings. "Right now these are very much in fashion," said Maria, fingering a chunky red bangle.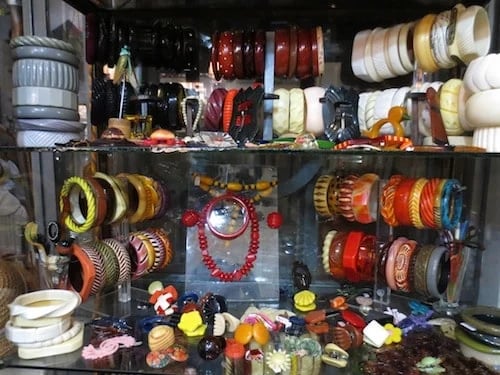 Bakelite bangles at Gil Antigüeda in San Telmo, Buenos Aires
For shop owners like the Gils, the years since the 2001 economic crisis—worst in the country's history—have been fraught with challenges, despite the growing popularity of antiques in San Telmo. "Many of these shops seem to disappear off the map after a little while," said Horacio.
But the couple has held their ground. "It's been a challenge, but we saw that there was a real fashion for antiques here and we've managed to paddle through it," said Maria Inés.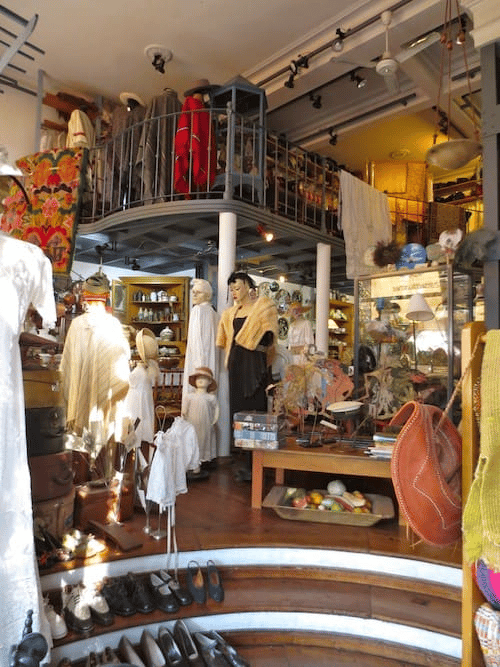 Gil Antigüedades has been selling vintage and antique goods in San Telmo for over 30 years
Trouble really set in after Argentina defaulted on a 1.3-billion-dollar debt after failing to reach an agreement with U.S. creditors in late July. The economy, already in recession, took a nosedive. Last month, the Argentina Center for Commerce reported a more than 100 percent increase in vacant shops in primary commercial areas of Buenos Aires since 2013.
Abraxas Antigüedades, in the neighborhood for over 25 years, still appears the picture of success. Its manicured display windows currently showcase a variety of emerald and sapphire rings.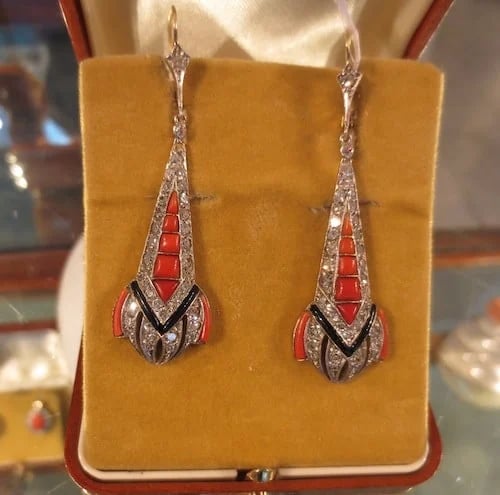 1930 Art Deco earrings with 2.3 carats of diamonds, onyx and precious coral sold at Abraxos Antiguidades
Inside, the emphasis is on Art Deco, pearls, and 1950's designs. Pablo Verdi, son of the store's owner, and his cousin Giovanni pulled out a pair of exquisite Deco earrings from the 1930's of diamonds, coral and onyx.
Pablo said the shop made it through the 2001 crisis without any trouble, but Giovanni says the present situation is much worse. "Now we don't have as many tourists, especially from the U.S. and Europe," he said. "They are scared about security and don't want to travel to Argentina."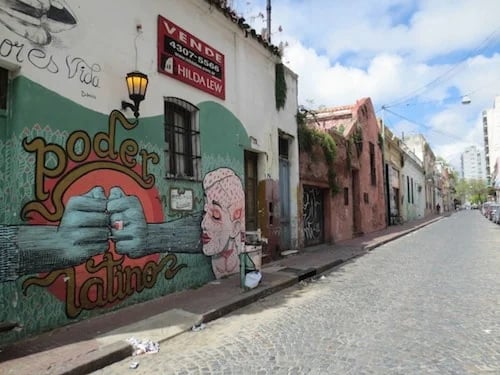 A quiet street in San Telmo
Official exchange rate is 8.4 pesos to the dollar, which is good, but American travelers can score an even better deal by bringing cash from home and exchanging for the unofficial "blue market" rate, currently 15 pesos to the dollar (and rising). "We are seeing some customers from abroad now who are paying in cash to get a much better deal," said Pablo.
Of course, this is only advisable up to a point. "You still don't get too many coming in with tens of thousands of dollars to buy precious jewels," Giovanni said.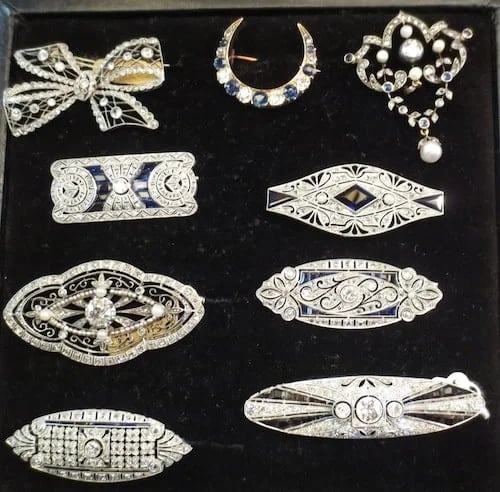 Art Deco and Art Nouveau Brooches adorned with diamonds at Norbert Medrano
Down the street, another storied purveyor of antique jewelry, Norberto Medrano opened nearly 30 years ago in the upscale neighborhood of Recoleta. Medrano has since expanded into San Telmo where it plans to remain.
A shop owner stands outside of his antiques store on busy Defensa street
"This neighborhood is an iconic area for antiques," said Mercedes, a sales associate. "It makes sense that we would also have a presence in the most historic neighborhood of the city."
She showed me a selection of Art Deco and Art Nouveau necklaces, earrings and brooches, many set with diamonds. Pieces such as these are popular with tourists who seek out antique jewelry in this neighborhood, but there are fewer tourists lately.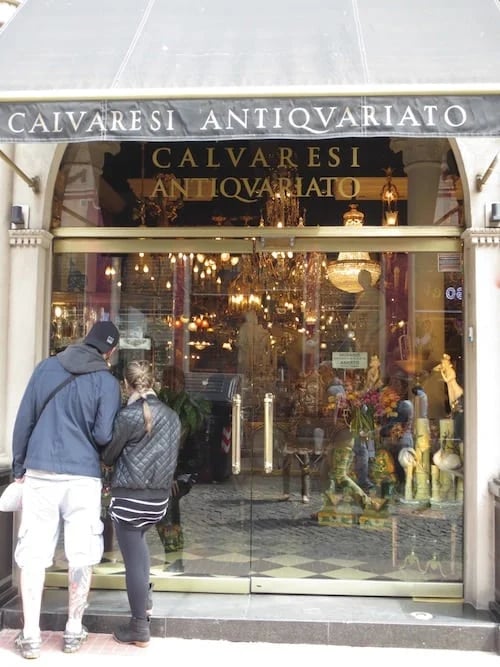 Tourists peek into Calvaresi antique shop
"Right now, things are a bit slow with the economic situation," Mercedes said. "We generally see a lot of tourists from Europe and the U.S. in July and August, and plenty of local tourists when it's summer here. Hopefully it's something that won't change."
Photography by Sarah Hucal
Read more...
Deciphering Jewelry's Secret Code: Hallmarks, Maker's Marks
Colored Diamonds Set World Records at Auction
Cartier Set to Dazzle at the Denver Art Museum