You've probably heard the buzz about the Jewels by JAR retrospective that opened at the Metropolitan Museum of Art last week. First thing you notice when you enter this exhibit is that the gallery is completely dark, except for the lights shining on the jewels on display. The effect is theatrical and glamorous – exactly the qualities what JAR is known for.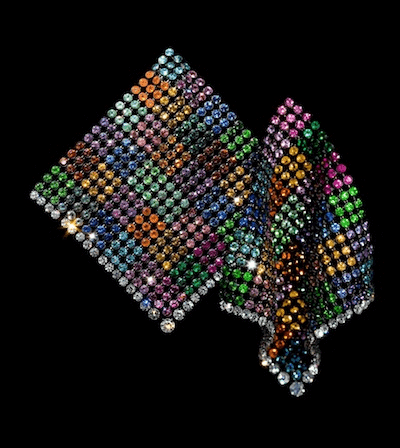 Joel Arthur Rosenthal, known as JAR, grew up in the Bronx and received no formal jewelry training. But he landed in Paris after studying film at Harvard and began collecting antique jewels and unusual gems. In the process of becoming a connoisseur, he discovered he had a knack for designing himself.
After working briefly for Bulgari in New York, he and his partner Pierre Jeannet returned to Paris and opened a tiny shop on the Place Vendome in 1978, a short distance from the major jewelry houses, and soon began to attract their clientele.
Today, Rosenthal is internationally known as the premier custom jeweler. His designs have had a noticeable impact on major jewelry houses. You'll find more than 400 jewels designed by Joel Arthur Rosenthal, known as JAR, and nearly all were loaned from private collections around the world.
This marks the first time the Metropolitan Museum has devoted an entire exhibition to what they're referring to as "a contemporary artist of gems." You can't buy Rosenthal's jewelry on the open market, unless you bid for it at auctions. When a piece shows up at the high-end Magnificent Jewels sales at Christie's or Sotheby's it usually sells for double the estimate, there is such hot demand for his work.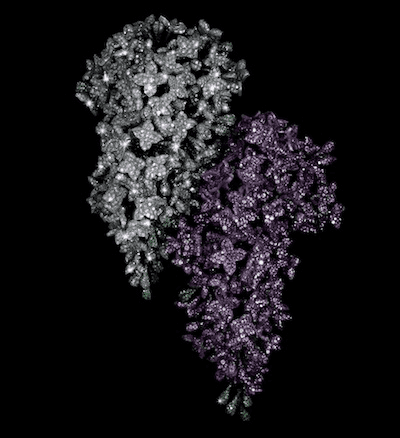 All of this is why the Met has had such a blast of publicity for the exhibition, which runs through March 9, 2014. "Rosenthal the artist honors his materials," Adrian Sassoon wrote in the Jewels by JAR catalog. "A unique JAR jewel is intended to make the new owner feel special, to share in the experience of having something of nature transformed."
Nature, in this case, means everything from snakes to seashells, but his specialty is flowers and butterflies. One wall of the exhibition is covered with dozens of butterflies and dragonflies in every color and material and dozens of jeweled flowers glitter in class cases, many life-size.
You'll find roses, gardenias, peonies, geraniums, poppies, and lilacs in the Jewels by JAR exhibition. Most are covered with pavé gems, others are carved in coral, or have petals of cabochon opal. Some have realistic-looking molded aluminum leaves, bejeweled stems that wrap around chunky diamonds, or translucent pearls at their centers.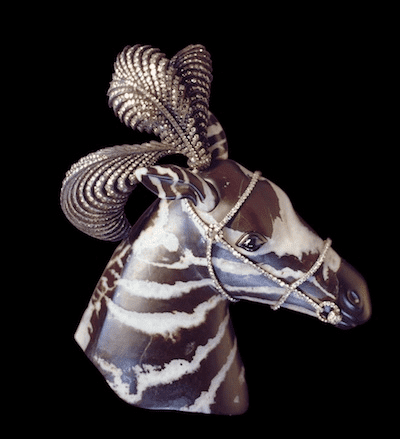 "We are not afraid of any materials," Joel Arthur Rosenthal once said. You're as likely to find titanium as you are platinum in his jewelry and he often uses low-grade but lightweight metals such as aluminum as a base. He is largely responsible for popularizing the use of blackened silver in luxury jewelry. He found early on that suppressing the shine and darkening the metal enhances the sparkle of diamonds and create a dramatic backdrop for colored stones, especially in pavé.
Another trademark of JAR jewels is his use of color in pavé. If you look closely at JAR pieces, you can often see the color is subtly varied – light shades mixed with dark, or sometimes a different color altogether, such as brown diamonds scattered among blue sapphires or rubies. This is kind of color texturing is known as "tweed" in JAR's workshop.
Although Rosenthal worked briefly for Bulgari, he never received formal training. Some say this has given him an edge of sorts, allowing him to create his own unique look instead of adopting that of the jeweler he trained under.
In the Jewels by JAR catalog published by the museum, art expert Adrian Sasson describes the design process behind each piece of jewelry, a lengthy back-and-forth between designer and atelier, you begin to understand why he only produces 70 or 80 pieces a year.
"At every step of the making of a piece, he checks and corrects," JAR's partner Pierre Jeannet said. "And if at the end his eye is not happy, we destroy the piece. But the piece, finished, is not yet at home; his last look is to see that the jewel has gone to the right lady. Then he sighs, his work is done."