Navigating the multitude of platforms available for selling jewelry can be quite the task, especially in a dynamic hub like New York City. From the bustling streets of Manhattan to the diverse neighborhoods of Queens, NYC offers a range of potential avenues for selling your precious gems. This article aims to guide you through these platforms, analyzing each to find the perfect fit for your needs.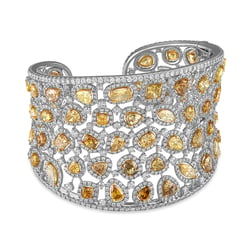 Brick-and-Mortar Jewelry Stores
Manhattan's Diamond District, a single city block on 47th Street between Fifth and Sixth Avenues, is home to thousands of independent jewelry businesses. Similarly, local jewelry stores are sprinkled throughout Queens, offering another in-person option for sellers.
Pros:
- In-person negotiation: Direct interaction allows for a potential negotiation process, and you may walk away with cash in hand.
- Expert appraisal: Established jewelry stores often have professional gemologists who can appraise your piece on-site.
Cons:
- Limited reach: Your jewelry is only exposed to a small customer base.
- Pressure: You may feel pressured to accept an offer on the spot without having the time to consider other options.
Auction Houses
Auction houses, such as Christie's or Sotheby's in Manhattan, are excellent for selling high-value, unique, or antique pieces.
Pros:
- High prices: Auction houses often attract serious collectors willing to pay top dollar for rare pieces.
- Professional handling: From appraisal to marketing and final sales, the entire process is managed by professionals.
Also Read: What is a Jewelry Appraisal
Cons:
- Time-consuming: It may take months for your jewelry to be listed and sold.
- Fees: Auction houses take a percentage of the sale price.
Online Marketplaces:
Online platforms like eBay, Etsy, and specialized jewelry sites broaden your reach, connecting you with buyers worldwide.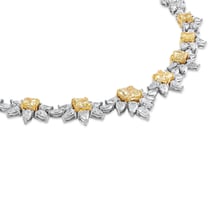 Pros:
- Wide audience: Your piece is exposed to a global audience, increasing the chances of finding the right buyer.
- Convenience: You can list your item from the comfort of your home and manage the sale at your own pace.
Cons:
- Trust and security: Scams are not uncommon, so it's essential to use trusted platforms and ensure secure payment methods.
- Depersonalization: The lack of physical assessment might affect a buyer's willingness to pay a high price.
Peer-to-Peer Platforms
Peer-to-Peer (P2P) platforms like Craigslist or Facebook Marketplace can also be considered for local sales.
Pros:
- No middleman: Direct interaction with potential buyers without having to give a cut to a third party.
- Speed: The process can be quite quick, especially if the buyer is local.
Cons:
- Security concerns: Meeting strangers for high-value transactions can be risky.
- Time and effort: It requires a fair bit of effort from taking photos, writing descriptions, to communicating with potential buyers.
Consignment Stores
Consignment stores sell your jewelry for you and take a percentage of the selling price as their fee. Many such stores are available in Manhattan and Queens.
Pros:
- Less work for you: The consignment store handles the sale, so you don't have to.
- Professional pricing: They often have experts who can price your item appropriately.
Cons:
- Reduced profit: They take a percentage of the sale price.
- Time: Your jewelry might sit in the store for a while before it sells.
"The right platform for selling your jewelry in NYC depends on your individual needs, the value and uniqueness of your jewelry, and the time and effort you're willing to invest. Whether you opt for a traditional brick-and-mortar store, an esteemed auction house, or a digital marketplace, understanding the pros and cons of each will help ensure a successful and satisfying sale." - Fima Kandinov
Also Read: The Art of Jewelry Resale in NYC: Enhancing Value and Interest