August is a big month in NYC for tourists on summer vacation. If you find yourself in downtown Manhattan on a jewelry shopping spree, here are some spots you won't want to miss in SoHo and the West Village.
SoHo is a fashion lover's heaven and the place to find everything from big-name brands to small designer boutiques. From local fashionistas in basic black to leather-clad Europeans, the neighborhood's cobbled streets and old-world architecture provide the perfect atmosphere for all types of trendsetters.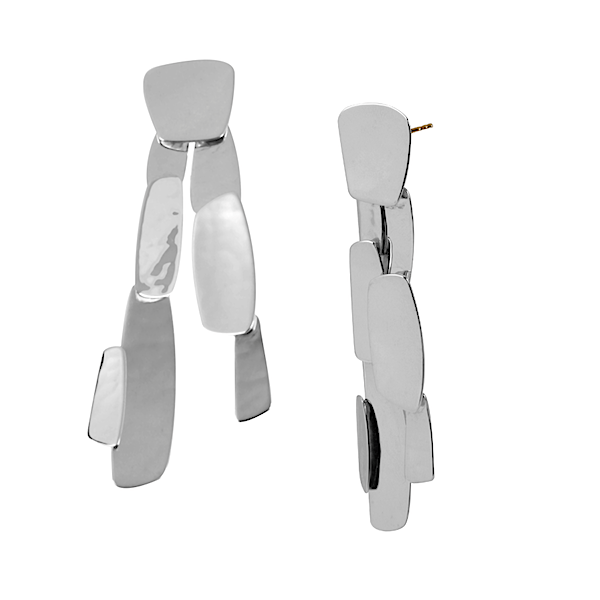 Swinging Plate earrings by Robert Lee Morris

At the iconic flagship store of Robert Lee Morris (400 W. Broadway), a window of bright bangles and cuffs attracts the attention of passersby. Bracelets and earrings are all the rage, with the asymmetrical Pinched Gypsy Frontal Hoop earrings and Swinging Plate earrings immensely popular with the neighborhood's fashion-forward shoppers.
"Many of our regular customers will pay a special visit this time of year," says sales associate Lindsey Beeker. "The nice weather gives them a reason to show off new pieces."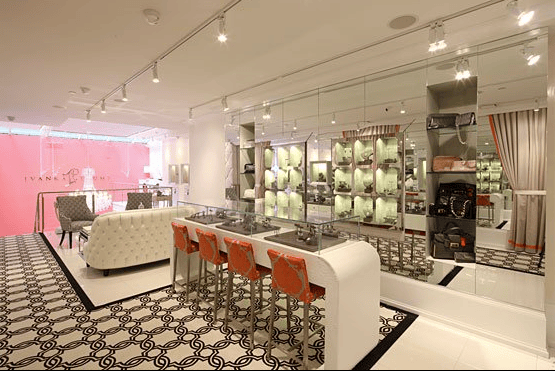 Ivanka Trump Soho boutique
Walking past the Ivanka Trump store (109 Mercer Street) that abandoned the Upper East Side a couple years ago for the edgier energy of SoHo, one arrives at the jewelry-lovers haven, Fragments Gallery (116 Prince Street). Decorated for spring, the window display is all about angles, with bold 24-karat gold triangle collar by Eddie Borgo, and a shimmering, modern 28kt rose gold triangle necklace bedecked in diamonds by Parisian designer Djula.
In the nearby shop of Madrid's UNO de 50 (135 Prince Street), manager Alissa Ramos explained that bracelets are neighborhood favorites. She brought out the silver plated Ibiza bracelet, made of sinuous metal swathed in leather strands and sculpted to hug the contours of the wearer's wrist. "Right now it's all about layering with stacked bracelets and cuffs, like this piece" she said.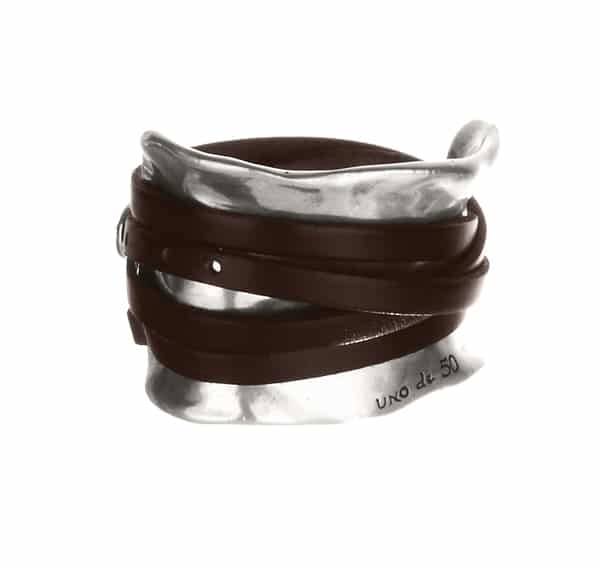 UNO de 50 Ibiza bracelet
Item New York (444 Broome Stree), an eclectic boutique on Broome, features unique pieces by local designers. Sales staff say top sellers now include white druzy stone and 18k gold earrings by Brazilian designer Marcia Moran and shaker necklaces by Catherine Weitzman. With an 18kt vermeil cast branch wrapped around a glass orb filled with shimmering Swarovski crystals, one can easily imagine these detailed pieces turning heads on the streets south of Houston.
Just a short subway ride takes you to the West Village, a neighborhood of stately Italianate brownstones that once housed now-famous artists, poets, and activists. Now home to the upper crust of the young, successful and creative, the West Village has become a haven for upscale artisanal food and boutique shopping.
Satya Jewelry (330 Bleecker Street) features intricate charms and designs created to promote inner peace and balance, such as silver and 24kt gold stackable rings engraved with motifs such as Ganesha—a Hindu god representing strength and the removal of obstacles. Also popular among the collection are rings fitted with opulent gemstones including carnelian, and garnet. "We've seen a lot of men purchasing these rings recently," says store manager Matt Gloub. "They wear them mid-knuckle or on their pinky fingers."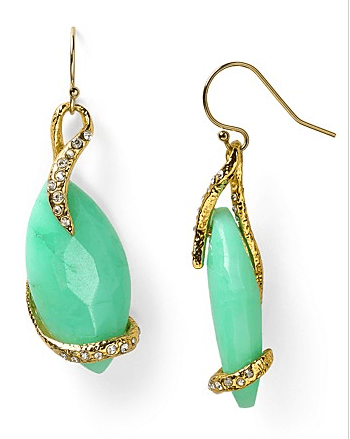 Chrysoprase vine earrings by Alexis Bittar
At the nearby neighborhood outpost of Alexis Bittar (353 Bleecker Street), known for flamboyant pieces worthy of the runway, the spring focus is on greens, blues and opulence. According to the store's sales personnel, this location has seen high sales of Bittar's more conservative creations, like the shimmering green Chrysoprase and Crystal Vine Earrings featuring small Swarovski crystals wrapped around a gold-plated vine.
"A lot of our clientele are young creative professionals in their 20's and 30's," explained sales associate Jade Praun, "They're going for some of the more conservative looks that they are can wear to work on a daily basis, but still allow them to show their personality."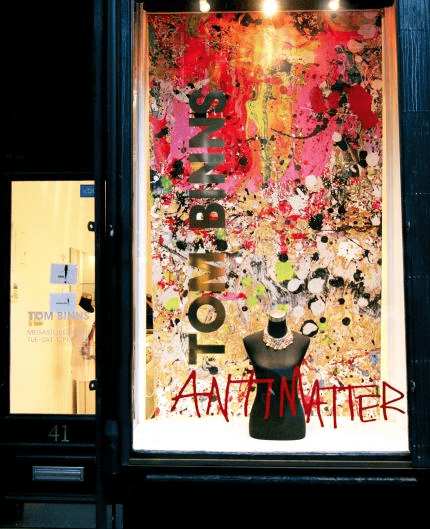 Tom Binns Megastore
Not far away is the "megastore" of Tom Binns (41 Perry Street), another designer of decadent jewels. To give you a hint of what you'll find here, Binns cites Marcel Duchamp and Pablo Neruda as primary inspirations.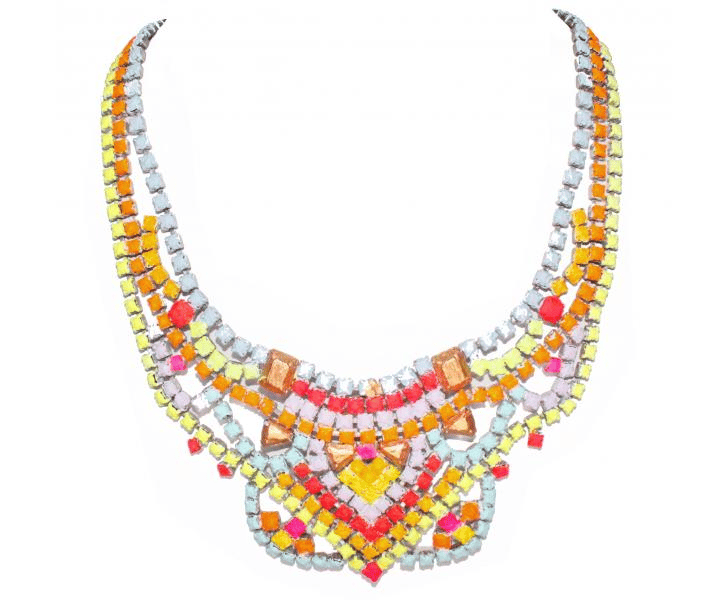 Neon Gold necklace by Tom Binns
Generally speaking, Binns does not cater to women who like to blend into the woodwork, but if you want a shot of exotic sunlight to take you through the cooler months ahead, step inside. His shop showcases bright pieces like a multi-colored necklace with gold accents from the Neon Collection, featuring studded strands of bright green, light purple and hot pink.
Read more...
5 Most Fabulous Jewelry Trends in 2014
Celebrating Summer with Pearls