While pearls are recognized as the traditional wedding accessory, conventional baubles just don't cut it for many young brides. Just as engagement rings are becoming more individualized, so are earrings, necklaces, and hair ornaments.
Most brides still opt for white, feminine, and a bit of sparkle - diamonds, pearls, clear crystal. Florals are still a favorite and we're seeing more variety in metals - white metals, blackened silver, yellow and rose gold - sometimes all at once.
We spoke to a few very different brides, all planning summer weddings. They shared their experience of selecting accessories for their own idea of the perfect wedding, and all managed to shed light on this year's top wedding jewelry trends.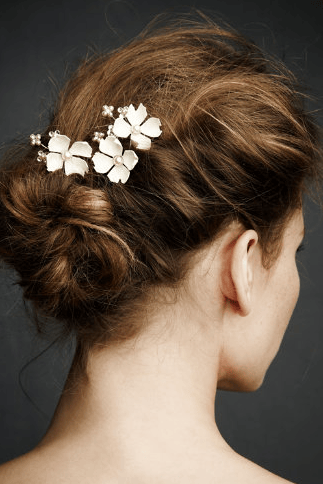 BHLDN Dogwood Floral Hairpins by Debra Moreland of enameled metal, glass pearls, and Swarovski crystal (set of 3, $240)
Floral Forever

Monica Jackson, a 28-year-old social worker, is preparing for a quiet wedding on the shores of Montauk this August. Her celebration will be an intimate one with a limited guest list and no formal ceremony. She had already selected the caterer, music and dress. All that was missing was the perfect accessory for her big day.
"I was on vacation in Vietnam in January and noticed a lot of floral hair pins while browsing boutiques in Hanoi," she says. While she resisted buying, she returned to the US with wearable flowers on her mind. "What I needed was closer to home than I expected."
She found her perfect hair ornaments inside Anthropologie on the Upper East Side and fell in love with the BHLDN dogwood flower hairpins (pictured above) designed by Cincinnati-based Debra Moreland. Jackson bought a set of three hand-shaped enamel buds adorned with pearl flourettes and Swarovski crystals designed by Debra Moreland for $240, and hasn't regretted her decision since. "I'm keeping things very simple with my ceremony, so the natural elegance of this piece really fit. I didn't want anything too flashy."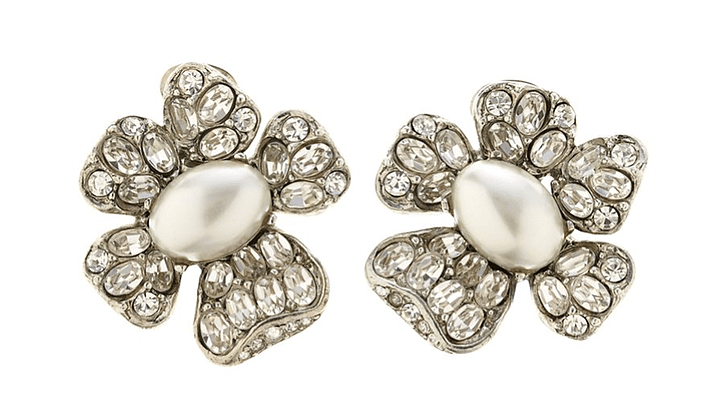 Earrings by Oscar de la Renta of crystal and pearls
Other designers are rolling out floral jewels perfect for a spring and summer celebrations. Oscar de la Renta currently features stunning jewels such as their Crystal and Pearl Floral earrings ($390), pavé petals surmounted by Swarovski crystals, perfect for wearing with an updo. Bridal designer Monique Lhuillier also offers a spring collection featuring high end petal diamond earrings. The 1-1.5kt diamond studs available with pavé or platinum fronds and are timeless classics.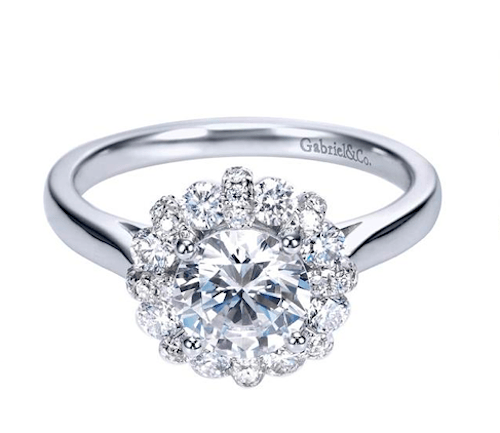 Floral halo ring of 14k white gold by Gabriel & Co. New York
These floral wedding accessories work well with the current trend for floral engagement rings, such as the vintage-inspired styles we're seeing from designers such as Erica Courtney, Gabriel New York, and Sylvie.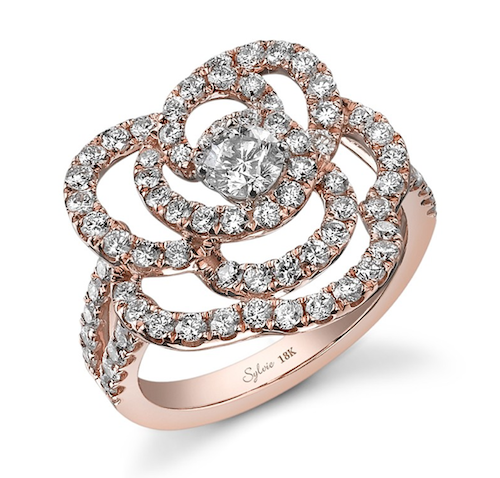 Sylvie ring of 18k rose gold and 1.61 carats of diamonds ($6,000-6,500)
One-of-a-Kind Simplicity
Boston-based teacher Mary Manoucheri, 29, describes her search for jewelry to compliment her wedding in a Santa Barbara garden this July. "When I set out looking for a necklace, I wanted it to be classic, even something I might wear again," she said.
In the end, she opted to wear something, close to her heart, that celebrates the man she's about to pledge her life to: a simple silver charm engraved with his initial on an elegant silver chain by Stella & Dot.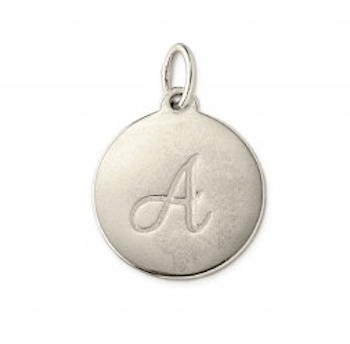 Engraveable matte-finish sterling pendant by Stella & Dot
The brand's affordable accessories have been spotted on celebrities such as Katy Perry and Jennifer Aniston. "My dress is ruffled and already has a lot going on, so I wanted to go with simpler accessories," said Manoucheri. "I also got my matron-of-honor her necklace from the same company. It's a coral-colored pendant on a gold chain."
Classic, personalized accessories are a practical choice that brides are unlikely to regret. For those looking to dig a dig deeper into their handbags, Tiffany & Co. offers myriad options for personalizing simple pieces. The storied brand offers shop engraving on many of their famous charms, from sterling silver lockets to a diamond-encrusted, rose-gold heart medallion.
For a completely customizable pieces, brides can look to Danish charm brand Pandora. With outposts all over the globe, brides on the hunt for a truly individual piece can stop in their local boutique and browse a comprehensive selection of wedding charms in sterling silver. Highlights include a wedding cake, frog prince, and an array of hearts, among other festive pieces.
Boho Bride

Twenty-five-year-old public relations associate Jennifer Palarski is in the final planning stages of a large wedding in Westchester this July. The celebration will be grand, and she sought glamorous accessories to suit the occasion. "I chose teardrop studs with crystal detailing by Samantha Wills, and a bracelet to match," she said.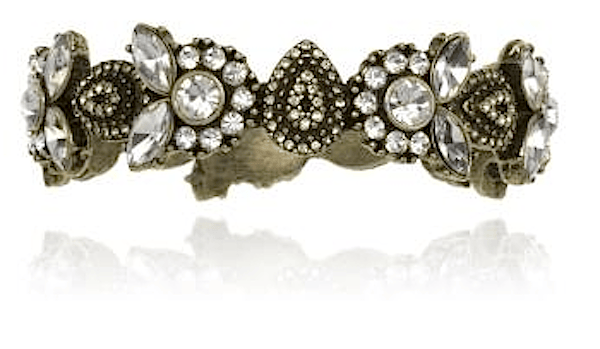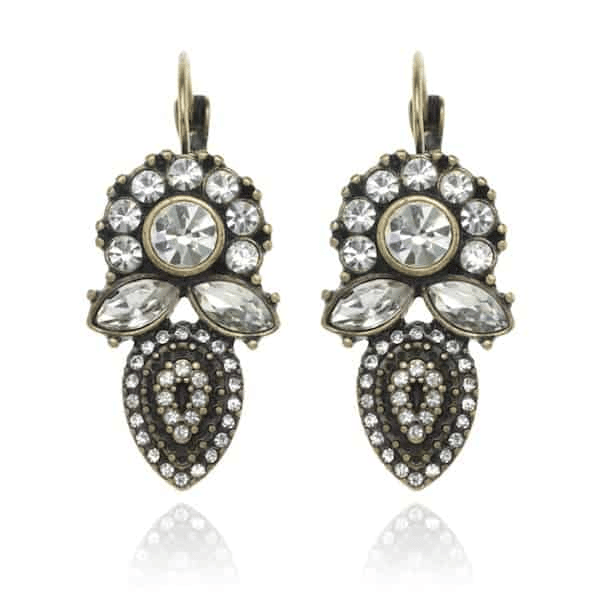 "Whiskey and Lace" bangle ($152) and earrings of crystal in burnished gold tone metal by Samantha Wills
Both pieces come from Wills' Whisky and Lace line, which features jewel encrusted teardrop pendant pattern and intricate crystal detail set on burnished gold. The decision to select jewels by the successful Australian designer was also a sentimental one for Palarski. "My fiancé had given me earrings by her for my birthday, so it reminded me of moments we shared. Also, the Bohemian antique style was something that suited my personal taste."
Ladies in search of Boho-chic wedding accessories will have no trouble finding a wide selection in New York City. Gotham's poshest bridal boutiques, including the famous J. Kleinfeld Bridal and the bridal salon at Bergdorf Goodman, offer a variety of glamorous and bejewelled creations that harness the vintage look while maintaining a contemporary feel.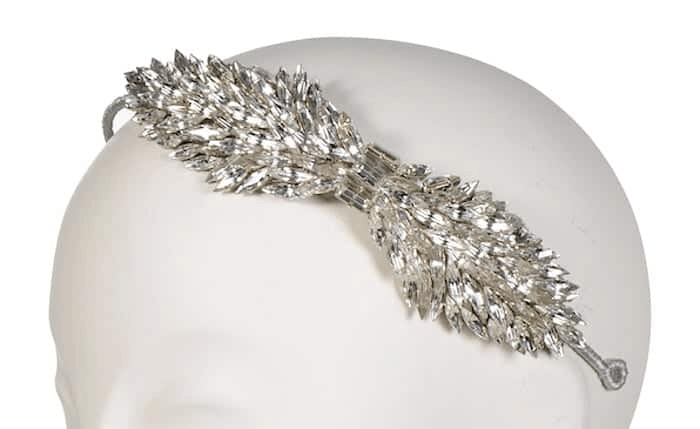 Gabriella New York, an intimate luxury boutique in SoHo, has seen a recent uptick in sales of Jenny Packham's vintage inspired creations, a designer whose elegant gowns and accessories have been worn by Kate Middleton, Angelina Jolie and other A-list celebrities. Jenny Peckham's accessories are selling well right now, especially her vintage headdresses, sales staff tell us - especially her Navette headdress, a beautiful champagne-and-silver piece featuring bows of fanned navette crystals on a silk-wrapped band.
With summer bridal jewelry styles spanning contemporary floral to boho chic, brides have plenty of opportunities to find a jewelry match made in heaven.
Read more...
Shopping for jewelry on the Upper East Side and Brooklyn
Jewelry trends spotted at the 2014 Academy Awards
What to look for when buying aquamarine jewelry
Cartier jewelry exhibition set to dazzle at Denver Art Museum