Serpents and wildlife motifs dominated the high-end period jewels on display at the Antique Jewelry and Watch Show in July, as more than 100 watch and jewelry dealers gathered in Manhattan's Metropolitan Pavilion. Now in its seventh year and growing in prestige, the four-day event was open to the public and attracted around 3,000 private collectors and industry insiders.
The show opened two days before the massive trade-only JA New York summer show, which focuses on high-end contemporary jewelry.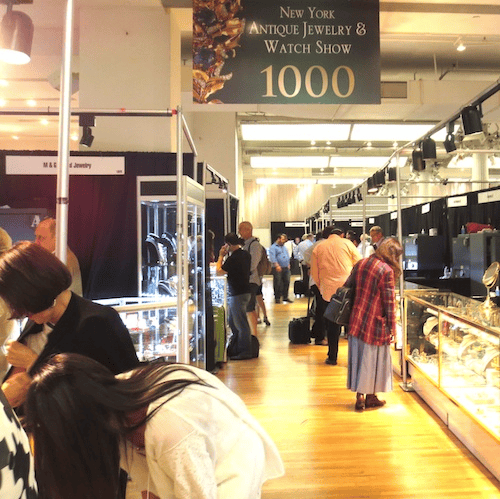 Along with trademark brands such as Tiffany & Co, Rolex, Graff, and Cartier, many makers on display were likely new to shoppers. "Twenty percent of our exhibiters this year are international," Dan Darby, group director of US Antique Shows told Havilah. "That means they are presenting products that a typical shopper in New York City might not see."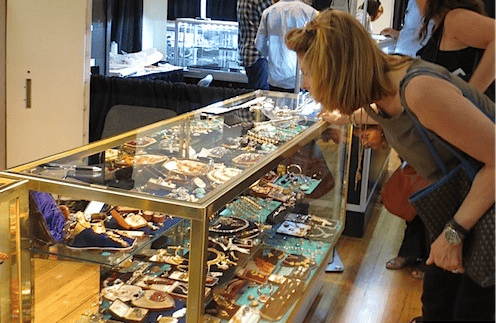 New York's Aaron Faber Gallery was among the exhibitors the Antique Jewelry and Watch show and the sales rep at their booth lauded the show for being open to the public. "We do about 10 to 12 shows a year," mentioned Mary, a salesperson at Aaron Faber's booth. "But this one gives us the opportunity to connect with retail clients, since most other shows are only open to the trade."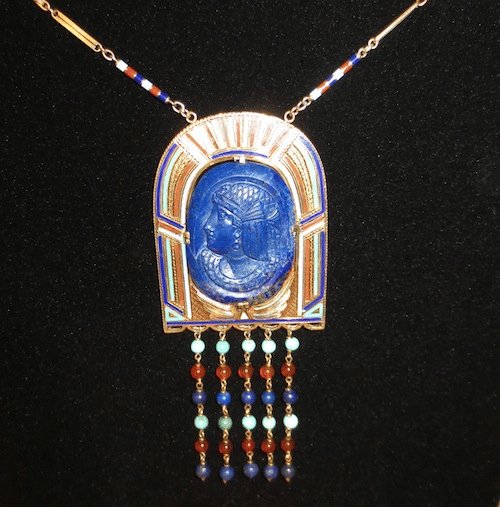 Aaron Faber gallery offered this one-of-a-kind Egyptian reproduction piece from the 1920's for $11,500.
Known more for innovative contemporary studio jewelry than vintage, the gallery took the opportunity to showcase one-of-a-kind Egyptian reproduction pieces from the 1920's, including one offered for $11,500. Gallery director Eric Faber explained a bit about "Tut fever" while showing off the colorful piece, made of carved lapis and carnelian. "Tutankhamen's tomb was discovered in 1922 and within a year Egyptian designs were everywhere—in furniture design, textiles and especially decorative art," Faber said. "This set the stage for Art Deco."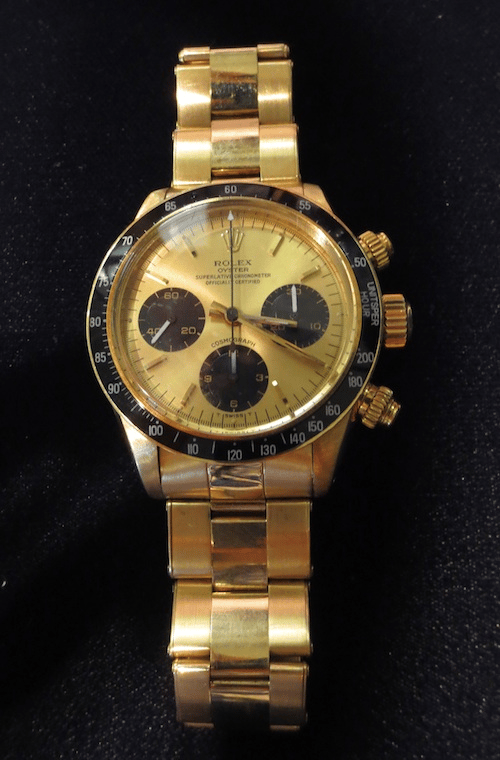 Aaron Faber Gallery sold this 1978 Rolex chronograph watch for $59,000 within minutes of the show's opening.
Faber quickly profited from the decision to set up shop at the event. Within an hour of opening on day one, he pulled out a chronograph yellow gold Rolex from 1978, which he had just sold for $59,000. "The black bezel and screw-down buttons make this watch especially valuable," he explained. Rolex, along with Patek Philippe, represent "the top of the antique watch value pyramid."

Piaget wasn't doing badly among this crowd either. Raymond Lee Jewelers of Boca Raton, Florida, showed a diamond-studded Piaget Polo watch in 18k white gold from the late 1990's, on offer for $160,000.
Wildlife motifs were ubiquitous in the collections of exhibitors this year, particularly big cats—lions, leopards and tigers. "Those kinds of decorative pieces are very hot right now, according to our dealers," Dan Darby said.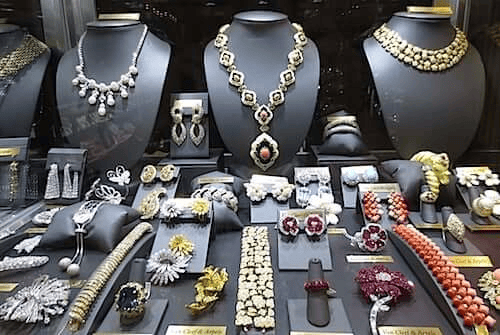 A display case at the booth of YAFA Signed Jewels featured an opulent selection of works by Van Cleef & Arpels
A standout among the display of diamond necklaces, earrings and bracelets by Van Cleef & Arpels, Tiffany & Co, and others at NYC-based YAFA Signed Jewels, a Cartier tiger bracelet from the 1980's stood out, set with fancy yellow diamonds, onyx and emerald. Price tag: $800,000.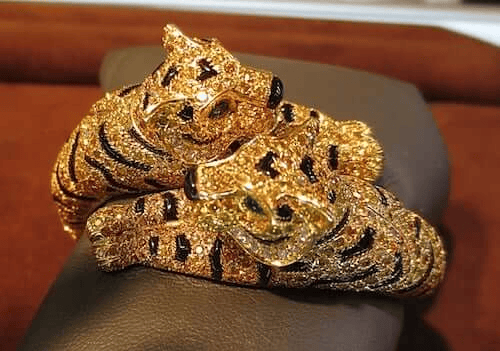 Cartier tiger bracelet from the 1970's offered by YAFA Signed Jewels for $800,000
Serpent designs, always a classic in period jewelry, seemed particularly prevalent at this show. Manhattan-based Gallery 47, owned by Ken Leach, presented a thick sterling silver serpent necklace designed by Elsa Peretti for Halston and made by Tiffany & Co. in the 70's. It lacked the delicacy of similar serpentine designs by Bulgari. A sister piece is part of the collection at the Metropolitan Museum of Art.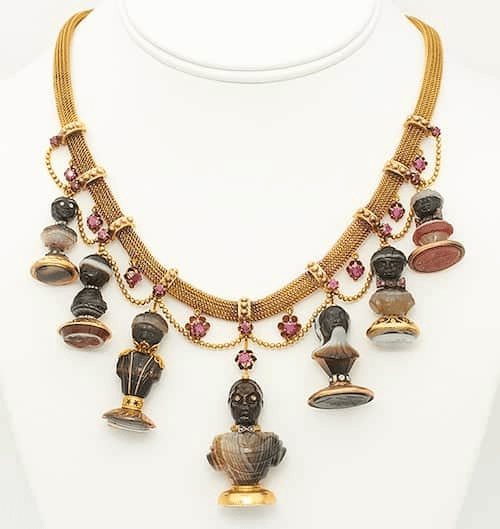 Blackamoor seal necklace of 18k gold, c. 1850's, with ruby, diamond, agate and intaglio carvings sold by Hartley Brown LLC

Hartley Brown LLC displayed a stunning variety of rare and ancient gems etched with intricate designs. Among them was an 1850 bracelet set with multiple intaglios of jasper, agate, carnelian, and quartz, "most likely carved between 1,800 and 2,000 years ago," according to Brown. Another standout at this booth was a Blackamoor necklace from the 18th century made of 18kt gold, ruby, agate, diamond and blackamoor seals, complete with intaglio on the bottom of each figure.
Mary Ann Goldberg, a Manhattan resident and private collector who attended the show on its opening day, said she was pleased with the quality and variety on offer. "You have the rare opportunity here to talk to dealers and really learn how old pieces are and how they're made," Goldberg said.
Read more...
Colored Diamonds Set World Records at Auction
Hot Engagement Ring Trends for 2014
What to Look for When Buying Aquamarine Jewelry
Wedding Jewelry: Floral Hairpins to Boho Chic