When it comes to engagement rings these days, something old is what's new. A recent New York Times article suggests that a growing number of Millennials are turning to vintage diamond rings – whether family heirlooms or purchased through antique dealers – to mark the start of their new life together.
This embrace of vintage rings isn't exactly brand-new trend, however. Since the 2008-2009 recession, many practical-minded young couples have balked at spend thousands on new engagement rings and have embraced heirloom rings as a more affordable, original and arguably more meaningful, option.
What to know what's really new in the engagement ring world at the moment? Keep reading to find out.
The Cushion-Cut Ring
The princess cut diamond engagement ring has reigned supreme for decades, but its crown is being threatened by the re-emergence of a centuries-old style: the cushion cut. This romantic, almost dreamy, style is sometimes described as a cross between an old mine cut and a modern oval cut. While cushion cuts don't tend to have the fire-throwing power of a princess cut or round brilliant, its large open facets and curved corners have a sensual glow that can be highly seductive.
Cushion cut diamond ring from Greenwich Jewelers
With this cut, consumers have two basic variations from which to choose: the "crushed ice" cut (also known as the modified cushion brilliant), which has radiating needle-like patterns reminiscent of, well, crushed ice, enhancing its brilliance. Then there's the "chunky" cushion cut, which has more discernible facets and a less defined presentation that gives it an antique appearance.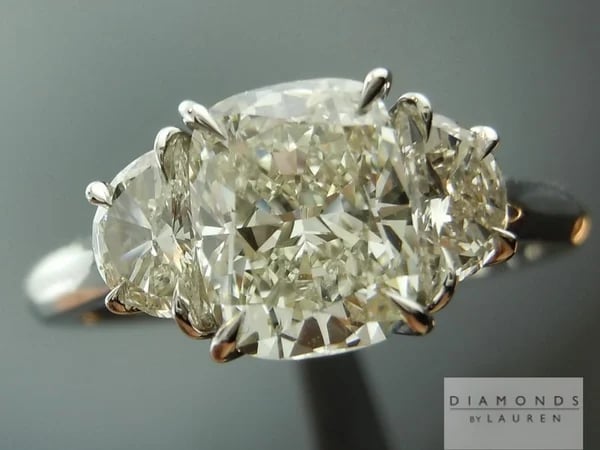 Crushed ice ring by Diamonds by Lauren
When buying a cushion cut diamond, be sure to choose a stone with the highest clarity and color level within your budget. Because of cushion cuts have such large facets, flaws are often visible to the naked-eye on these stones.
The Colored Gemstone Ring
We all knew that when Kate Middleton received her mother-in-law famous sapphire ring we'd see a surge of interest in sapphires for engagement rings. But these days, brides and grooms looking beyond that gorgeous blue stone to consider gemstones of every color and variety. The reasons behind this colored trend are diverse: some brides seek an original look; others want absolute assurance that they aren't buying a blood diamond; still others simply love the rich colors that gemstones offer.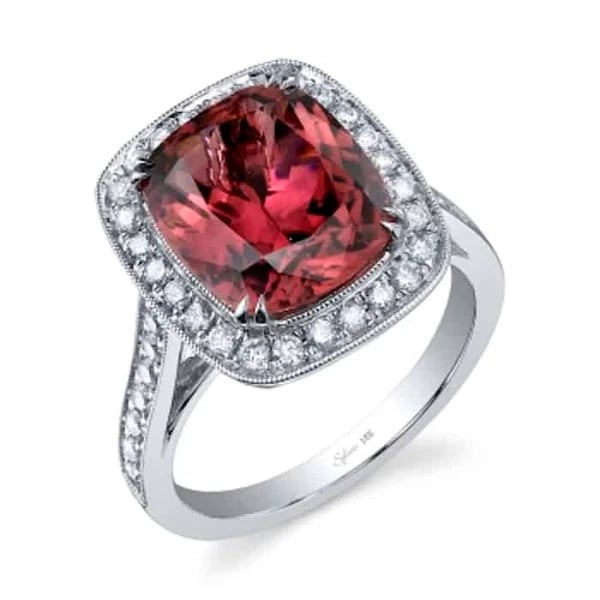 Cushion-cut pink tourmaline from Sylvie Levine's Sylvie Collection
Kate Middleton's influence aside, sapphires and rubies tend to be the most popular – and most recommended – gemstone for engagement ring. This is not just because of their gorgeous vibrant colors, but because these stones are extremely durable and scratch-resistant (each are a 9 on the Moh's scale of hardness - only a diamond is a 10). Emeralds, while a more unusual choice, is also a good for an engagement ring as they are rated 7.5 - 8 on the Moh's scale.
Other great colored stones for engagement rings include aquamarines, amethysts, topaz, and the increasingly popular tourmalines, which can range in color from a delicate powder pink to a deep forest green. Each of these gemstones have both the beauty and robustness that an engagement ring needs.
The Halo Ring
The halo has been ultra-hot for a year or two now, but the trend doesn't appear to be abating anytime soon for those new to the engagement ring world, a halo ring is one that has a center stone surrounded by circle ("halo") of smaller diamonds. The halo has the effect of making the center stone seem larger and more prominent, making it a good choice for budget-conscious couples who seek a smaller center stone. A double halo ring has two circles of smaller stones surrounding the center stone.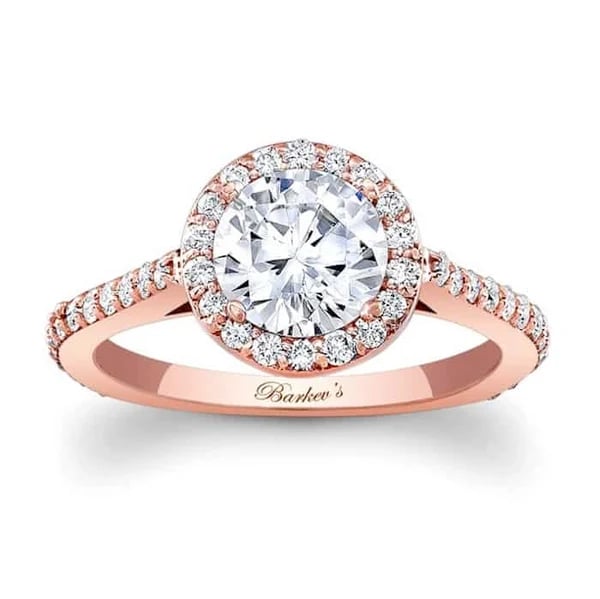 Barkev's Rose Gold Halo Diamond Ring
Among the many excellent benefits of halo rings is that it can be easily paired with a variety of cuts and stones look great. Combining two trends, cushion cuts halos are very popular right now, as are halos with colored gemstones or diamonds as the central stone. Another popular variation, according to Msnliving.com, is to have a double halo ring – two circles of smaller stones surrounding the center one for an extra amplified and eye-catching center stone. And for brides craving exceptional sparkle in their ring can get a halo with a pavé diamond shank.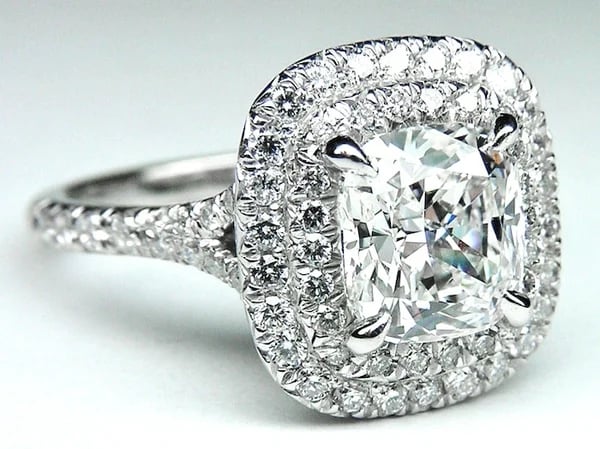 MCD Diamonds Double Halo Cushion-cut Ring
The Floral-Themed Engagement Ring
Floral-themes are all over the fashion world these days, from watches to hairpieces. So, is it any wonder that we're seeing flower designs everywhere in engagement rings? Floral-themed rings are feminine, graceful and each have that touch of originality that Millennials love.
For hardcore flower power, look to Tiffany & Co's stunning platinum and diamond ring, which features a seriously sparkly 5.25 carat round diamond held aloft by a double layer of pavé diamond petals.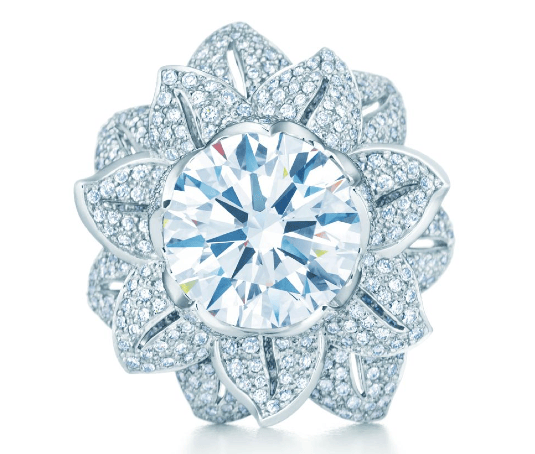 Tiffany flower diamond ring (Tiffany & Co.)
A subtler flowery effect can be found in Vera Wang's Diamond Twist Halo Engagement Ring in the Simply Vera for Kohl's collection. If flowers aren't your thing but you still like the nature look, check out some of the many nature-inspired designs (think leafy vines or woody lines) that are popping up on ring bands all over. As an eco-friendly bonus, many of these are made of recycled metal.
Read more...
Today's Wedding Jewelry: Floral Hair Ornaments to Boho Chic
Shopping for jewelry on the Upper East Side and Brooklyn
Jewelry trends spotted at the 2014 Academy Awards
What to look for when buying aquamarine jewelry
Cartier jewelry exhibition set to dazzle at Denver Art Museum