In many cases, color in diamonds indicates a drawback - an unattractive tint that can detract from the price. Most of us look for the clearest, most colorless diamond we can find. But there's color, and then there's color. Sizable natural diamonds of fancy or vivid shades of pink, blue and yellow are exquisite – and rare. When they appear at auction, they go for astronomical prices.
That's been happening a lot.
Both Sotheby's and Christie's had a run of record-setting sales this spring, and colored diamonds have been dominating their top 10 seller lists recently.
"Colored diamonds continued their fabulous run at Christie's spring auction season, with multiple phone lines bidding enthusiastically on the vivid pink," announced Rahul Kadakia, international head of Christie's jewelry department, after the June 10 jewelry sale at Christie's New York. "With the sale of The Winston Blue, The Ocean Dream, and the Oval Vivid Pink, Christie's achieved $42 million for these three exceptional diamonds alone."
That oval-cut fancy vivid pink he mentioned, a VVS1 diamond of 5.50 carats, weighed in at 5.50 carats and sold for $9.6mil, well above the estimate – and $1.7mil per carat. But it didn't come close to the staggering size and price of the vivid pink oval Sotheby's auctioned in Geneva last November - the 59.60ct Pink Star, purchased by New York diamond cutter Isaac Wolf (representing a group of investors) for $83 million. Forbes reported in March that Wolf failed to deliver, however, and the mammoth pink is back in Sotheby's inventory.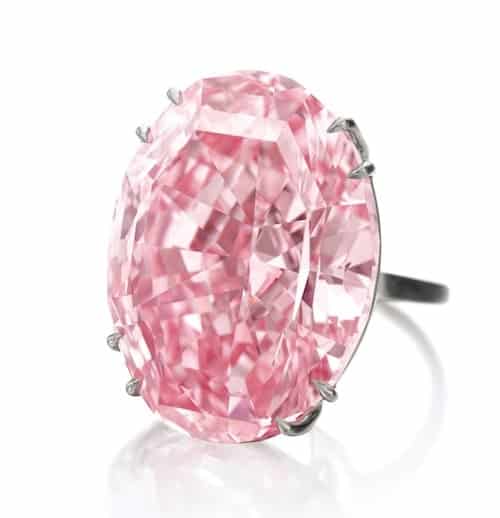 The Pink Star, an internally flawless, 59.60ct fancy vivid pink diamond was announced sold for $83mil, a world record for any gemstone, at Sotheby's Geneva in November 2014, but the price was never settled (photo courtesy of Sotheby's)
At the Magnificent Jewels sale at Christie's Geneva in May, Harry Winston paid $1.8mil/carat at Christie's Geneva for this 13.22ct fancy vivid blue, flawless diamond, a world record per-carat price for a blue diamond.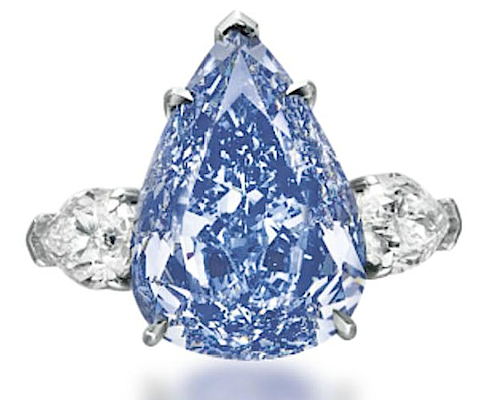 The Winston Blue, a 13.22ct fancy vivid blue flawless diamond, went for $1.8mil/carat at Christie's Geneva in May, setting a world record per-carat price for a blue diamond.
At the same auction, the largest fancy vivid blue-green diamond in the world, dubbed The Ocean Dream, sold for $8.8 million.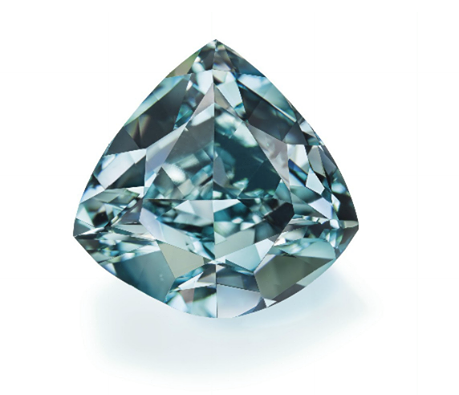 Ring with the "Ocean Dream" 5.50ct fancy vivid blue-green diamond sold for $8,781,637 at Christie's Geneva on May 14, 2014 (Christie's Images)
But this spring's prize for largest colored diamond – and price tag – goes to Sotheby's, which set a world record for yellow diamonds at its Geneva jewelry sale, when the Graff vivid yellow 100ct diamond sold for more than $16 million.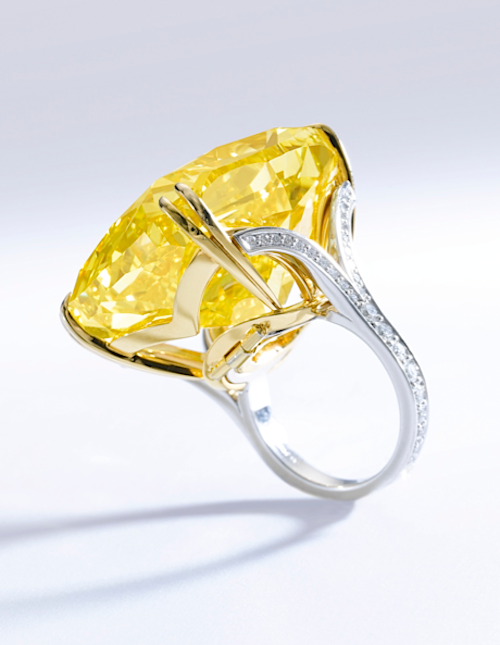 Graff vivid yellow 100.09ct diamond sold for more than $16 million at Christie's Geneva (Christie's Images)
Featuring a cushion-cut brilliant fancy vivid yellow diamond weighing 100.09 carats, the humongous diamond was mounted in a detachable ring setting so it could be worn as a pendant as well - a much more practical way to wear a diamond this size.
Fancy-color diamonds appear in all colors of the rainbow. Fascination with fancy-colored diamonds is nothing new. Just look at the crowds around the Hope Diamond, donated by Harry Winston to the Smithsonian Museum of Natural History in 1958. But while colored diamonds used to be the domain of the privileged few, the rest of us have cottoned on as well.
"Fancy-colored diamonds have always attracted connoisseurs and collectors, but today they are capturing the attention of a much wider audience," appraiser and gemologist Antoinette Matlins writes in her buying guide on Diamonds. "Demand – and pricing – are setting new records."
What makes a fancy-colored diamond so desirable? If you've seen one firsthand, you don't need to ask. It has to do with matching the beauty of a rich colored gem with the spectral lightshow of a fine diamond. A citrine may be the richest lemon-yellow but it will never give off those beams of spectral color – red, blue, green, etc. – that emanate from a fancy yellow diamond.
Have a colored diamond to be appraised?
Here are a few things Antoinette Matlins advises you to find out:
How pure is the color? Purity of color is rated with modifiers such as "orangey" or "brownish." Generally speaking, brownish hues are the most common and, thus, not the most desirable. Orangey is usually a good thing, because it's rare. The rarer the hue, the more valuable the stone. Fancy-colored diamonds with no modifiers – simply "yellow" or "pink," for example – are very rare.
How deep is the color? The deeper the color, the more valuable the diamond will be. If the color is graded as "faint" or "light," it doesn't qualify as a fancy-colored stone and will be at the cheaper end of the spectrum. "Fancy light" at least puts your diamond in the fancy-colored range. "Fancy deep" is better, "fancy intense" is very good, and if you have a "fancy vivid" – break out the champagne!
How even is the color? Final point on the color-grading scale of a diamond is "distribution," meaning how evenly the color is distributed. The more evenly distributed the color, the more valuable it will be.
What is the clarity? Flawless fancy-color diamonds are extremely rare and most have far less clarity than colorless diamonds. Often, clarity is not even mentioned in grading reports on fancy-color diamonds, Matlins says, and when they are, a grade of SI (slightly imperfect) or I (imperfect) is not uncommon - and should not impact the value the same way they would a colorless diamond.
Remember that as a seller, having the best of each aspect on a diamond report will drive up the price of your stone. But as a buyer, you might actually be able to use these qualifiers as a price advantage – as in, the stone looks great from the top, even though the color is not evenly distributed throughout. If you're the one wearing the ring, who cares what the pavilion (bottom of the stone) looks like?
Read more...
Is it Possible to Buy Diamonds Without Buying Blood Diamonds?
Why Blue Diamonds Are Blue: Recent Tests on the Hope (The Jewelry Loupe)
Cartier Set to Dazzle at the Denver Art Museum