As the stars filed on to the red carpet at this year's Academy Awards, social media for the fashion and jewelry industries was buzzing – just as they were for the Golden Globes and Grammies.
Bold jewelry is back in a big way.
Until recently, focus has been on the gowns with little or no visible jewelry – tiny diamond studs in the ears, a diminutive ring. In the last couple years, we began seeing chunky pendant earrings and, last year, chandelier-style earrings: statement earrings. With the Academy Awards, we saw just as many statement necklaces.
Was the minimalist approach to jewelry on the red carpet a sign of recessionary discretion? Maybe. If so, this year's awards season is a ray of hope for the jewelry industry. It's certainly been a feast for jewel-starved eyes, watching one star after another glitter for the cameras. This season, bold jewelry choices were in abundance.
Statement necklaces and statement earrings were on display at the Oscars Sunday night. So were bulky rings, stacked rings, and glittering cuff bracelets. There were diamonds aplenty, as always, but colored stones and funky pearls made appearances as well.
It's a strong indication that jewelry is getting bigger and more playful again – as is demand for gems and gold. If the awards shows are any indication, expect to see more of the following in jewelry stores and on well-dressed women this year.
Statement necklaces
At one point during the red carpet pre-show interviews Sunday night, word began to circulate among the fashion media on Twitter that the jewelry trend of the evening was "the statement necklace."
Charlize Theron
Just what constitutes a statement necklace? It's the attention-grabbing, focal point of an outfit, not a delicate diamond solitaire or diminutive string of pearls - something with girth and glitter that registers on camera from several feet away. It's the kind of necklace you might choose a gown to complement rather than the other way around.
The statement necklace that created the most buzz and highest approval rating at the 2014 Oscars was the $15 million Harry Winston number Charlize Theron wore with her black Dior gown. It had 31 carats of diamonds culminating in a diamond-cluster pendant that dangled at her plunging neckline, befitting a design house known for diamonds of the jaw-dropping variety.
Theron wore simple (if sizable) diamond studs with this necklace. Good rule of thumb: If you go with a big, bold necklace, choose lobe-hugging earrings of the similar color and materials, and vice versa. Otherwise, you can easily look overdone.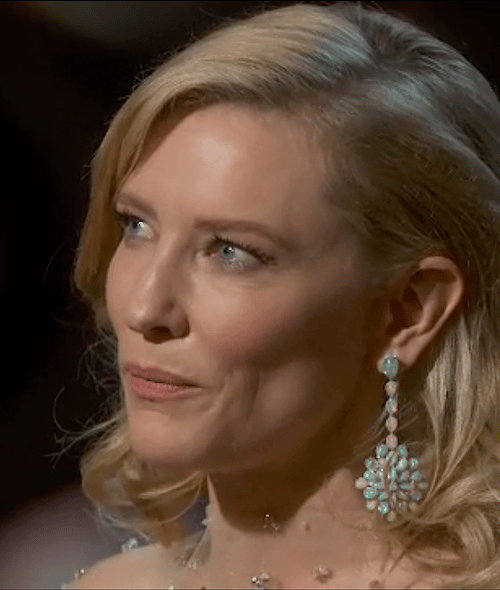 Cate Blanchett
Clustered gemstones
Charlize's Harry Winston fits another trend of the Oscars Sunday night: clustered gems. Cate Blanchett, who won Best Actress that night, wore her clusters as statement earrings instead of a statement necklace. Her embellished Armani gown would have competed with a necklace, but the Chopard floral opal pendants dangling from her ears added a subtle flash of color to her neutral ensemble. The opals were set in white gold with diamond accents.
Unlike Harry Winston, a design house ruled the red carpet for decades, Chopard was actually known primarily for watches until the 1990s when they began to produce luxury jewelry and target red carpet events. Chopard is known to pay stylists good money for getting their jewels onto celebrities – and it's been a very effective marketing tool.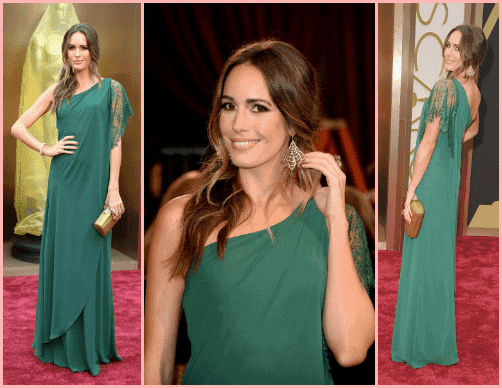 Louise Roe (www.louiseroe.com)
Web motifs & diamond collars
Another celeb who wore Chopard statement earrings with a web motif at the Oscars was Louise Roe, British host of NBC's Fashion Star. Hers had a spider-web design.
Naomi Watt wore a web-inspired diamond collar necklace by Bulgari to top off her simple white Calvin Klein gown. Idina Menzel also wore a diamond collar snugly around the base of her throat and a similar diamond cuff, both by Chimento, with her Vera Wang gown.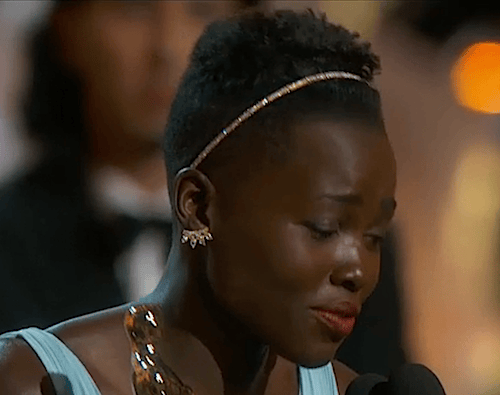 Lupita Nyongo
Ear cuffs
Ear cuffs, with pearls or gems hugging the lobe, have been showing up on the red carpet all season. Sandra Bulluck wore a dramatic pair with pear-shape diamonds by Lorraine Schwartz with her sleek midnight-blue dress by Steve McQueen.
Lupita Nyongo also wore diamond ear cuffs by Fred Leighton to pick up her first Oscar. She also wore a much talked-about diamond and gold head band with her powder-blue Prada gown. The gown had a neckline that plunged all the way to her waist so it was an interesting choice to wear nothing at her throat, but to opt for a tiara-like headband instead.
Funky graduated pearls
At the Golden Globes, Meryl Street wore graduated double pearls on her ears, continuing a red carpet trend that began, most notably, with Rashida Jones and Emma Johnson who wore graduated pearls on their lobes to the Golden Globes. Jones wore ear pins hugging her lobes and Watson wore her graduated pearls as studs, the small one on the outside of the lobe, a larger one dangling from behind.
Portia de Rossi, actress and partner of Oscars host Ellen DeGeneres, wore earrings similar to the ones Watson sported at the Globes, except Portia's pearls were bigger and she paired them with an eye-catching cuff of graduated pearls. At the Vanity Fair after party, Zoe Kravitz wore a pearl tassel necklace from Mastoloni Pearls.
Return of the headband?
Does Nyongo's headband indicate a return of the jeweled headband? We doubt it. Even on the red carpet, you have to be very young and very chic to pull off anything like a tiara. In this case, it was very simple and managed to look regal and whimsical at the same time. Good luck pulling that off!
Read more...
Shopping spring jewelry on the Upper East Side and Brooklyn
What to look for when buying aquamarine jewelry
Shocking impact of artisanal gold mining on mercury pollution
JAR jewels at the Metropolitan Museum of Art