Organic forms and nature in general were the big winners at the JA Show in NYC last week, with both established and emerging designers. It looks like boldly reinvented flora and fauna will continue to rule with jewelry buyers this fall.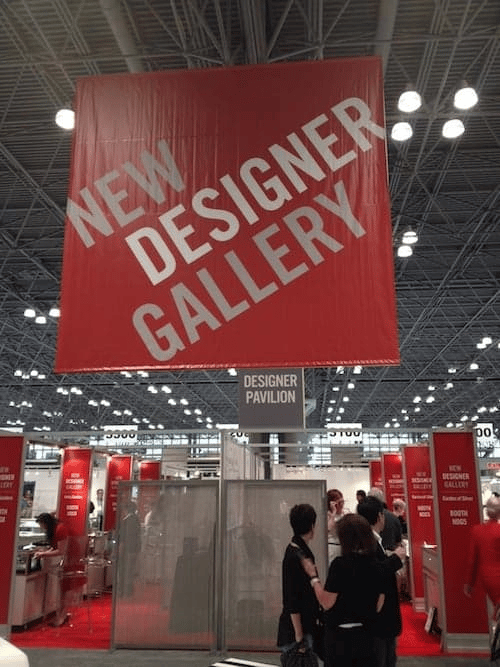 Sipping complimentary sangria, throngs of well-dressed jewelry industry insiders browsed glittering loose diamonds, high-end jewels, gold, silver and coral in a large convention center on Manhattan's 12th Avenue. The occasion? The Jewelers of America's semi-annual fine jewelry tradeshow (JA New York)—a must-attend event for those in the business. Over 725 exhibitors from all over the word made an appearance, yet among them, one area of the vast floor stood out: The New Designer Gallery.
Since 1977, the gallery has highlighted ten jewelry designers who have never before shown at a fine jewelry tradeshow, giving them the opportunity to schmooze with press, buyers and fellow designers.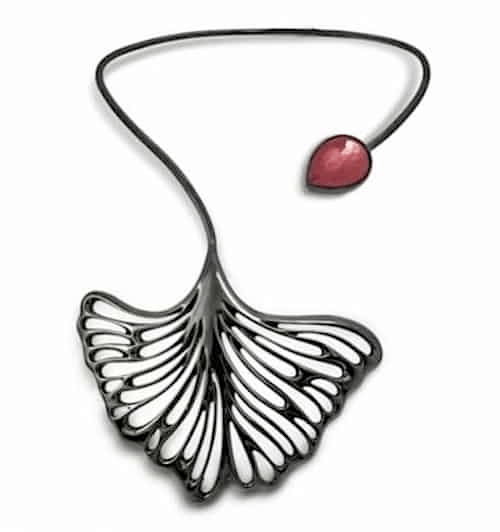 Myrto Anastasopoulou's Iliodoron necklace in sterling silver with tourmaline
Myrto Anastasopoulou, a tall brunette hailing from Athens, Greece who has been designing for 4 years, displayed bold silver and 18k gold pieces, many adorned with precious and semi-precious stones. "I like to explore organic shapes and see how they translate into wearable forms," Anastasopoulou told Havilah, bringing out the sterling silver, rhodium plated Iliodoron necklace in the shape of a large ginkgo leaf. "I was very attracted by the direction of the veins in the ginkgo and I explored it in a ring and a bracelet." Anastasopoulou was thrilled to be chosen for the gallery, which is the first time she's shown in the US. "It's exciting to be able to show my jewelry here and to see how people react to it."
Eileen Baumeister McIntyre, the mastermind behind Garden of Silver, is another designer who draws inspiration from the natural world. McIntyre and her husband have a large organic garden at their home in Long Island, which has served as inspiration for her drawings and paintings, which she etches into wax molds and casts in sterling silver.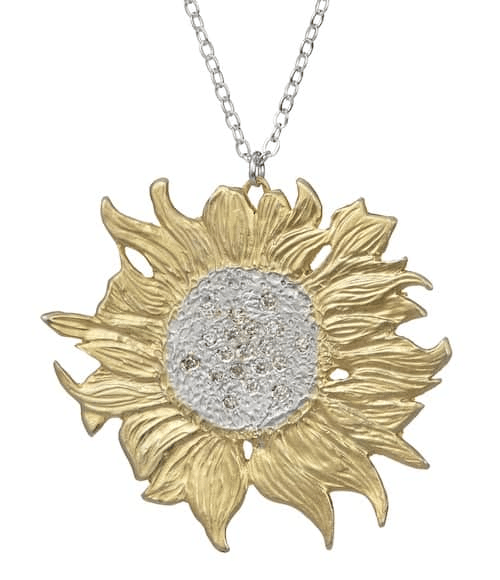 Golden Sunshine necklace by Garden of Silver features sterling silver, 24k gold plated petals and chocolate diamonds
The artist, who described jewelry design as a new hobby, showed off the day's most popular piece at the booth—a large sterling silver sunflower pendant with 24k gold leaf petals and a sprinkling of chocolate diamond sunflower seeds. "It's been quite an honor to be chosen for the gallery," said McIntyre. "Just being exposed to people who have not seen my work has been an incredible opportunity."
Across the aisle, Santa Fe-based designer, Cynthia Jones, showed modern designs characterized by simple lines. Her display case featured stackable necklaces adorned with small diamonds and larger, symmetrical pieces made of gold and oxidized sterling silver, like the Art Deco inspired Sunrays necklace. Jones, who just returned to showing her work after the birth of her two children, hoped the appearance at JA NY would give her the opportunity to come into contact with people who wouldn't normally find her work online. "The association has done a really great job of promoting us before the show as well," she mentioned.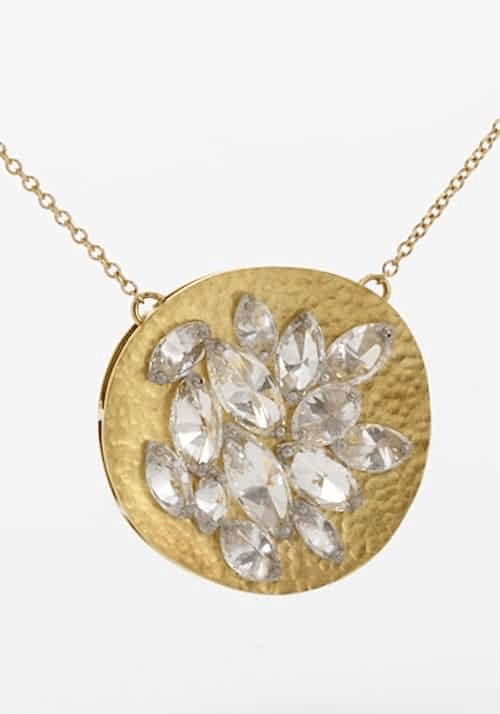 TAP pendant necklace features 4.25K of twinkling inverted diamonds set up on 24K circle pendant
TAP designs by Todd Powell showcased sultry dark and light metals decked out with diamonds. Pownell, who runs a small studio in Columbus Ohio, described the "twinkling twilight look" of inverted diamonds. "They still act and behave like diamonds, but they are very mysterious and romantic and unexpected," he explained while pointing to a piece from the latest high-end collection: a sparkling 18k yellow gold orb dotted with 4.25k of inverted marquise diamonds. Pownell's partner at co-designer Debra Rosen said the opportunity to present at the show had so far been great exposure. "Before the show started we already had some press and that's great for all ten brands."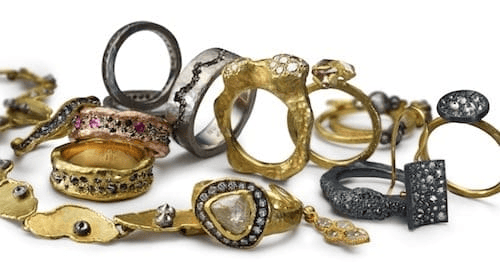 Jewelry designed by TAP
"All ten of us are really already winners," added Pownell, referring to the Mort Abelson New Designer of the Year Award, which would be presented to one lucky designer in just moments.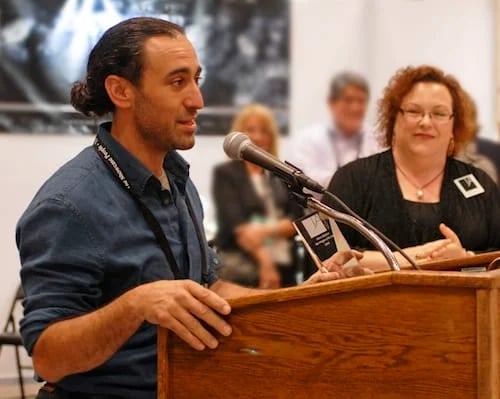 Todd Pownell (with Cindy Edelstein) accepts the Mort Abelson New Designer of the Year Award at JA New York
At 3pm on Monday, the group gathered to find out who would take home the award. The designer of the year is someone who we feel will have a lasting ripple in our industry" said New Designer Gallery consultant Cindy Edelstein. "Not only do they have great work, but they need to be a very unique new voice with a lasting influence." The first winner in 1977 was a young and ambitious David Yurman. Other well-known awardees over the past 37 years have included Alex Sepkus, Steven Kretchmer, Penny Preville, Paul Morelli and Steven Lagos, proving the prize is not to be taken lightly.
Mentioning the year's fierce competition, Edelstein stepped up to the podium and announced the winner: Todd Pownell of TAP designs. After accepting the award, Pownell was beaming like a schoolboy. "I'm super excited," he said. "Especially after what Cindy said about all of the designers who have been given the prize since the 1970s. I really have to step up my game now!"
Read more...
5 Most Fabulous Jewelry Trends in 2014
Hot Engagement Ring Trends for 2014
Haute Jewelry Trends at Cannes Film Festival