With the rise of clock-equipped cellular phones, wristwatches were projected to fall into obscurity alongside portable CD players and VHS machines. Not only has this not come to pass, watches - particularly in the luxury category - are setting records at auction.
Christie's brought in $26.5 million on watch sales last month, a 10 percent increase over the previous spring's sale. Aurel Bacs, international head of the company's watch department, stated that the sale marked "one of the highest results ever realized in the history of Christie's watch sales."
Expect to see similar success at Christie's and Sotheby's "Important Watches" auctions at Rockefeller Center in New York City on June 10 and 11.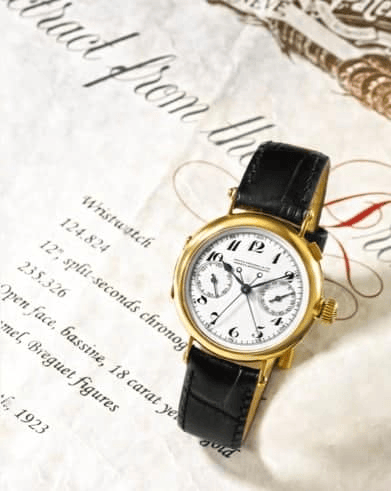 Vintage timepieces have entered the realm of popular fashion thanks in part to stylish television series like Mad Men and Boardwalk Empire. In Geneva, a Patek Philippe 1927 cushion-shaped, minute-repeating wristwatch fetched over $1.3 million for Christie's and a 1942 Rolex 18k-gold automatic wristwatch took in $1.2 million, the highest auction price of a single watch in the history of the brand.
New York's June watch auctions promise to reach similar heights. Christie's will sell 360 rare timepieces valued in excess of $9 million, while Sotheby's presents 175 lots, with rare timepieces by Patek and Rolex. Here are some of the vintage lots up for grabs this month.
Philippe Patek, Vintage
Founded in Geneva in 1851, the Swiss brand is known for its highly complex mechanical watches, widely considered to be the world's best. The storied brand gained its reputation early on, supplying some of its first timepieces to late-19th century royalty, including Queen Elizabeth and Prince Albert.
Sotheby's leads its June 10th event with Patek Philippe split-second yellow gold chronograph wristwatch with registers. Started in 1903 and completed and sold in 1923, the elegant watch (pictured above), Sotheby's claims, was the earliest known of its kind—certainly a rare gem for Patek Philippe enthusiasts - and is estimated to fetch $800,000-$1.2 million.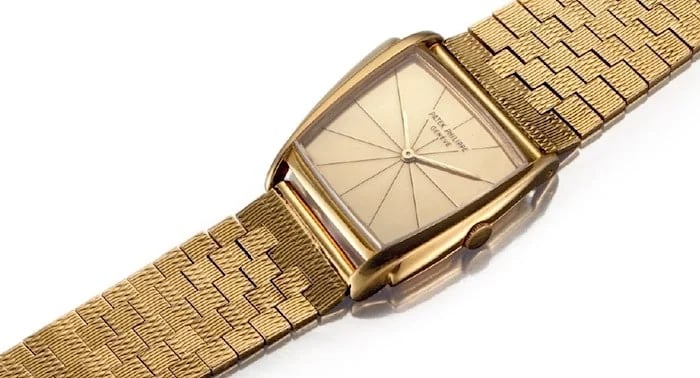 Patek Philippe 18k gold asymmetrical watch, designed by Gilbert Albert in 1962, is expected to sell for $30,000-$50,000 at Christie's New York (Christie's Images)
The manufacturer is also known for its collaborations with major European designers, such as Swiss-born Albert Gilbert, who led the workshop for nearly a decade. Gilbert left a legacy of daring designs that often harkened back to his modern art influences, particularly the works of Mondrian and Brancusi. Christie's offers a rare 18k-gold asymmetrical wristwatch (above) with champagne dial created by the designer and released in 1962. One of four asymmetrical models, the sale allows Patek connoisseurs the opportunity to acquire one of the unique designs that remain as sleek and unconventional as they did in the 1960s.
Whimsical Antiquities
Christie's is offering a stunning collection of watches created for the 19th century Chinese market, a time when European timekeepers were in high demand by wealthy Chinese merchants.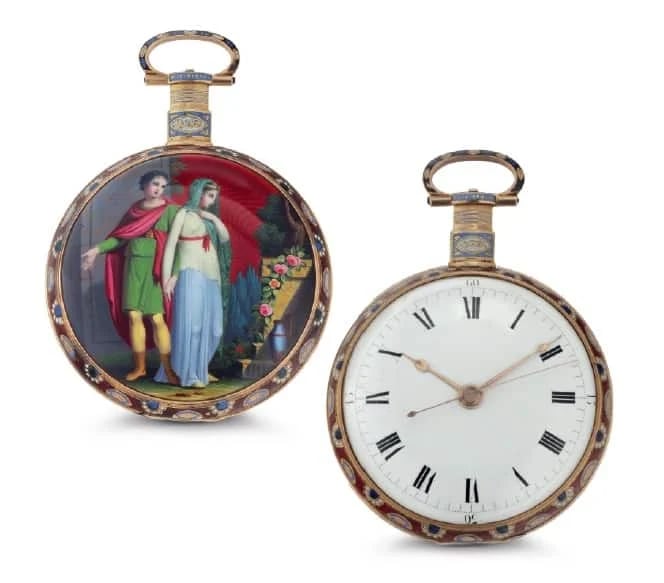 Early 19th-century Ilbery 18k gold and enamel open-face duplex watch made for the Chinese market, estimated to sell for $80,000-$120,000 at Christie's New York (Christie's Images)

Today, the elaborate creations of Ilbery of London and Bovet Fleurier and Vaucher remain highly prized by collectors for both their beauty and rarity. The Titus and Bernice 18k gold enamel open-face center second duplex pocket watch by Ilbery is among the most radiant. Manufactured in the 19th century, the pocket watch features a finely painted enamel scene of the two lovers in a classical landscape. ($80,000-$120,000)
Another lot not to be missed is the Bovet Fleurier 19k gold enamel and pearl set open-faced duplex pocket watch. It features a colorfully decorated mandarin duck, a symbol of love in Feng-Shui practice. The bird's atypical placement in a snow-capped mountain setting, as opposed to a more standard wetlands scene, indicates that the piece was likely a special request by a patron, making it a rare specimen. ($80,000-$120,000)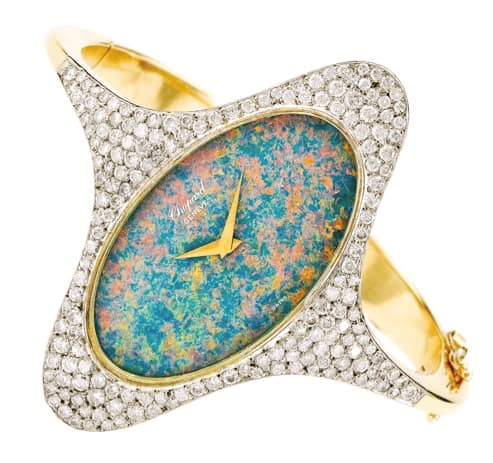 Chopard yellow and white gold opal-set ellipse bracelet watch from the 1970's, estimated at $7,000-$9,000, Sotheby's New York (Sotheby's Images)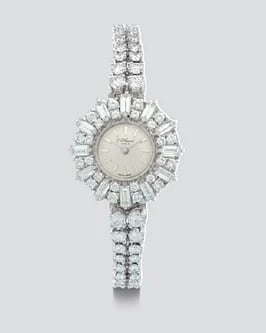 Chopard Bracelet Watches
For both frivolous fashion and high-quality function, ladies' watch collectors should look to Sotheby's collection of bracelet watches.
Leading the pack in ostentatiousness is Chopard's yellow-and white gold diamond and opal-set ellipse bracelet watch (above).
With a splashy, multicolored opal face in a diamond-encrusted case, this 1970s watch has a sophisticated-yet-psychedelic Studio 54 vibe.
Christie's also offers a fine selection of bejeweled bracelet watches. The 1965 18k-white-gold and diamond-set timepiece by Chopard (right) features an elegant bezel set with alternating round and emerald-cut diamonds and is expected to sell for $30,000-$50,000.
Retro Rolex
No auction would be complete without the presence of Rolex. Christie's presents two top vintage lots from the London brand, including the first James Bond Submariner Reference 6538, introduced to the market in 1955 and worn by Bond in the 1962 film Dr. No.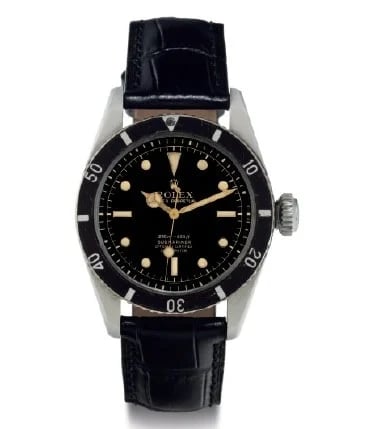 "James Bond" 1956 Submariner Rolex in stainless steel, estimated at $80,000-$120,000 at Christie's (Christie's Images)

The rare stainless steel automatic "Big Crown" wristwatch, which can withstand depths of 200 meters, and was owned by Bumpy Graham Bell, a preeminent underwater photographer, and descendent of Alexander Graham Bell. ($80,000-$120,000).
Sotheby's offers a Rolex associated with another celebrity, Paul Newman. Hailing from 1970, the sleek stainless steel Paul Newman Daytona steel chronograph wristwatch (estimated at $50,000-$70,000) has three subsidiary dials and a whole lot of style.
Read more...
How to choose the perfect sports watch for you
Watchmakers target celebrity athletes, high-profile sports
Five Notable Watch Trends from Baselworld 2014
Is it possible to buy diamonds without buying blood diamonds?