Aquamarine has always symbolized renewal and eternal youth, so it's a fitting birthstone for those born in March, the month when the long winter gradually gives way to spring.
Derived from the Latin for "water" and "sea," aquamarines were a popular talisman for sailors who believed a stone engraved with Poseidon would keep them safe. It's not hard to guess why aquamarine became a popular good luck charm for seafaring types. It embodies the ocean. Aquamarine can range in color from Caribbean blue to steely, icy blue or murky, opaque green.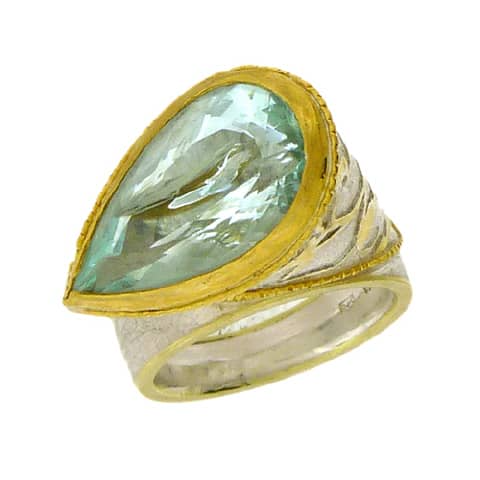 Ring of pear-shape aquamarine in cantilevered sterling and 24k gold trumpet mounting by Christian Streit at the Aaron Faber Gallery on Fifth Avenue ($3,200, aaronfaber.com)

Mineralogically, aquamarine is a close cousin of the emerald, another gemstone in the beryl family. But aquamarine has the advantage of being far more accessible and durable (7 ½ to 8 on the Mohs scale). In color, aquamarine is at the bluer end of the spectrum. Chemical treatments to beware of in aquamarine are similar to those commonly used to fill fractures in emerald – oil, wax, paraffin, glass, and epoxy resins.
As with rubies and sapphires, aquamarine is also routinely heated to enhance its color – particularly to remove the green undertone and reveal a deeper blue. It can be difficult to tell when this has been done, but heat treatment does not necessarily reduce value, as long as the color enhancement is permanent.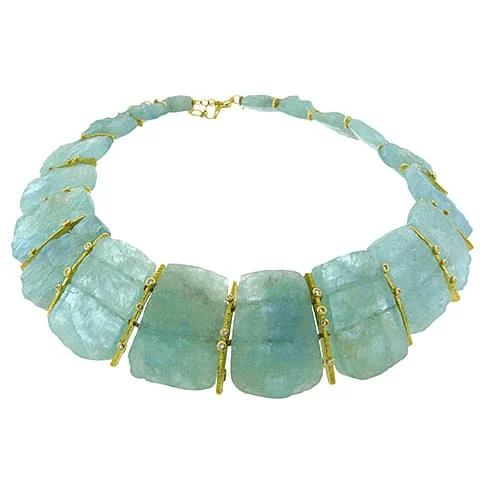 Necklace of graduated tablet-cut rough aquamarine showing the stone's crystalline structure with 18k gold spacers set with diamonds at the Aaron Faber Gallery ($18,950, aaronfaber.com)
Most fine aquamarine comes from Brazil, known for a sapphire-blue variety. Siberia and the Ural Mountains of the former Soviet Union produce aquamarine of the more familiar greenish-blue. Known for a long time as an inexpensive alternative, fine aquamarine is rising in price as it becomes scarcer and the very best is now quite expensive. A nice aquamarine of one to five carats can still be had for between $200 and $800, depending on color, cut and clarity.
World's largest aquamarine carving, the 10.363-carat Dom Pedro, went on display at the Smithsonian Institution's National Museum of Natural History in December 2012. Gem carver Bernd Munsteiner sculpted this 14-inch obelisk with his trademark reverse cuts and slashes from a natural blue beryl crystal discovered in Brazil in the 1980s. The original crystal measured 23 inches and weighed nearly 60 pounds. You can find the Dom Pedro aquamarine in a place of honor beside the Hope Diamond and Marie Antoinette's earrings.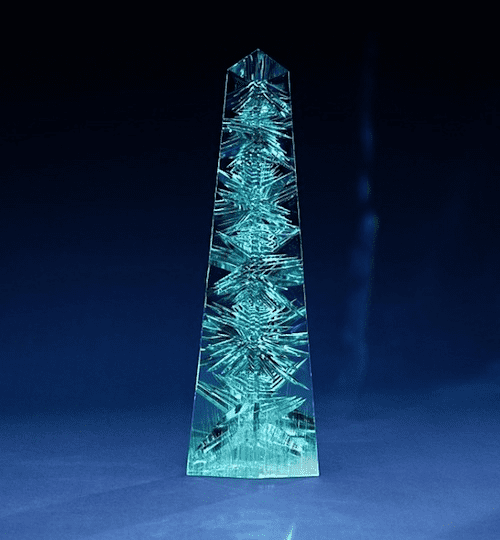 Dom Pedro aquamarine of 10.363 carats carved by Bernd Munsteiner at the Smithsonian Institution's National Museum of Natural History

Another lapidary artist who specializes in aquamarine is Sherris Cottier Shank, whose watery aquamarine carvings have won AGTA (American Gem Trade Association) Cutting Edge awards, including the dramatic three-piece "Waterfall Suite" that established her as one of the most talented contemporary gem sculptors.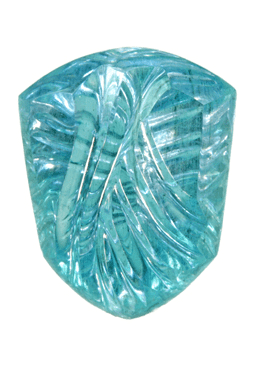 Aquamarine of 6.53 carats, heat-treated, from Zambia, carved by Sherris Cottier Shank of Gemscapes

Shank was a jeweler herself when she entered the lapidary arts and brought a jeweler's sensibilities to the lapidary wheel. Among other things, she discovered you need a fairly hefty stone to get the rich, deep color people associate with aquamarine--and that can get pricey.
In her popular buying guide, Colored Gemstones, Antoinette Matlins advises against jewelry with shallow-cut aquamarines because dirt tends to collect on the back and requires constant cleaning. She also warns against mistaking blue topaz for the more valuable aquamarine. Synthetic spinals are also frequently passed off as aquamarine.
Read more...
Is it possible to buy diamonds without buying blood diamonds?
Cartier jewelry exhibition coming to Denver Art Museum